A new report by McKinsey Global Institute sheds light on the economic achievements made by Asean and emphasises three concepts that should be the focus of the bloc
By Joana Maria Tacken
As the global economy becomes more interconnected in terms of trade and free movements of labour and capital, one of the major beneficiaries has been the Association of Southeast Asian Nations (Asean), which is increasingly gaining more importance within the world community.
In its latest report Southeast Asia at the crossroads: Three paths for prosperity, the McKinsey Global Institute describes three concepts that should take centre stage during regional discussions, and that businesses ought to embed in their strategic planning: global flows, urbanisation, and disruptive technologies.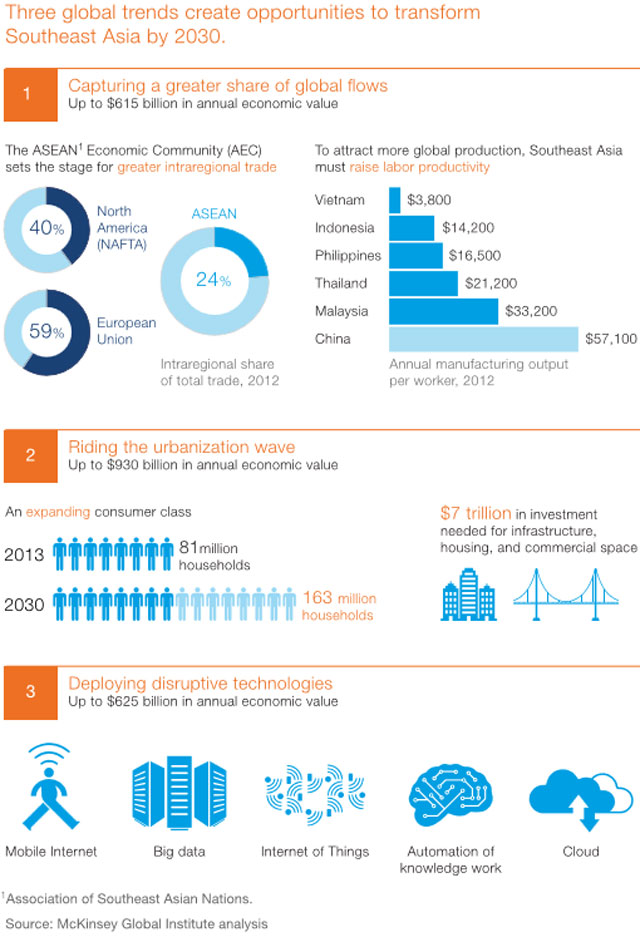 Global flows: Successfully establishing the Asean Economic Community (AEC) as well as implementing the AEC's integration plan could significantly increase trade and create a single market of 600 million consumers. Furthermore, Asean member states could expand their free trade agreements and attract additional production through a low wage and low cost system, which would allow them to become serious competitors to export-driven China. According to the report, these opportunities could create $280 billion to $625 billion a year for Asean nations by 2030. However, low standards of education, an unskilled workforce and a lack of infrastructure could hamper the region's potential.
Urbanisation: This is going to be one of the major issues in coming years, particularly for the emerging economies of Asean – Cambodia, Myanmar, Vietnam and Thailand. The increasing movement of people from rural to urban areas will see more than 90 million on the move by 2030. The dramatic growth of a consuming middle class, which could double to 263 million households by 2030, will no doubt be an important factor behind this.
Disruptive technologies: The report defined five disruptive technologies that could modernise sectors across the economy and be drivers for major productivity improvements: mobile internet, big data, the internet of things, the automation of knowledge work, and cloud technology. McKinsey estimated that disruptive technologies could produce $220 billion to $625 billion annually for Southeast Asia by 2030.
You can read the report here.