Five of the best spots for a refined getaway
Pangkor Laut resort, Malaysia
Opulent accommodation isn't hard to come by in Southeast Asia, but it is an undeniable truth that not all luxury getaways are created equal. With a string of tourism awards to its name, Pangkor Laut Resort is well established as one of the region's prestigious retreat options. Named after its private island home, the exclusive resort is located a short distance off the west coast of peninsular Malaysia. Perfect white sand beaches surrounding the tropical isle are a given, while access to a library, hair salon and gift store ensure that every whim is catered for. Some of the nine villas sit at the edge of Marina Bay with access to a private beach, while others blend seamlessly into the natural surrounds of the hillside jungle. Both options, however, demonstrate how opulence and nature work best in unison to create an unforgettable holiday experience.




Bulgari Resort, indonesia
True to the luxury brand's legacy, no expense was spared developing Bali's Bulgari Resort. Nestled atop Jimbaran peninsula's cliff tops, and teetering above the Indian Ocean, sits a perfect fusion of traditional Balinese architecture and Italian style. Located on the peninsula's southern tip, Bulgari's unique positioning offers both spectacular sunrise and sunset views. Upward of $900 affords one night in a spacious ocean view villa complete with a private plunge pool. If the lush surrounds don't satisfy, total pampering is an optional extra. The onsite spa provides a holistic experience, blending therapeutic traditions of Indonesian massage and the contemporary healings of modern spa technology.
Banyan tree, Thailand
Thailand's Koh Samui throws up myriad resort options but leading the prestige market is the island's Banyan Tree resort. Reminiscent of the coastline of southern Italy, the resort's villas are nestled in a series of cascading terraces on a private hill cove overlooking the scenic Lamai Bay. Each dining location at Banyan Tree seeks to showcase the island's inviting sapphire waters and white sand beaches. For a gourmet experience, enjoy fresh seafood at the beachfront, or indulge in traditional Thai cuisine and flavours at Banyan Tree's signature restaurant overlooking the glittering swells of the Gulf of Thailand.
Four seasons, Thailand
Pristine beaches take a backseat at Four Seasons Resort in Chiang Mai, with vivid green rice fields commanding the spotlight. Four Seasons offers 98 spacious accommodations, each complete with opulent interiors featuring Thai art and an outdoor sala. Located minutes from the artistic and cultural heritage of Thailand's northern capital, guests can immerse themselves in as much or as little of the local culture as desired. Take a balloon ride over the plains of the Ping River Valley at sunrise, learn the art of rice planting or get active with Thai-style kickboxing classes for a holiday with a difference.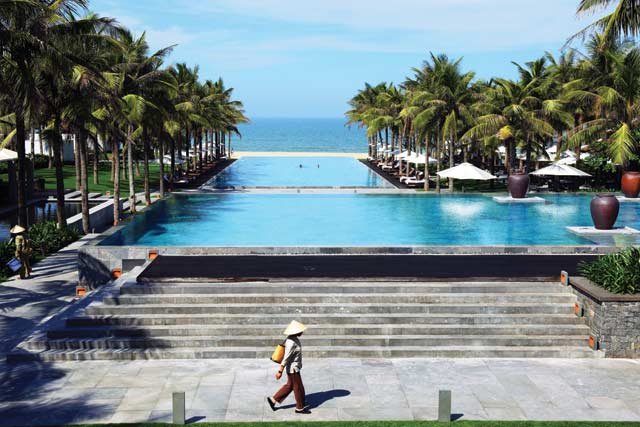 Nam Hai, Vietnam
Nam Hai offers one of the best examples of sophisticated resort living in the region. Marking a point of difference in service, each of the 40 pool villas is assigned a world-class butler – available 24 hours a day – to ensure expectations are always exceeded. Inspired by traditional Vietnamese garden houses, each accommodation utilises elevated platforms to feature local artwork and dramatic furnishings. The Spa treatment pavilions are a design marvel, with French doors opening to reveal a Koi fish-filled lagoon, while ensuring complete privacy.