Philippine politicians are discussing the possible extension of martial law amid reports that child soldiers are being used in the grinding fight in the country's south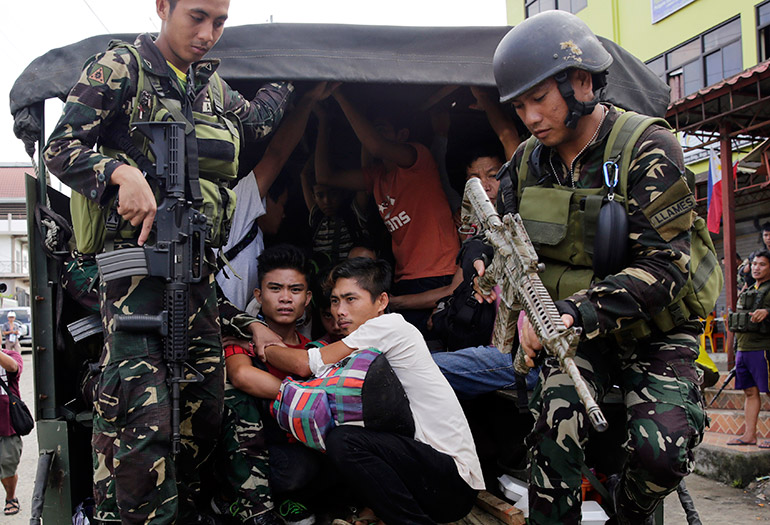 Islamic State (IS)-linked militants in Marawi city are forcing children and hostages to join the fight against the Philippine military, according to officials.
"We continuously get disturbing narratives from [escaped residents] that children as well as hostages are being employed in the firefight," military spokesman Restituto Padilla told AFP.
Padilla said that the military was trying to avoid child casualties, but, given the more than 100 militants remaining in the city, was unable to rule out the possibility of such casualties occurring.
"As disturbing as it is, our troops are doing their best to avoid any casualty among these children that are being employed," he said. "But in the event… they bear arms and are involved in the fighting, there is nothing much that we can do. Similarly to the hostages who are being forced."
The fighting in Marawi City on the Muslim-majority island of Mindanao began after a failed military raid on May 23 to capture a Philippine IS leader, Isnilon Hapilon. Philippine President Rodrigo Duterte quickly declared martial law on the island, a decision that was fiercely criticised by opposition lawmakers and activists.
The death toll since fighting began has now breached 500.
While those in Marawi City endure daily airstrikes, sniper fire and artillery barrages, politicians in Manila are engaged in a battle of their own.
The Constitution requires a congressional review of martial law within 60 days of its inception. However, while the consensus is that martial law in Mindanao will be extended, it remains unclear whether the mandated review will take place before an extension is approved on 22 July, which marks 60 days since martial law was first declared.
House of Representatives speaker Pantaleon Alvarez has come out in support of extending martial law, but others have said that prolonging the order will only compound damage to the country's reputation.
"While I am supportive of the President's declaration of martial law, I hope it will be for the shortest time possible," congressman Harry Roque Roque told reporters during a press conference at the House of Representatives, according to the Inquirer.
"Martial law, even if warranted, even if there is factual basis for it, is never good for the country…This is never good for business. It is never good for tourism. It is never good for our international reputation."
Senate majority bloc members have said the body would find it "easy" to approve a request from Duterte to extend martial law should it receive one. But the pugnacious leader has said that the decision must ultimately be made by the military.