Sponsored: Last month, at the Unesco World Heritage-listed Angkor Archaeological Park in Siem Reap, 10,000 runners pushed themselves to their limits at the 22nd Angkor Wat Half Marathon, principally sponsored by Manulife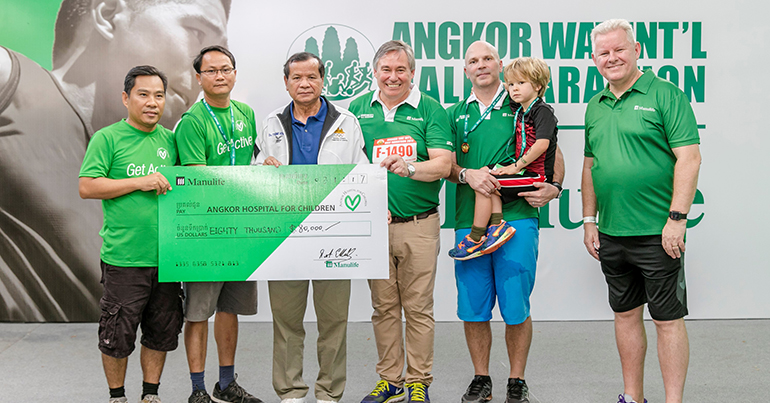 As the dawn light streams over the great stone spires of Bayon Temple, 10,000 fresh-faced runners launch into the 22nd Angkor Wat International Half Marathon. As the hours pass and the sun crawls high into the sky, the leading runners fling themselves across the finish line, their faces shining with exertion. Beneath the light mist of the sprinklers, lean long-distance runners and red-faced families alike share triumphant grins, straining to catch their breath.
Principally sponsored by Manulife and organised by the National Olympic Committee of Cambodia, the annual event is dedicated to promoting health and wellbeing – as well as raising crucial funds for organisations supporting the nation's underprivileged communities. Coming from nearly 80 countries across the world, runners could choose between three distances: 3km, 10km and the 21km half-marathon.
Speaking after the race, Manulife Cambodia Chief Executive Officer and General Manager Robert Elliott said that he was thrilled to see so many thousands of runners turn out for the event – and, among them, more than 300 Manulife employees across the globe, including 200 from Cambodia.
"We are very proud – this is our fourth time that we have supported the Angkor Wat Half Marathon," he said. "This year there was a record number of people – over 10,000. So it has been a tremendously successful event, and one that we are proud to support.
"Manulife is a long-term company – we build long-term relationships with our customers, with our staff and with our partners. And so in sponsoring the Angkor Wat Half Marathon, we do it with a view that we want to support it every year – and we also want to build our relationship with the Angkor Hospital for Children, where you saw we made the donation of $80,000, which actually takes it to a total of around $220,000. At this point, I would like to thank the National Olympic Committee of Cambodia for their support, which allows us to make this charity initiative successful every year. And the plan for next year starts tomorrow."
Francesco Lagutaine, Chief Marketing and Experience Design Officer of Manulife Asia, gave a regional perspective on the event after finishing his 21km run: "We want to help our customers, employees and communities have an active, healthy and fulfilled life. Our sponsorship of the Angkor Wat Half Marathon is part of that mission – for those who participate directly and for those who benefit from its associated fundraising."