Kbach is the Khmer tradition of decoration. Patterns range from intricately designed lotuses and Chan flowers, to symbols of snail shells and fire. Its motifs can be found in traditional furniture, stone carving and pottery. The form that first caught the eye of Dutch social entrepreneur Ka-Lai Chan though, was the ancient art of weaving baskets.
Basket weaving is a common way for many Cambodian households to make money, and is usually done by women. Kro Bei Riel, a village near Siem Reap, is said to be the original village to do the specific kind of basket weaving that inspired Chan to launch her social enterprise Manava.
"I think it's amazing what they [the basket weavers] are doing, how much time is spent on the precision. It's such precise and fine work, and that drew my attention," said Chan, the founder and designer of Manava, which means "human being" in Sanskrit. "I spend so much time with [the women weavers]. It's nice to see how their lives are, and how they're working hard to survive."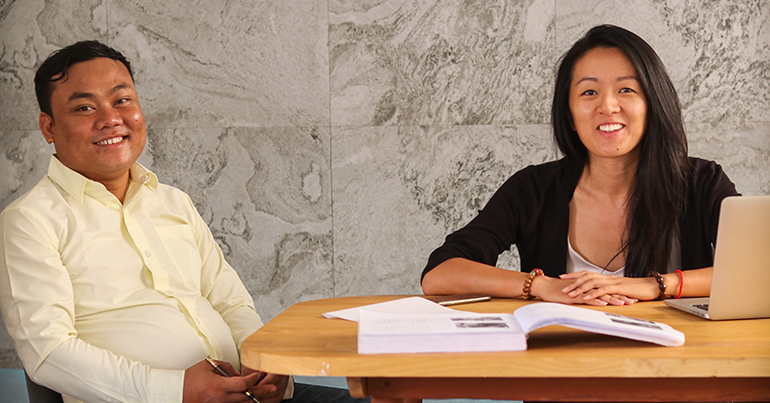 Chan arrived in Cambodia in 2016. After working in an NGO that teaches art and design to people with disabilities, she decided to remain in the country and found her own ethical business. She teamed up with Cambodian Baraing Tho and soon after the Manava project was born.
The goals of Manava are to provide the women of Kro Bei Riel village with a fair income and weaving training, all while using sustainable materials to create high-quality products. The business sells suitcases, bags, baskets, trays and bins inspired from 12th century pottery – and all made with the same natural materials. "It's actually rattan and willow…These are growing in the forest, but we do sustainable harvesting," said Chan. "We don't cut everything. We leave enough to let it grow for the next season…The colours are naturally dyed. They are made from powders, which is from plants and flowers."
She added, "our designs…we let ourselves [be] inspired from the art and history of Cambodia. So for example we have one basket which is called 'fish tooth' basket, and the pattern on there is inspired from symbols they use on temples…This is called kbach."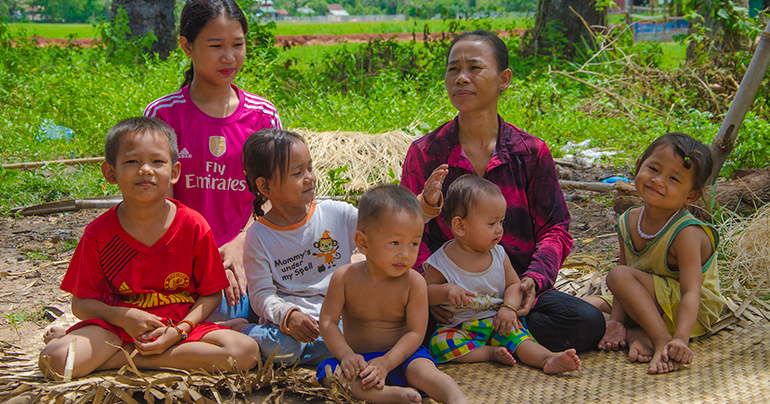 Chan explained that Manava strives to sell very high-quality baskets, as opposed to the round bags from Bali that are commonly sold in Siem Reap for very cheap. She suspects the price is so low because the workers that produce them are not getting paid very well.
Manava is currently running a crowdfunding campaign to raise $10,000 by 8 December. Most of the money raised – 70% — will go towards training new weavers. The rest will go towards expanding the workshop, as well as allowing the women to take part in a life skills programme provided by the Women's Resource Center. "Next year we want to provide life skills education, such as financial management, family planning, English, and many more [subjects]," said Chan.
"We're a social enterprise, and because of that we cannot grow faster. Everything is going a bit slow. That is the biggest obstacle," said Chan. "At the moment we are working with 15 women, and because this kind of weaving takes so much time, if we get an order…then everybody's on it. We don't have time, enough people to get other orders to do that.
"In the future…I would love to see Manava supporting 50 women, and that we are selling internationally, that we are working with ethical brands by providing them products…For the longer future, I [want to] see that Manava will be self-sustainable, which is [when] it will be run by Baraing and other Cambodia people."