Malaysian politician Anwar Ibrahim has been freed from prison after receiving a full royal pardon from the king. The 70-year old, who is likely to become the country's next prime minister, walked free earlier today as huge crowds of well-wishers surrounded him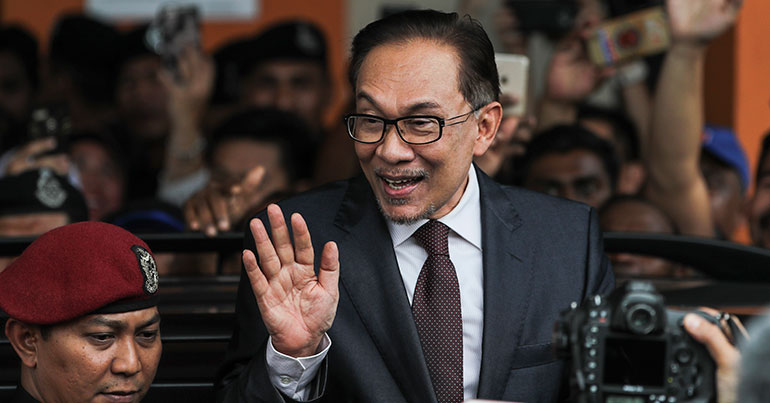 Perhaps the country's best known prisoner, Anwar was serving a sentence of five years for the crime of sodomy, despite claiming that the charges were brought against him for politically motivated reasons. It was the second time the founder and de facto leader of the People's Justice Party (PKR) had served time for the crime, after being jailed in 1999 by then Prime Minister Mahathir Mohamad.
Anwar's release comes exactly one week after Malaysia's 14th general election, in which opposition coalition Pakatan Harapan (PH) stormed to a surprise victory, toppling the Barisan Nasional coalition and its major party United Malays National Organisation (UMNO), which had been in power since 1955.
It saw Mahathir, Anwar's old foe turned political ally, once again elected prime minister. The 92-year-old has promised to hand over power after two years to Anwar, who is able to rejoin politics effective immediately due to the royal pardon.
[manual_related_posts]
Anwar's release has been welcomed by rights groups around the world, with Human Rights Watch deputy Asia director Phil Robertson saying that former Prime Minister Najib Razak had "shamelessly politicised" the case.
"Freeing Anwar was a long time coming, and, while people in Malaysia and around the world are delighted, no one should forget the injustice he faced serving a long sentence for a crime that should never have been considered a crime," he said.
Robertson added that "the new Pakatan Harapan government should now get busy revising or revoking the many rights abusing laws that are still on the books in Malaysia so that other politicians and activists do not suffer a similar injustice to what Anwar faced."
Anwar himself claimed that Malaysia was on the verge of a new "golden era" in an interview with the Sydney Morning Herald.
"At a time when democracy is in retreat around the world, I hope that the people of Malaysia have given some hope to people around the world clamouring for their own freedom," he said.