The host country has won 40 gold medals, dominating the other 10 countries competing in the region's elite sporting competition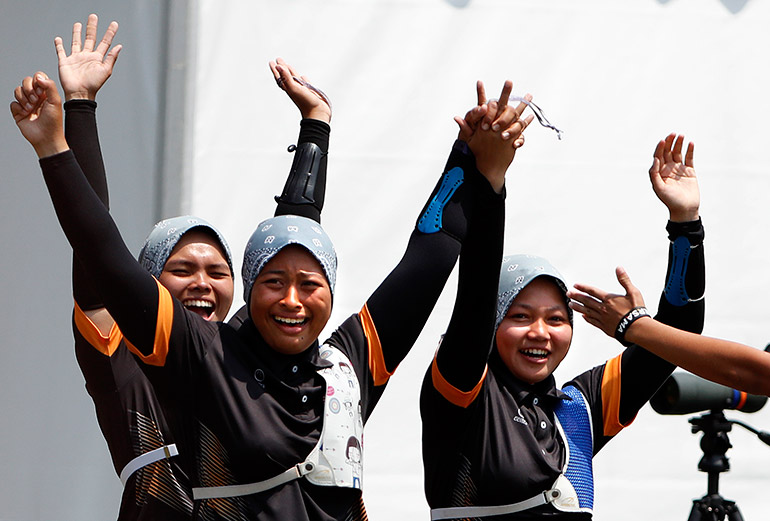 The home crowd seems to be helping team Malaysia blow away the competition in what was expected to be a closely contested SEA Games.
The host team's 40 golds in the first four days of competitions place it well ahead of Singapore and Vietnam, which have 20 and 16 golds, respectively. Thailand, which won the medal count during the last games in 2015, has managed only 13 golds.
The Philippines has won eight golds and Myanmar has grabbed four, while Laos, Brunei, Cambodia and Timor-Leste have yet to win an event.
The 29th edition of the games officially opened on Saturday evening at the new Bukit Jalil National Stadium in Kuala Lumpur with a ceremony in front of 85,000 spectators.
The games have featured an array of historic moments, particularly for the host nation.
Mizan Zainal Abidin, the sultan of Terengganu state, not only led Malaysia to two golds and one silver in equestrian endurance racing, but broke a SEA Games during the 80km race on Sunday.  
"I and all Malaysians would like to congratulate Tuanku Mizan for being the first Sultan to win gold at the SEA Games,"  Prime Minister Najib Razak tweeted after the event. "A very proud moment for all Malaysians."
Earlier in the days, Malaysia won its first ever gold in the rugby sevens competition, defeating Singapore 22-7 in the finals.
"I am thrilled with the team's efforts as we finally clinched the elusive gold in SEA Games rugby," National coach Saizul Hafifi Mohd Noor told the Star Online.
Singapore has been particularly strong in the pool, where it racked up golds on Monday and Tuesday. Olympic champion Joseph Schooling stormed to victory and a new SEA Games record with his 23.06-second time in the 50m butterfly.
The games have not been without a bit of controversy.
Promotional material distributed at the opening ceremony featured an upside-down Indonesian flag, making the simple red-and-white design into the flag of Poland.
It wasn't long before #ShameOnYouMalaysia had become the most popular hashtag among Indonesian Twitter users. Malaysian foreign minister Anifah Aman was compelled to issue a statement of apology on Sunday.
Malaysia's current winning streak is in line with the trend of host nations topping the table – 6 of the last 10 host nations have won – a phenomenon helped by rules allowing the host to choose events that play to its strengths. The last time Malaysia won the medal count was when it hosted the games in 2001.
This year's competition, which features close to 7,000 athletes and officials, coincides with the 50th anniversary of Asean and the 60th anniversary of Malaysia's independence. Events are set to wrap up on 31 August.