Ahead of its official launch, Southeast Asia Globe got a sneak preview of what's in store at this year's George Town Festival

With its vibrant mix of contemporary arts, dance, music and film, Penang's George Town Festival has been making its mark on the regional events scene since its inception in 2010. And this year's round of newly confirmed acts for the festival, which will run from 29 July to 28 August, is no exception.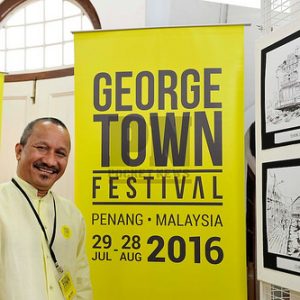 Highlights include the Asian premiere of Triptyque, a three-part show from Canadian dance-acrobat troupe Les 7 doights de la main, the Southeast Asian premiere of Smashed by Gandini Juggling and an opening-night performance called 'Svara Bhumi' (Songs of the Earth) featuring indigenous bands from Australia, New Zealand, Indonesia and Malaysia.
Amongst the other regional premieres, Dutch artist Theo Jansen will be bringing Strandbeest, a collection of wind-powered anthropomorphic structures made from recycled materials. A video of Jansen's work has racked up more than one million views on YouTube while a TED Talk video has been seen by in excess of 3.5 million people.
South Korean artist Lee Lee Nam will be bringing his reimaginings of traditional art juxtaposed with digital imagery, Poethi Glove Puppet Theatre will take to the stage, and contemporary dancer/choreographer Akram Khan brings his Kaash show to the region for the first time. More acts are expected to be announced in May.
Although the George Town Festival garners some government funding, it is very much a locally inspired and initiated event. "The arts should be supported by all of us and not by the government," said Joe Sidek, the festival's director, at a pre-launch event on Sunday at Penang's Hin Bus Depot.
Aside from the many international acts locked in for the festival, Penang-based artists will also be performing and showing their work. "When artists choose to make Penang their home as a place to be creative and it allows them the freedom to be creative and it's a place they can afford to live, then I think that makes the city very sexy," Sidek added.
Southeast Asia Globe travelled to Penang courtesy of SilkAir.