Maria Chin Abdullah turns to an empty page in her notebook and begins to sketch an outline of her cell. She knows it was in Kuala Lumpur, but, blindfolded every time she was taken out of it, has no sense of its exact location.
The 62-year-old draws the four walls, the concrete bench where she slept, the two strip lights along the ceiling, the door with its one-way hatch and, in the corner, the shower with the air-conditioning – sometimes hot, sometimes cold – blowing directly above it.
This cell – she thinks it was probably in a basement – is where Chin was held in solitary confinement after being detained by Malaysian police on the eve of last November's Bersih 5 protests, which called for electoral reform and an end to corruption.
In all, the Bersih leader was held for 11 days, nearly all of it under SOSMA, a law introduced to deal with terrorists. Accused of "activities detrimental to parliamentary democracy", Chin was eventually released without charge.
"It is really unjust," she says. "You detain me under SOSMA, put me in solitary confinement, interrogate me on a daily basis over many, many hours, and yet you can't even come up with charges. This is all part of the intimidation."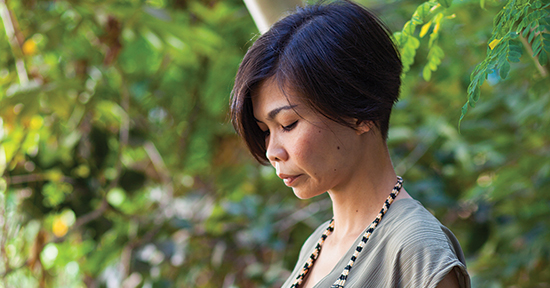 The mother of three is perhaps contemporary Malaysia's best-known civil rights activist, capable of convincing tens of thousands of Malaysians to take to the streets to demand free and fair elections and an end to corruption.
But Chin is not the only woman making a mark in the country's small, but vocal, civil society. The government might be keen to talk about its initiatives to propel more women into decision-making roles in business and the public sector, but women are already at the forefront of issues from refugee and migrant rights to religion, heritage conservation and the environment.
In their work, they battle a patriarchal society where men still dominate politics – the country has been under the same central government since independence in 1957 and has never had a prime minister who wasn't male or Malay, the majority ethnic group – as well as preconceived notions about what women should and shouldn't do.
"I don't really look my age, so sometimes they feel they don't have to take me seriously," says Yasmin Rasyid, 42, a US-trained biologist who founded the non-profit EcoKnights 12 years ago. The group spends about 80% of its time on environmental advocacy. "I'm kind of cursed in a few ways. Female is one, being not a typical image of a Muslim woman is another… In this field, I feel that I always have to prove myself."
Cynthia Gabriel, a Malaysian of Sri Lankan ancestry who made her name in the human rights group Suaram and helped found the Centre to Combat Corruption and Cronyism (C4) three years ago, has also felt the pressure to conform to stereotypes in her work as an activist and a councillor. Gabriel spent eight years on the Petaling Jaya council after being appointed in 2008 (there are no local elections in Malaysia).
"It's not just being a woman," the 44-year-old says. "In this country I'm also a minority and I'm also small [Gabriel is about 1.57m tall]. When I was on the council and had to do a lot of public engagement work, I could tell immediately when the public sees me coming they would think: 'Oh my God, she's a woman and she's so tiny!' The first impression is: how can we take her seriously? It's daunting, but it has never stopped me from speaking my mind."
Out of 222 seats in Malaysia's federal parliament, women hold just 23; in the cabinet, only three of the 35 ministers are female. Few women hold seats at the state level either.
"It's nothing to do with the individual's ability to take up leadership roles," says Maznah Mohamad, associate professor in the Department of Malay Studies at the National University of Singapore, who is attempting to convince parties at the state level to adopt a policy of women-only additional seats to kickstart gender representation. "It's the other things: the networks, the money, the patronage, your links with the party. There is no shortage of capable women to run for political office, but the conditions are still not there."
Sexism and discrimination is so common in public life that the Joint Action Group for Gender Equality, a collective of seven women's NGOs, holds an annual awards event to highlight the worst offenders and raise awareness about the extent of the problem.
In April, one MP claimed that nine-year-old girls were "physically and spiritually" ready for marriage and that there was nothing wrong with a rapist marrying his victim. The law under debate when he made his comments – to outlaw child marriage – failed to pass.
A few months later, during discussions on domestic abuse laws, one MP claimed men suffered "abuse" when their wives criticised them, refused to have sex or didn't let them take a second wife. Male MPs have also ridiculed women for having periods, to chortles from some of the other men in the House.
It is the kind of environment in which threats and intimidation against women thrive, and those who are most visible – the campaigners and the few politicians – are easy targets.
In the weeks leading up to Bersih 5, Chin received a death threat showing her and her sons beheaded in an Isis-style execution. C4's Gabriel has endured numerous threats to her safety in her campaign to uncover the truth about Malaysia's $1.2 billion purchase of two submarines from France in 2002, a deal tarnished by allegations of kickbacks and the murder of a mistress of one of the key players.
"You cannot back off in pursuit of the truth," the 42-year-old tells Southeast Asia Globe during an interview at her office.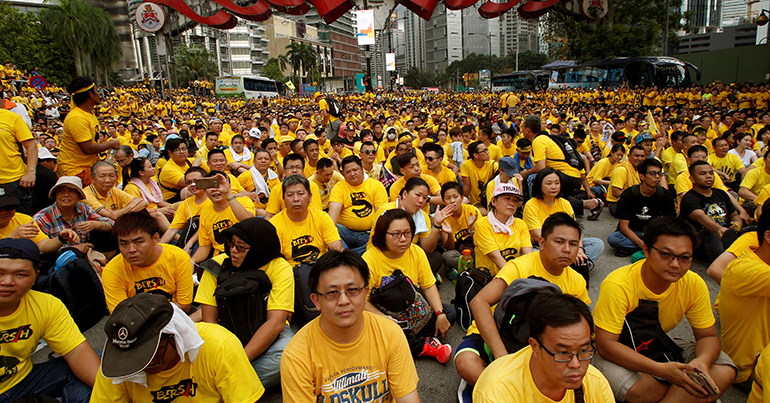 In July, a French judge investigating the alleged kickbacks indicted Abdul Razak Baginda, who negotiated the deal and was an advisor to Najib Razak, then the minister of defence and now Malaysia's prime minister. Two top French executives have also been indicted. "That's what makes you strong and resilient. You must do as much as you can, while you can," Gabriel adds.
Earlier this month, as the sun began to set over the centre of Kuala Lumpur, about 1,000 women took to the streets in protest at what they called the country's "toxic" politics.
"Long live women! Long live Malaysia!" they shouted as they congregated outside a shopping mall, hemmed in by elevated walkways and a small number of police separating the crowd from the traffic. Carrying bunches of purple balloons and holding hand-drawn banners aloft they walked to a cacophony of drums, stopping behind a pick-up truck transformed into a makeshift stage.
Chin was among the organisers of the event, which was in some ways a 'who's who' of the most well-known women in Malaysia's public life. C4's Gabriel was in the crowd. Marina Mahathir, renowned for her work on HIV/Aids, stood on a truck at the front of the procession with her mother. Alongside them was Faridah Ariffin, a former ambassador and outspoken member of G25, the influential group of former civil servants calling for a more moderate Malaysia. Chin's predecessor at Bersih, lawyer Ambiga Sreenevasan, was there too. As was Wan Azizah Wan Ismail, the current head of the opposition.
"We have so little power everywhere else, and this [rally] was a space to assert some kind of voice. To see a lot of women coming together like that, it renews a sense of hope"
On the street, as successive women clambered aboard the truck to rally the crowd, Maryam Lee and her friends beat their drums. The 25-year-old founding member of Projek Dialog, a group set up to encourage Malaysians to talk about issues such as religion and sexuality, which are usually batted away as 'too sensitive' to discuss, is one of a growing number of younger women seeking to make their mark in civil society.
"It just felt powerful," she says of the rally. "We have so little power everywhere else, and this was a space to assert some kind of voice. To see a lot of women coming together like that, it renews a sense of hope."
Lee, who's been the target of vicious social media attacks, particularly around her decision to stop wearing a headscarf, says it was her time as a student that awakened her to the injustices around her and fuelled her activism. She was an undergraduate at Universiti Teknologi Mara, Malaysia's biggest university, which is open only to bumiputera – the official term used to describe the country's ethnic Malay majority and other indigenous people.
"My first question was: why are there no Chinese and Indians?" she recalls during an interview at her home in an eastern suburb of Kuala Lumpur. Malaysia has significant populations of people of Chinese and Indian descent, and increasing numbers of mixed marriages.
These days Lee calls herself an "intellectual activist", which she defines as someone who aims to shape public opinion, and is pursuing a master's degree in development studies at the University of Malaya.
Universities, whether at home or overseas, have proved a fertile training ground for the Malaysian women now shaping civil society. Analytical chemistry may seem an unlikely degree for someone who now fights corruption, but it was the subject that introduced Gabriel to campaigning after she helped an NGO investigating suspected nuclear contamination at a village in northern Malaysia. Later, she studied for a master's in law.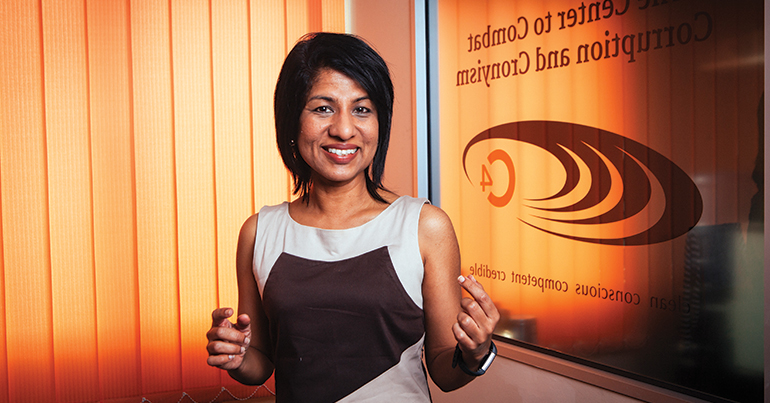 For Chin, her studies in England coincided with the Vietnam War and a political awakening across campuses in Europe and the US. Back home, too, it was a time of tension. Race riots had stunned Malaysia in 1969, leading to affirmative action in favour of the bumiputera – a policy that remains in force today – while industrialisation was creating new challenges for workers, and women.
When Chin returned to Malaysia she took up the fight for women's causes using the skills she'd learned as a student to cajole and persuade. Gradually, her interests expanded.
While Chin has endured intimidation and harassment, she has no intention of caving in.
In detention, she was questioned every day, but stood her ground. "The same questions over and over and over, but asked differently," she recalls. "I was asked to give names. It was like pushing me to confess to something I didn't do."
Bersih 5 continued without Chin and the 14 other activists who had been arrested the night before. Despite the intimidation, at least 40,000 people still filled the streets and the group's leaders immediately announced they would hold a vigil every night until Chin was released. The Kuala Lumpur authorities soon closed off Merdeka Square in the centre of the city where they planned to hold their vigil, but people came anyway, while hundreds of women marched to parliament to show their support for the jailed civil society leader.
On 28 November, Chin was freed. She is convinced it was those public campaigns that helped secure her release.
"They don't realise that the strength of the people who support us has always been constant, and that gives us the courage to speak out," she says. "The fear is always there: the fear of arrest. But you know that you won't be alone, even if you're in solitary confinement."