Violet Lim had been in banking for just over a year when she decided to tap out. With a view of her manager's glorious glass office from her cubicle in Singapore, she determined that ten years from then, she didn't want to have spent her time pushing paper to climb the corporate ladder. She had also noticed a trend among her colleagues: they were single and reluctant to mingle.
"At that point, at about 22, 23, quite a few of my girlfriends were getting engaged or getting married, but at the same time, so many of my colleagues were single and not dating and I was just wondering why," says Violet, dressed in vibrant purple and seated in a conference room in one of the city-state's many towering skyscrapers. "Bankers are usually well groomed, eligible, attractive."
Most of her friends who were settling down had found their partners in university, after which meeting new people became increasingly difficult, Violet found. At the same time, amid the hustle of their busy jobs in the financial district, few of her colleagues had the time or energy to invest in dating. But on a holiday to Tokyo, it seemed the similarly bustling city had resolved this obstruction to dating with the lunch date.

"The concept of lunch dating really resonated with me because I saw my colleagues might work really long hours, but they usually would take a midday break to take lunch with their colleagues or friends," says Violet. "So I thought, why not once a week or once a month meet someone that you have never met before? And it's really casual, it's short, sweet and simple."
Unlike dinner dates, where one might realise their company isn't a good fit by the time appetisers are finished but feel obligated to stay through dessert, lunch dates offer an easy out: "Time to get back to work."
She ran the idea past her then-boyfriend-now-husband, Jamie, who was an aspiring entrepreneur on the hunt for the right business idea, and in 2004, the two decided to launch their own business. Lunch Actually would be a dating service that connected busy professionals with lunch partners using traditional matchmaking consultations rather than online profiles and chat boxes. A Lunch Actually membership package would start at around $2,000, which gave a client an allotment of matches, depending on the package. It would include personal consultations with matchmakers, pre-arranged dates and feedback to prep clients for the next match or date.
Right off the bat, Violet and Jamie landed a SGD$150,000 investment, roughly USD$110,000 at the time. They fixed up an office space in the City Centre at Raffles Plaza, hired a dating consultant and started setting up professionals.
"The interesting part of it is this is a blind date, so we do not exchange photos for them"

Violet Lim, Lunch Actually
Initially, the entire process was analogue. Clients would come in for consultations with the couple's single employee, explain their personal goals, interests and profession, share a bit of their humour and style, and be on their way. Client files were colour-coded by sex, and the consultant determined pairings suited for an in-person lunch date. After briefing clients by phone on their potential match, Lunch Actually books a reservation at a central restaurant and then waits to see how the date went.
"The interesting part of it is this is a blind date, so we do not exchange photos for them," says Violet. "Prior to that date, they will have never seen each other, which if you think about it, maybe 14 years ago, it might not be so surprising, but we are still doing the same now in the days of Tinder."
Photos and chats provide opportunities to second-guess matches before meeting in person, taking away from the authentic chemistry that can come from getting to know someone in person, Violet explains. Meanwhile, lunch meetings offer a low-pressure way to get to know someone – and "if you don't like the person, you never have to meet them again."
Sometimes clients are reluctant to meet their matches after their phone briefing. In one early case, the team matched a successful woman lawyer with an entertainer. "What he does is unicycling, juggling, that sort of stuff," Violet recalls. "She just didn't get it. She was like, 'I'm a lawyer, he's an entertainer. Why would this even be a good match in the first place?' Of course we had met up with both of them personally, we understood their values, we understood their sense of humour, we understood where they were coming from. It took us a while to convince her to go on the date… Finally she agreed to go on it, and then they met and, in their own words, they told us they got on like a house on fire." Within three months, the couple became the first Lunch Actually match to get engaged, and they were married on the one-year anniversary of their first date.
In time, the company developed its own electronic customer relations management system – the "secret sauce" to their matching success, Violet says – doing away with the colour-coded files and allowing Lunch Actually to scale up. It has since launched several other services, like Lunch Actually Academy, which provides tips on self-improvement and dating skills, and Viola.AI, a program in its pilot stage that matches singles and is expected to serve as a "lifelong AI love adviser" to couples as their romance advances, reminding them of anniversaries, helping select gifts and providing advice during bumps in the relationship.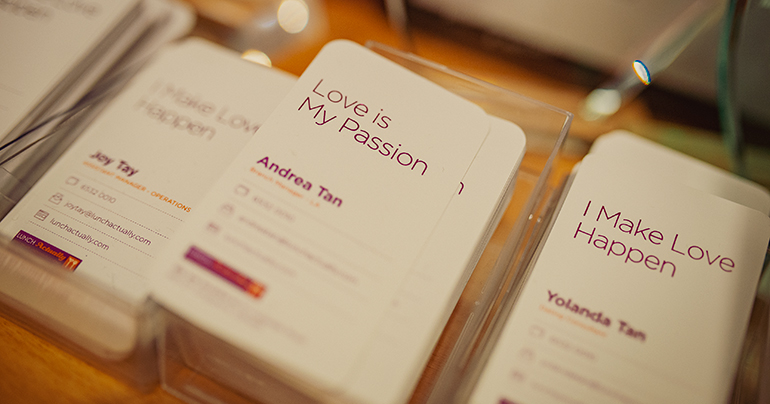 Fourteen years on, Lunch Actually's platforms have expanded to Malaysia, Indonesia, Thailand, Hong Kong and Japan, and acquired four competitors. It staffs roughly 120 consultants and other professionals, has arranged more than 125,000 successful dates and has become a multimillion-dollar company. Their ambitious goal is to one day boast a million happy marriages – and they already have a couple thousand under their belt.
Competition is sparse, as the company has focused on a niche market of professionals serious about finding a life partner, rather than flicking through attractive photos on an app. But there have been plenty of challenges along the way.
For starters, Violet says, there is an imbalance of men to women interested in this offline style of meeting people. With the expansion of their platforms, however, the company has been able to attract more men, balancing out the matching service. But the process of matching people can also be draining, with customers sometimes lashing out at consultants when the perfect date doesn't pan out quickly. Managing potential clients' expectations before they sign on to a package has been key to keeping both staff and clients satisfied, she says.
"I tell my consultants, 'You are not a waitress, you are a nutritionist.' There's a huge difference, because if you're a waitress, you're basically just taking orders," she says. "We are more like a nutritionist. We [listen to] what [clients] tell us and then we need to do our own internal calibration and consultation and then we share with them what we think is best for them."
This can mean quick burnout and turnover for staff, she says, but the process has become more seamless with time. Still, even Violet sometimes has to reflect on her reason for being in the business.
"Sometimes I'm like, 'Oh my goodness, why am I doing this?' That's when I'm really reminded of my mission of helping people to have positive relationships – to have the kind of marriage or relationship that I've found. That's what keeps me going," she says. "I keep photos of all of our happy couples and their kids. I call them LABs – Lunch Actually babies. That's really what keeps me going."