On the large terrace of a traditional, stilted wooden Cambodian house just four kilometres from downtown Siem Reap, a dozen or so countryside workers sit cross-legged atop rattan floor mats, brows furrowed deep in concentration. Methodically – almost meditatively – they craft a mysterious product. Through an intricate process, they transform the fibre from green and woody stems into 'white gold' – shimmering threads of lotus fibre that is fast becoming a coveted luxury fabric.
The bucolic scene below us is just as enchanting as the craftsmanship I've just encountered: six hectares of rich green rice paddies and glassy ponds carpeted in pink lotus flowers that ripple out to the horizon.
Called The Lotus Farm, the workshop was set up around three years ago by French native Awen Delaval, who first visited Cambodia 13 years ago. The trip proved to be life changing for the former telecommunications engineer, prompting him to change his career path in search of something more creative and fulfilling. Siem Reap – back then a peaceful, quiet town – and the neighbouring temples of Angkor proved to be just the inspiration he needed and he settled down, learnt to speak Khmer and set up a small silk factory. He designed clothes and sold his creations in a house that doubled as a small boutique, naming the brand Samatoa, which roughly translates as "fair trade" in the Khmer language.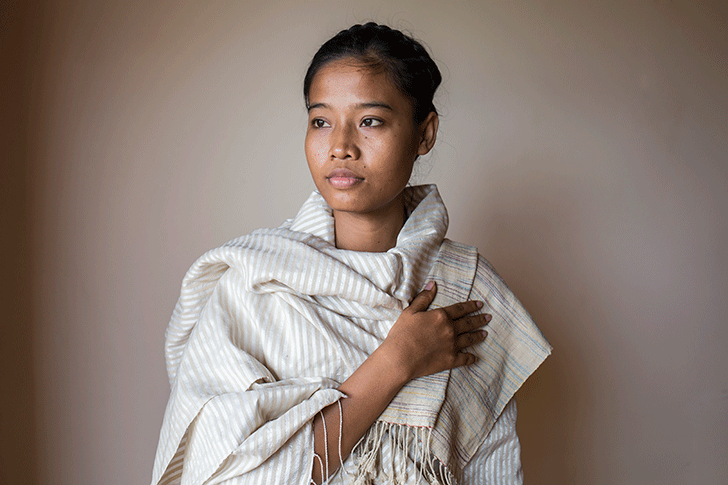 "I heard that weaving lotus flowers was an ancient practice,"
Weaving tradition
But, in 2009, the company's future took a dramatic turn when Delaval learnt about a fascinating tradition in Myanmar. In the Inle Lake region, during an annual Buddhist celebration, high-ranking monks would wear special robes made from lotus fibres. Inside the stems were long fibre filaments that created a soft, delicate thread. The resulting fabric, almost a cross between silk and linen, was naturally stain-resistant, waterproof, and soft to the touch, he learnt.
"I heard that weaving lotus flowers was an ancient practice," he tells me. "Cambodia has a similar Buddhist background to Myanmar, and in Angkor Wat's bas-reliefs some weaving scenes are depicted, so [one] can imagine that the lotus fibres were also crafted here. I felt a bit sad that this beautiful tradition might have disappeared, so I came back to Cambodia with the idea of reintroducing it."
So, back in Cambodia, Delaval found a 15-hectare lake at Kamping Poy, a large reservoir bursting with lotus flowers near the sleepy town of Battambang, about a two-hour drive from Siem Reap. It was a postcard-perfect scene and the right place to start something meaningful. He soon began buying the flowers from the local farmers.
"In Southeast Asia, the lotus is considered a sacred flower; it's a symbol of man's ability to surpass their conditions and realise themselves, just like the lotus flower grows tall until it floats above the muddy water," Delaval explains.
Nowadays, in Cambodia, lotus flowers are brewed in tea, rhizomes are cooked and seeds are used to make snacks, pastes, desserts and traditional medicines. The dried seed heads and flowers are also used around the world for decorative purposes, yet this has meant the flower is most often picked from the stalk, leaving the stems behind as waste in lakes and ponds. It wasn't until Delaval set up a workshop – first in Battambang in 2011, before relocating to Siem Reap two years later – hired a skilled workforce, and started production at the Battambang farm in 2013 that the stems were finally used for manufacture in Cambodia.
Lotus flower luxury
What Delaval hadn't expected was that the lotus fabric would soon become a desired item by fashion designers and discerning luxury lifestyle shoppers the world over, as well as a sustainable alternative to waterproof synthetics and mass-produced cottons. In a corner of the work studio, bundles of the stems – which are provided every day by local farmers – are kept in a wet basin before two workers scrub them and pull out their small spikes.
"We have only one day to use it; after that, it's too dry," says Delaval. The artisans then make two small incisions on the stem, twist it three times, and break it. The precious fibre is strung out, similar to a spider's web. There are 50 fibres inside each stem so this operation must be repeated at least ten times, before rolling the fibre on itself to make a yarn. In one day, each worker can produce 300m of yarn. After that, the yarns can be dyed, but most of Samatoa's higher-end clientele prefer its raw, creamy beige tone.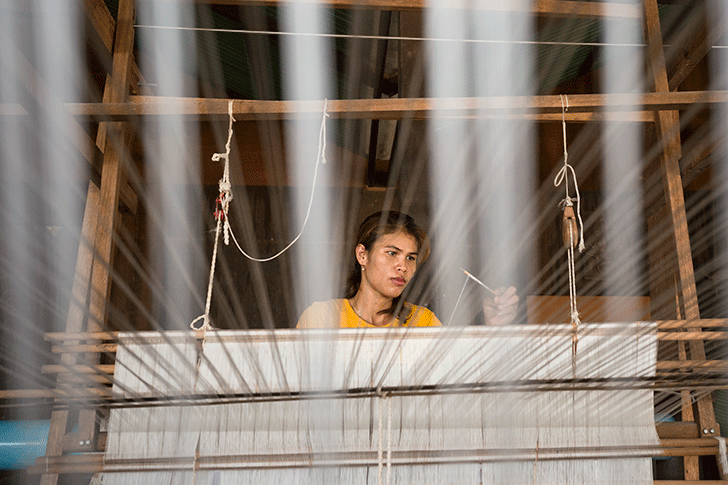 "Locals used to dye textiles with tree insects, but forest logging put an end to that," says Delaval, who puts emphasis on choosing eco-friendly dyes.
Following this, weaving can begin on a "Da Vinci" machine – a handloom that employs a bike wheel to do the spinning. It's painstaking work; one that requires both time and thoughtfulness. "There are 1,080 small holes I need to pass the yarn through; it takes at least one week," explains Meon Long, a local weaver.
"We have to do the movement with the same force to get a regular yarn," adds Yoern Savoen, an experienced weaver. She's referring to the strenuous back-and-forth motion that weaves the yarn.
Homegrown
The 32-year-old lives close to the workshop with her family in a humble wooden house. "My parents were temple cleaners. Previously, I was an Apsara dancer, but now I am too fat," she laughs. "I came to live in this village with my husband, and I am happy to have found this job at Samatoa where I trained myself hard for several months." Delaval demands quality, she adds, but this focus on perfection is what she likes, along with the salary she earns – from $150 to $200 per month. "It's higher than anywhere else. My children can go to school, and even I can take some English lessons after my working day."
On one early morning at the end of May, Yoern, who is in charge of relations with suppliers, sets out to visit them in Siem Reap province. Following a dusty path, after hectare upon hectare of brown land, a green square emerges. The owner, a small man dressed head to toe in black is standing waist deep in water and slicing lotus flowers with a knife.
"Currently, there is not enough water, so I don't cut a lot of stems, but normally, I cut twice a day, and crop around 50kg of stems per day," says Pek Noeugnong, referring to the droughts suffered by Cambodia and its neighbours Thailand and Laos over the past six months.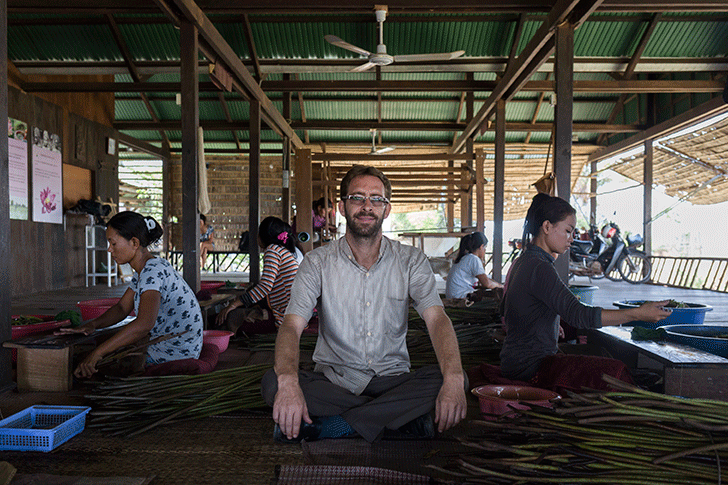 Pek has now turned half of his rice field into a lotus field. "Growing lotus is more profitable. One hectare brings a return of $1,500 per year, whereas one hectare of rice returns $700 in a regular year, and only $400 in drought years," he says.
Nothing is lost in lotus farming. Pek also sells the pretty pink and white flowers to hotels for decoration, while the leaves are used for packaging at the local market. Just 100 leaves can earn Pek around $2, and he's not the only one to benefit from the economic trickle-down of the lotus weaving industry: Samatoa buy six tonnes of stems per month from the farmers.
"In our village, 70% of the villagers [used to] farm rice and only 30% lotus flowers. Now, it's more like 10% and 90%," says Pho On Ra, the village chief of Krosang Rueleu. "People keep some rice fields and farm it when it rains a lot, but lotus flowers help to earn more money throughout the entire year."
In the Samatoa showroom in Siem Reap, visitors can admire an amusing photograph of Delaval standing beside the French president, François Hollande, who is wearing a long, ivory-hued swathe of lotus fabric draped around his neck. In late 2015, Delaval was one the recipients of the "France commits to the South" programme that rewards social innovations from Africa, the Middle East, Asia and South America. In 2012, a striking Samatoa sarong, made from a mixture of lotus and silk, won a Unesco prize for excellence.
Good business
What is really at the core of this industry though, is exclusiveness. Samatoa sarongs are sold for $300, while a beautifully tailored jacket costs ten times more. Lotus fibre will endure as an elite and personalised product, Delaval believes, due to "the amount of material necessary, the lengthy time it takes to produce and the difficulty to manufacture it." But he's certain there's a wide market for such products, and believes the bespoke, eco-friendly nature of the lotus fabric industry has tapped into the spirit of luxury goods: "Buyers pay us more and more attention because they want to support innovative projects with a good environmental and social impact. Here, each jacket sold employs a worker for four months."
Luxury brands and haute couture designers are now also exploring the attributes of lotus fibre. Italian textile baron Pier Luigi Loro Piana was astonished by the fabric's soft feel and its linen-like appearance after a friend brought some back for him to inspect from Myanmar. Soon after he had the fabric whipped up into a structured blazer that he now sells for about $5,600 (he's also trademarked the "Loro Piana lotus flower fabric" name).
It seems Delaval could well be on to something big. Today, Samatoa exports 95% of its products to Hong Kong, Australia, and the US. "We are in contact with the Kering group to work with Stella McCartney's brand," he reveals enthusiastically at the end of my visit. "All plants have fibres and all plants can be woven, yet a lot of people prefer fabric which is made with oil and chemicals. But what we are doing is returning to a simple principle: working with nature and people in harmony. Even if it is still a small movement, here in Asia – the world's factory – it's a very good sign for the future."