In the final years of King Father Sihanouk's life he lamented the poverty and abuses occurring in his country. Cambodia's human rights track record has taken a battering in recent years. To what extent will this situation deteriorate?
Historically, the concept of 'human rights' in Cambodia, like most non-Western countries, has not had much currency – those lower in social status expected to be treated badly by their superiors, and the elite believed that they had an inherent right to do so. Today, the 'elite' include the political elite – those in charge and their extended khsae, or networks – as well as the royal family and people with money, who necessarily include foreigners.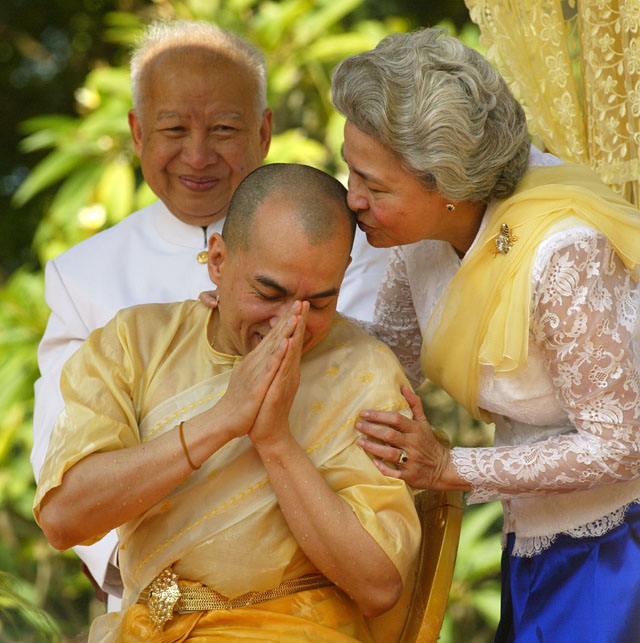 As long as impunity for the elite remains an inherent part of Cambodia's judicial system, the human rights situation will not improve. I can see it worsening as people seek to join the elite in order to garner impunity for themselves.
Through a combination of repression, election-rigging and reliance on the votes of peasants, Sihanouk's party came to power. To what extent is Sihanouk responsible for creating an environment where the actions of the current government can go relatively unchecked?
It wasn't altogether his fault. He was born in a time when the vast majority of people believed that a king was necessarily a bodhisattva, and therefore incapable of making bad decisions, lying, or doing things for any reason other than the good of his people. Of course, by the mid-1960s, most educated people realised that Sihanouk's actions, such as melting down bits of national heritage to make the statuette awarded for 'Best Film' in Cambodia's first film awards – and then winning it himself – were hardly altruistic. Such people were in the minority, however, and it was these same people who bore the brunt of the Khmer Rouge's initial purging, so of the people left alive in the 1980s, most had retained a reverential perspective toward the monarch. This helped Funcinpec win the election in 1993. As we saw during the short-lived coalition from 1993-1997, the governance style of Funcinpec differed very little from that of the Cambodian People's Party (CPP). They handed out important positions to party leadership, most of whom were less qualified to be in them than CPP members who at least had been present in Cambodia during the 1980s and had reconstructed the country. This again has to do with the idea that the elite are entitled to act in any way they wish, because they are the elite. At some point, a responsible leader would have started to endorse merit, rather than status, as criteria for appointment. This never happened under Sihanouk, certainly, but it has also not happened under Funcinpec and the [ruling] CPP.
King Sihamoni is known for reigning and not ruling. To what degree was he prepared for the role of king?
Sihanouk created a non-influential monarchy when he abdicated in 1953 and his father and mother came to the throne in 1955. Queen Kossamak reigned alone from 1960 when King Suramarit died. During this period, Kossamak had no political role. She remained extremely influential, however, as is indicated by the number of official portraits of her that were printed and distributed throughout the country in the early 1960s, for people to hang in their offices and homes. This was because as the sovereign, she embodied the collective merit of the Kingdom, much as Sihanouk had before his abdication. (Interestingly, Sihanouk was incensed at this and demanded that more images of him than any other person be printed per year.) Moreover, members of the royal family – Kossamak's uncles, nephews, brothers, and cousins, with whom she had grown up and knew well – occupied many of the high-level positions in the government.
Sihamoni was never supposed to be king. Sihanouk had at least 14 children that we know about, to five official queens. Ranariddh, his eldest son, was thought to be the likely successor to the throne before Sihanouk abdicated, although primogeniture has never been a deciding factor in Cambodian succession politics – the rank of a candidate's mother is actually the most important consideration, historically speaking.
In the late 19th century the rules concerning who princesses were permitted to marry were altered so that they could only marry someone of their own rank – i.e. the son of a king. This meant that most princesses had to choose between incest or celibacy. The offspring of such unions would be contenders for the throne. Ranariddh's mother, Neak M'neang Phat Kanhol, is the highest ranked, in royal terms, of Sihanouk's wives. Paule Monique Izzi, the real name of Queen Monineath, is lower ranked, so according to custom her children did not have a good chance of reigning. She bore Sihanouk two children, Sihamoni (born in 1953) and Narindrapong (born 1954). The two boys were sent to Moscow to study and later lived in France. Sihamoni studied dance; Narindrapong law and criminology. Their occupations were moot, in a sense, because it was impossible that they could be considered eligible given the Cambodian royal succession rules. In the late 1990s or early 2000s, however, the laws of succession were altered to reflect the stipulation that only the children of Queen Monineath were eligible to succeed to the throne. It is likely that Narindrapong was in mind for the position; unfortunately, he died of a heart attack in 2003. The only person left was Sihamoni, who had been singularly ill-prepared for the role.
How does the average Cambodian perceive Sihamoni?
I know expatriates in Cambodia who have attended functions at the palace with Sihamoni and describe him as a gentle, quietly funny man who seems somewhat bemused by the things expected of him in his current role as king. When I returned to Cambodia in 2005 after an absence of a year or more, my regular motodop collected me from where I was staying and proceeded to fill me in on all the news. He asked me if I knew that "we" had a new king. I said yes. He said, "He's in his 40s, you know." I said I had heard that. "But wait – there's more. He isn't even married!" he announced, then proceeded to laugh so hard he nearly swerved into an oncoming fruit stall. Based on this, and other conversations, Cambodians I know seem happy that there is somebody in the palace, and that there is an appropriate person to carry out the necessary rituals of ploughing and so forth to ensure the continued good fortune of the country, but they neither expect nor seem to think appropriate the idea that Sihamoni should involve himself in politics.
Nonetheless, should Sihanouk have done more to encourage Sihamoni to take a more active political stance?
Sihamoni has had hardly any contact with his siblings during his life and none of the current government are members of his immediate family. He cannot be expected to have the same degree of influence as Kossamak or Sihanouk. I do not think that Sihanouk ever expected Sihamoni to [be required to take a political stance] until quite late in his life. He expected obedience from his children and the idea of inculcating critical thinking or resistance to authority would not have occurred to him.
How will divisions among royal family members shape the future of the monarchy?
If Sihamoni has no children, as seems likely, then there will be a struggle for succession between the children and grandchildren of his siblings. It is anyone's guess as to who would come out victorious.
What is Hun Sen's vision for the future of the monarchy?
I think Hun Sen likes to have a king such as Sihamoni in place because it enhances Cambodia's image as a small, Theravada Buddhist nation. It's good for tourism [that the country has] the royal ceremonies and artefacts. If Sihamoni or his successor was to politicise, however, I think Hun Sen would quickly find a reason to start discussing the idea of a republic.
Support for royalist parties has waned in recent years, and Prince Norodom Ranariddh said he was giving up politics in November last year. Is there hope for royalist parties in the future?
As globalisation renders religion obsolete throughout the world, so Buddhism as a moral yardstick will decline in Cambodia. Already, money and status mean more than the amount of sel – a form of merit – someone has. The royal family will become less important to younger generations. It certainly won't hurt, for a few decades, to have members of the royal family prominently displayed in the royal party's leadership, to attract the remaining old guard of peasantry and pious members of the community. But a party based specifically on the notion that the royal family will govern better just because they are royal is not likely to attract many followers. They have the example of Funcinpec to go on as evidence that royalty are just as likely to exploit people as anyone else in Cambodia.