Sky-high quality makes rooftop bars the perfect destination to revel in the splendour of Southeast Asian metropolises

Since the dawn of our existence, the human race has procured a fascination for altitude. Arduous pyramid constructions, the Wright brothers' quest to conquer gravity and the perpetual battle for the tallest skyscraper are just a few examples. There is something appealing about venturing upwards – even just to escape the hustle of city life. Fortunately, Southeast Asia boasts numerous elevated watering holes offering fresh views of the urban sprawl, scintillating beverages and the rare opportunity to enjoy a breeze.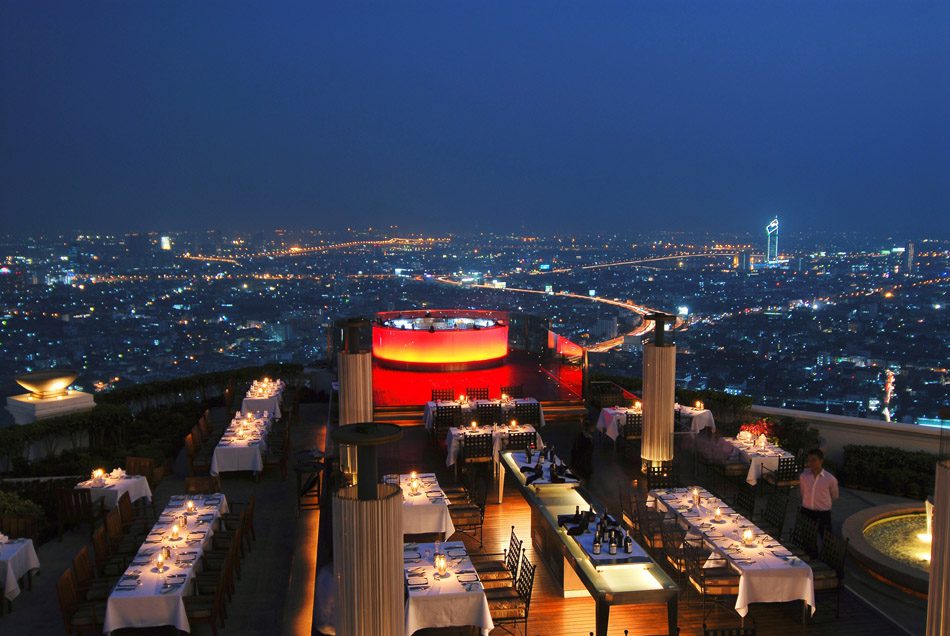 Suspended 63 floors up at the State Tower, Skybar at The Dome is unanimously accepted as the finest place to marvel at Bangkok's boundless labyrinth. As night descends, icy blues and fiery yellows accentuate the Dome's curvaceous grandeur, while barmen whisk an array of indulgent cocktails. Those looking for true top-of-the-world positioning reserve a table at the adjacent Sirocco restaurant, which offers some of Bangkok's finest dining and swanky jazz. Any complacency induced by the ambience is quickly dispelled by a glance through the glass railings and back down to earth: a timely reminder that vertigo is not something to be underestimated.
Glossy hues and sleek accents of wood and glass glimmer 71 levels above Singapore's urban polish in the New Asia Bar atop the Equinox Complex. Setting the standard for the city's nightlife métier, the shiny space takes dining and cocktails to new heights accompanied by the resident DJ's picks of house and soul. The ink black sky ablaze with the high-rise lights that make up one of Southeast Asia's most impressive skylines is reason enough to clink glasses, even without considering the fact that selected floors are slanted at a twenty-degree angle, adding further thrills to being at the apex of Singapore.
For those seeking after-work refreshments at a more serene altitude, the Saigon Saigon Bar above the Caravelle Hotel is one of Ho Chi Minh City's most iconic rooftop hangouts. The antique décor and ceiling fans add subtle accents to the location's historic roots. Slip outside before dusk for a glimpse of Saigon's Opera House and settle on the veranda laced with greenery to add a faux-colonial feel to the polite chatter. Bask in the city's iridescent lights with a classic white sangria or lychee caipirinha, or hit the terrace after 9pm when a variety of live music fills Ho Chi Minh City's heart.
Reach for the sky
Herald the New Year with a dizzy buzz and a treated tummy by reserving a space at Bangkok's Sirocco. The set menu – THB21,999 ($715)++ per person – includes wagyu beef, wild turbot and beluga caviar.