A handful of local people refuse to give in to mounting pressure from insurgents in Thailand's deep south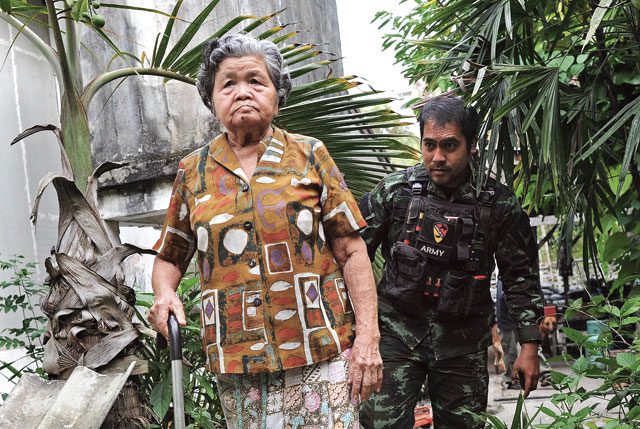 Jiaw Pongthawil, 81, is accompanied by a soldier as she walks through the grounds of her home in Baan Ga Doh, a remote village in a security 'red zone' in Thailand's restive Narathiwat province.
Soldiers guard the grandmother – the last remaining Buddhist in the village of 1,200 Malay Muslims – 24 hours a day, seven days a week to protect her from rebel attacks. Despite these measures, Jiaw  vows she will never abandon her home, defying a wider separation between communities in Thailand's south.
Security forces are often enlisted in the region to guard people of both religions who are considered potential targets of militants. Victims are marked when they are believed to be colluding with the state. It is not uncommon to see armed and uniformed soldiers flanking everyday citizens  – monks quietly collecting alms; schoolteachers making their way home after class; and elderly widowers, such as Jiaw, whose home has been attacked on at least three occasions.
Violence erupted in the Muslim-majority south in 2004, affecting the provinces of Pattani, Yala and Jiaw's home of Narathiwat. Since that time, it is estimated that more than 5,700 people have lost their lives as Muslim insurgents fight for greater autonomy from Bangkok.
A fourth round of peace talks between the Thai government and the militant group Barisan Revolusi Nasional (BRN), scheduled for late last month, was postponed indefinitely after violence escalated. The BRN's demands are being considered, though a timely resolution appears unlikely.