When asked what he's been doing for the past decade, Anan Bouapha confidently replied: "We have been giving the opportunity to young people to be who they are."
Born and raised in the Lao capital Vientiane, 36-year-old Anan is the founder and president of Proud to be Us Laos, the main civil society organisation working on sexual and gender issues in the country.
Anan founded the organisation in 2012 initially as just a small gathering to raise awareness about sexually transmitted infections, particularly HIV/AIDS, with support from the U.S. government. That year, 300 people attended the event.
From this modest showing came the beginning of a new era for gender diversity in Laos.
"It was just a small event, not a Gay Pride or anything like that," Anan said. "We wanted to show that we are just Lao brothers and sisters who want to contribute to our national development. But because it was organised in Laos for the first time, it attracted the media attention."
The next Proud to be Us Laos event, in 2013, was aired on national television. According to Anan, that was a turning point in the group's relationship with the Lao government. The transparency of the LGBT+ community's activities softened remaining tensions with the high representatives, securing their support.
Laos does not officially recognise marriage of same-sex couples. In 2009, the country legalised changing gender, although it doesn't officially recognise non-binary genders and has no protections or anti-discrimination laws for gender-diverse people. Still, the persistence of groups such as Proud to be Us Laos have been pioneers in creating a safer environment for the LGBT+ community.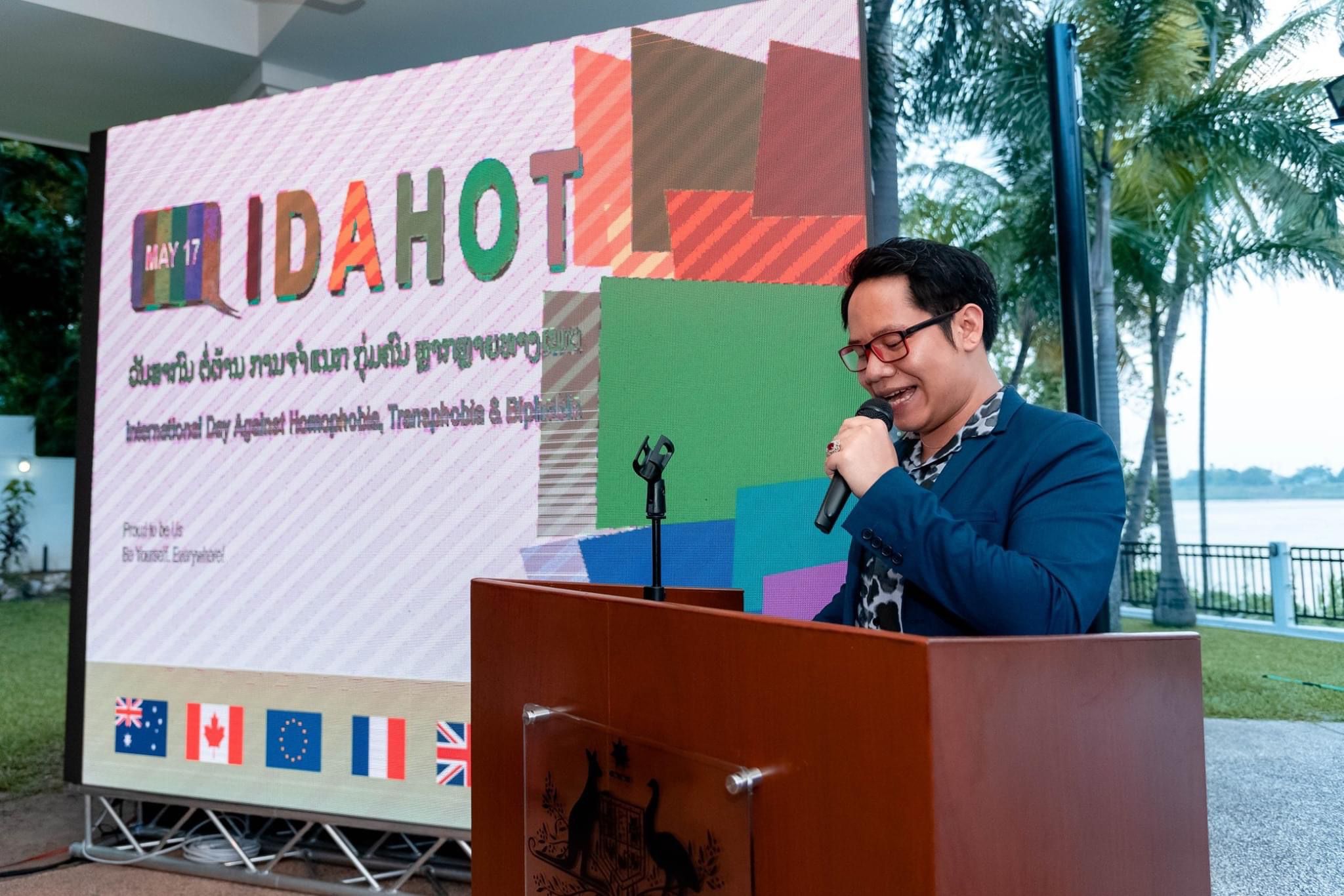 Gradual acceptance over the past decade led to a major achievement this year for the Lao LGBT+ community. The Ministry of Foreign Affairs has approved the official celebration of the International Day Against Homophobia, Biphobia and Transphobia in Laos on 17 May.
The day commemorates the WHO removal of homosexuality from its Classification of Diseases in 1990. For Laos, explained Anan, recognising the day on a national level is a big step in an ongoing journey toward equality.
Anan dedicated most of his life to supporting his peers in the LGBT+ community in Laos, and this year's official recognition was like a gold medal for his dedication.
While his work on HIV prevention started much earlier, it was only after university in 2012 that he received funds to create a solid network in the gender-diverse community. The U.S. embassy in Vientiane already knew Anan as a University of Wyoming alumna and about his work as a teenager on HIV. With a degree in international relations and social work, Anan was the perfect candidate to receive funding for an LGBT+ programme.
"It was very unusual in this country 11 years ago. LGBT+ was perceived as a Western influence." Anan said. "We had to explain to the government that LGBT+ is not Western import or naming or shaming anybody, it's the human reality."
Once the group had won a smile and a nod from the government, Anan and his team could set up their first event, which in its early days resembled a marketplace of stalls from local organisations promoting awareness of sexual and reproductive health, and HIV/AIDS prevention in the gay community.
Over the past decade, their presence has only grown. Anan sees this year's official recognition of the International Day as a important step while noting that serious work remains, especially outside Vientiane.
"This is a powerful message, especially in countries tied to cultural beliefs like Laos where being LGBT+ often means being abnormal," he said, adding that some more traditional provinces still hold close to such views.
"Many ethnic minorities in our country believe in spirits. For them LGBT+ people are demons."
Although not from an ethnic minority or a province, Anan had a hard time as a teenager coming out to his family and friends. As the only son of four children, his parents counted on him to carry on the family name. Only years later, they realised it was never going to happen.
You have to understand your own social and political context"

Anan Bouapha
As a child, Anan loved to paint his nails and hang out with his mother. He once tried on her dress, and he remembers feeling good in women's clothes. His parents thought it was "just a phase", but as the years passed, they started to see he was "different", Anan remembered.
"They slowly realised it was something I would carry for the rest of my life," he said.
The hardest period for Anan was in high school when he had to conceal his true identity from family and friends, fearing rejection. He didn't even tell them about his volunteer work in HIV/AIDS prevention.
"I wanted to tell them I was helping people to save their own lives. I wanted to tell them how honourable that job was. But I was terrified," said Anan.
It took him three more years after he started his work with HIV/AIDS prevention to find the courage to come out to his parents. In 2008, Anan was invited to represent Lao youth at a high-level conference with the national minister of health. His parents started wondering how their son got invited to such an important important event
"That's when I told them."
After a long period of estranged silence, Anan's parents accepted their son's identity as a gay man and started attending his Proud to be Us Laos events every year.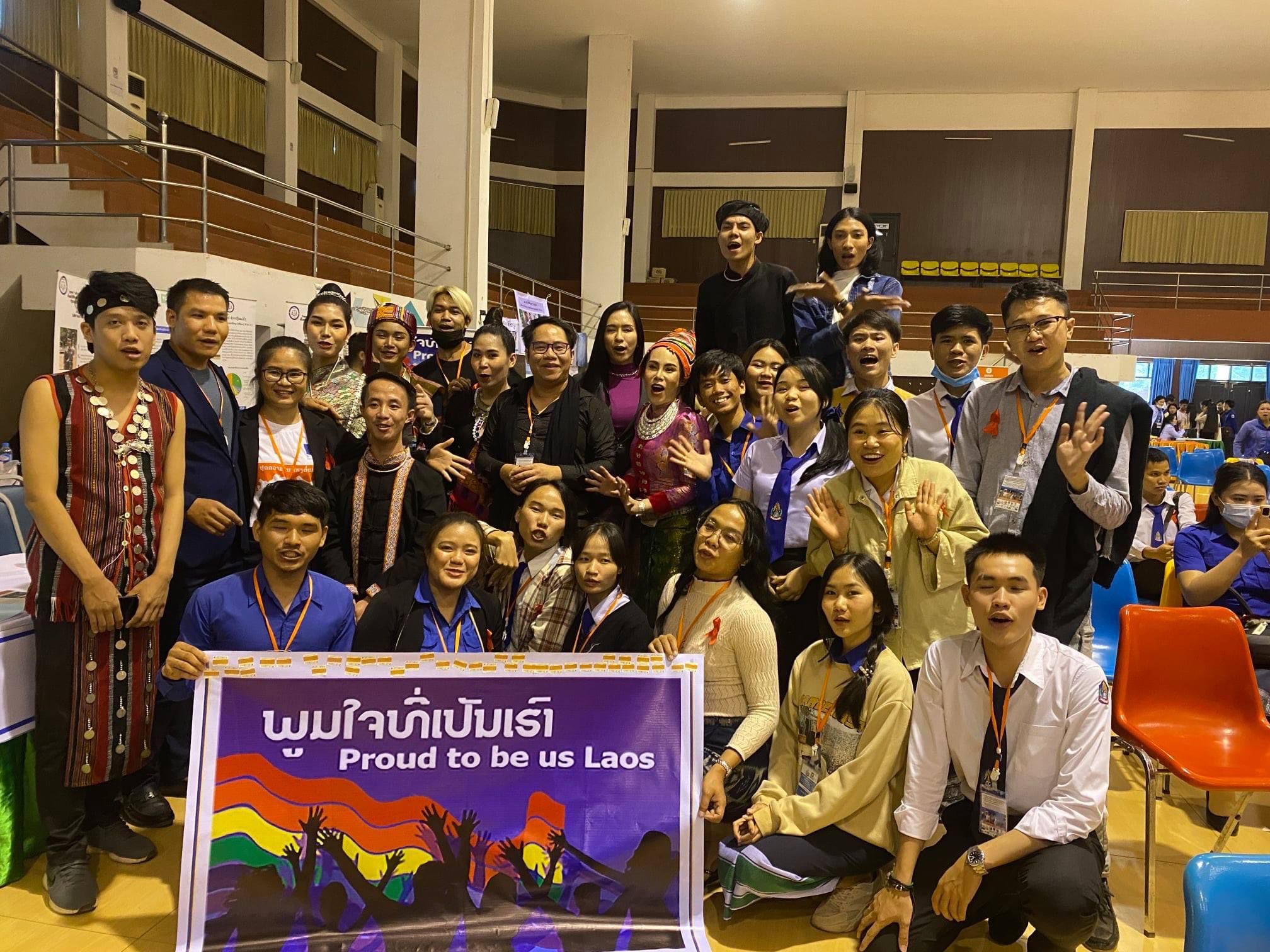 Understanding local context
New things can be scary for those who don't know, Anan believes. Only through creative persistence and constructive cooperation did Proud to be Us Laos move forward through the years while adjusting to its background.
"You have to understand your own social and political context before advocating for a change," he said. "You can't just look and copy from your neighbours, they have a different system."
In Lao, where there was no language for LGBT+, advocates needed to create new phrases in order to communicate their goals within the local context. That includes a political system known for repressive tactics such as silencing critics
"I must admit it's quite a Western term," Anan said, referring to the LGBT+ label. "It took us a while to come up with a culturally appropriate term in Lao."
People of the same sex can now talk about it and even walk holding hands"

Anan Bouapha
The group now doesn't talk much about LGBT+. Rather, they use "gender diversity and information".
According to Anan, the word "diversity" is powerful to navigate and to hold effective discussions with government partners.
"We all know what's the real meaning behind this word, we just don't say it because that's how it works in our culture," Anan said.
The future
But despite adversities, Laos has made tangible progress in LGBT+ rights over the past decade. From an originally strictly traditional approach, the country is now open to small but steady changes that could mean more protection and acceptance of the gender-diverse community.
Although changes are more visible in the capital, Vientiane, the rest of the country is catching up. That is also thanks to the massive impact of social media, according to Anan. While speaking up in person can be intimidating, the protection of a screen and online anonymity has been a turning point for many people in the LGBT+ community.
Though he knows that his country still has a long way to go, Anan often reflects back on how things have changed for the better since he was a teenager.
"It was not something you could talk openly about," he said. "But now I have seen a shift in freedom to sexual orientation and gender identity in Vientiane. People of the same sex can now talk about it and even walk holding hands."