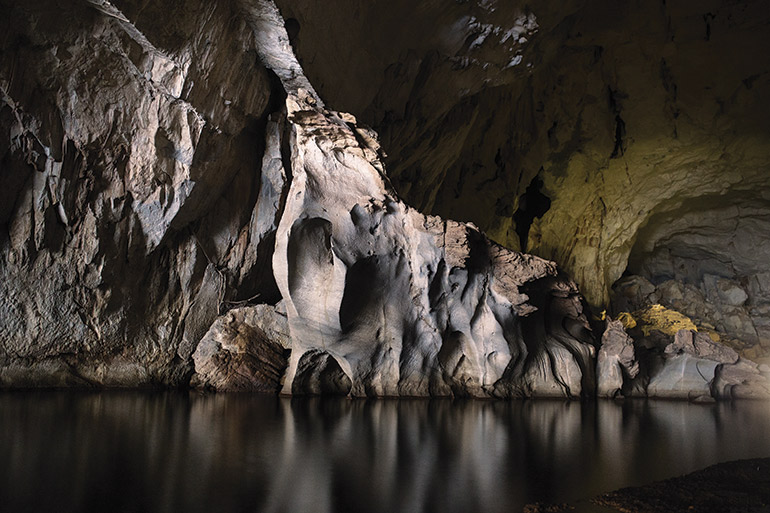 Since the late 19th century, the geological wonders of Laos have captured the interest of foreign explorers, not just for its striking mountain ranges, fertile Mekong River floodplains and waterfalls – but also for what lies beneath the surface. Countless caves have been revealed within the towering karst massifs and limestone mountains that dominate much of Laos' picturesque landscape.
While many of these subterranean beauties have been transformed into worthy tourist attractions, others are in a continual state of exploration. For fast-developing Laos, whose major economies are mining and tourism, the caves represent an opportunity to unlock the potential of swathes of the landlocked country's remote areas to the world. As the sport of spelunking gains traction, isolated villages are looking to cash in on this rise in visitors. Yet as experts have pointed out, great care needs to be taken in balancing the complex needs of locals and the conservation of the cave's delicate ecosystems – one wrong step can cause irreversible damage – with the commodification of Laos' natural assets.
"Cave tourism can have a highly positive impact on local employment and development, and a very large positive impact on the reputation of Laos, but not all caves are suitable for tourism," said Claude Mouret, a French geologist who has spent the last 25 years researching and documenting caves in Laos.
"Developing cave tourism means selecting caves that are not too fragile with respect to the underground life. Safety must also be a concern. Caves have a risk of flooding even if there is no underground river. If you move a boulder or drill a hole, you can change the stability of the cave. Precautions need to be taken, but it's not so easy to have all the aspects satisfied at the same place."
Mouret together with his expedition partner Jean-François Vacquié carry the distinction of being the first two explorers to embark on modern cave and karst investigations in Laos. Since 1991, the caving duo has mapped roughly 100 caves in the small nation, totalling 170km. Moreover, Mouret and Vacquié have contributed to the opening of several "safari" and "tourist" caves such as the infamous Tham Konglor in Khammouane province as well as Xe Bang Fai – one of the largest river caves in the world, with a 7km channel snaking through it.
"Regarding tourism, we have to consider two kinds of caves: Tourist caves such as Konglor or Tham Nang Aen Cave have dedicated installations such as walkways and steps to improve visitor safety," said Mouret. "Safari caves such as Nam Non and Tham Heup have no dedicated installations. They inspire the unknown, and I think people like the mystery, the feeling of being an explorer – even if they are not really one. [They enjoy] overcoming the physical possibilities of their body and fighting mental fears."
According to the Department of Planning and Investment in Laos, there are 32 villages in Khoun Kham district with a combined population of 22,163 people.
In 2015, 27,448 tourists visited Konglor cave in Khoun Kham, a substantial increase of 86% from the previous year. The total revenue from tourism for the district amounted to roughly $334,000.
Recognising the economic value of caves as tourist destinations, the local Khammouane tourism authority in central Laos' Ban Nahin village is now embarking on an ambitious endeavour to open up a little-known but magnificent cave called Khoun Keo. Home to venomous vipers, long-legged centipedes, furry huntsman spiders and other cave-dwelling critters, Khoun Keo is certainly not for the faint-hearted. But from the standpoint of the ambitious tourism authority, the cave's twisting labyrinth of striking stalactites, stalagmites and delicate columns is the perfect playground to lure in the growing number of adventurous explorers.
"We have an opportunity to increase tourism to Nahin by opening Khoun Keo to the public," said Vilaisak Souvannarath, director of the Khammouane Information, Culture and Tourism Authority. "We also have an opportunity to develop community-based ecotourism to raise employment in the village. But we have to do it right."
Situated in the permo-carboniferous limestone at the base of the Phou Phaman mountain range in Ban Khoun Kham district, Khoun Keo is well revered among the locals and tourism authority alike. According to Souvannarath, the cave – only discovered in 2012 by a subsistence farmer named Seng – holds spiritual element for Ban Nahin.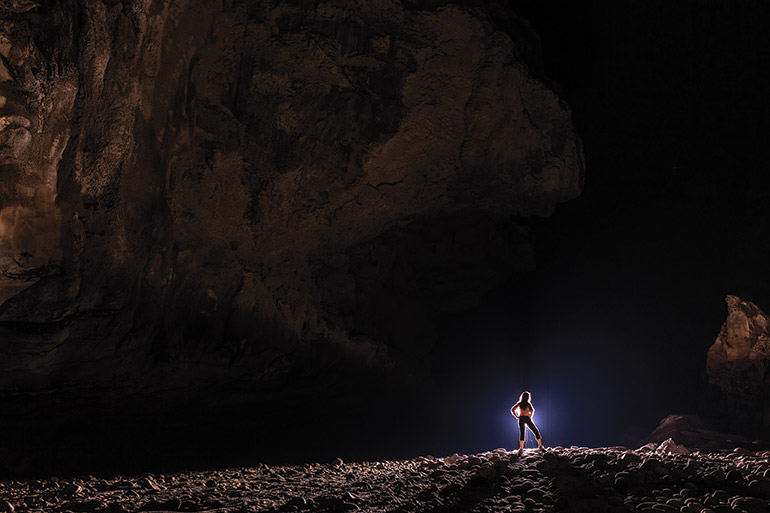 "Seng discovered the cave after God appeared to him in a dream, telling him to open up the way. After finding the cave, he discovered it had three underground lakes," said Souvannarath. "God wants us to open the cave but he also wants us to protect it."
The significance of the cave pools is not lost on the tourism authority. According to Souvannarath, hundreds of locals once lived beside the Nam Theun River, a tributary of the mighty Mekong, and used it to irrigate their crops. This changed in 2011, when the Nam Theun 2 Hydropower plant (one of Laos' biggest hydroelectric projects), upstream from the village, started diverting the river. While scores of people had to be relocated, Nam Theun 2 Power Company built more than a thousand new homes as well as rainwater collection tanks and water pumps. Early on, the measures that the company took to mitigate the dam's environmental and social impacts were applauded by the World Bank as a model to emulate, yet according to the latest report from the International Panel of Environmental and Social Experts, challenges regarding resettlement still need to be addressed. Some NGOs have also questioned the impact of the dam on the river's ecosystem and the communities that depend on it further downstream.
In Ban Nahin, Seng and a few of his neighbours opted to relocate to a parcel of land beside the Phou Phaman Mountains. While the dam had cleared the land, the villagers did not have easy access to water. According to Souvannarath, the discovery of cave pools inside the mountains has allowed the villagers to greatly improve their food security.
"Locals use these underground lakes to water their crops. Instead of planting just rice they're now growing different crops like pineapple and cassava all year-round," he said. "We really have to take this into consideration."
Until recently, Monenoy Keomanixai – a former tour guide in Ban Nahin – was working with authorities towards opening the cave to tourists. While Keomanixai now works as an administrator for a power scheme in Bolikhamxay province, he continues to keep a close eye on the project's development.
"We want people to come and we want people to stay, but we also need to focus on conservation of the region's natural and cultural heritage. We can't have tourists trekking through farmer fields and destroying crops to get to Khoun Keo. We can't have them getting hurt while they're exploring the cave, and we don't want to have tourists not care about the village and its people. We don't want another Vang Vieng," he said.
Situated some 450km away, Vang Vieng serves as a cautionary tale for Keomanixai, who remembers hearing stories about the village and its transformation into an epicentre for scantily clad backpackers looking to get wasted and 'tube' down the river. After a spate of deaths and injuries, the government shut the party down in 2012. While no longer in its hedonistic heyday, the village continues to attract drunken revellers – albeit on a much smaller scale.
"In the past few years, more tourists come through Nahin. They do a motorbike loop starting from Thakhek. It's becoming very popular and bringing money to the area," said Keomanixai.
While tourism has become an increasingly important component of Laos' development policy, enabling poverty reduction in many rural communities, Keomanixai said Khoun Keo will not open until 2017 or 2018.
"A boulder from the cave entrance has already been removed to improve visitor access and safety. Mr. Seng and another village guide will lead the cave tours, but there is still so much more to consider," he said.
Under review are walkways and steps to improve safety and prevent damage to the natural cave floor. Mapping and a clear understanding of the cave's ecosystem are also required to move the project forward. Still, if plans come to fruition, Keomanixai sees more positives than negatives.
"Khoun Keo is like stepping into a magical world. We know that once it's open, the beauty of Khoun Keo will be shared among tourists, especially those who love nature. It will bring very good luck to Nahin."