Under military-appointed Prime Minister Prayuth Chan-ocha, the Thai government has launched happiness campaigns and banned public consumption of sandwiches and George Orwell's novel, Nineteen Eighty-Four. Amid indications the movie itself was about to be banned in Thailand, it has even outlawed the three-finger salute used in The Hunger Games.
Such absurdities have drawn inevitable comparisons with life under the Kim dynasty in North Korea. While that is an absurd stretch in itself, Thailand does indeed appear to have succumbed to a peculiar variety of authoritarianism. The junta has put a destabilising drama on the streets to an end, but the trade-off has been risible dictates, haphazard purges and capricious lèse majesté arrests – all against a tableau of growing public discontent and a high-purge initiated by the palace.
As William Pesek noted in a Bloomberg commentary last year after the May coup: "Two years ago, Thailand was selling itself as a regional role model for Cambodia, Laos and Myanmar. Today, it's a cautionary tale for would-be democracies, who would be better off looking to Indonesia and the Philippines for lessons on how to progress and build a stable economy."
Meanwhile, coups and political divisions come at a cost. Thailand has consistently underperformed its neighbours in terms of growth in the past decade. A recent guest column in the Financial Times calculated that, by regional standards, the Thai economy should have grown 66% since the first quarter of 2005. In reality it has grown just 28%.
The World Bank arrives at similar conclusions, noting in an October 2014 report that Thailand would remain the slowest-growing economy in Southeast Asia until 2016. "So far, Thai export growth (in US dollar terms) has trailed that of its
regional neighbours, with key exports such as hard-disk drives and rubber products either contracting or growing much slower than in previous years," the report concludes.
The question is whether the social and economic woes bedevilling Thailand's recently installed military government are temporary setbacks. Unfortunately, few people think so, and some fear the worst is still to come.
"The worst case scenario is violent conflict, or civil war," says academic Pavin Chachavalpongpun, associate professor at the Centre for Southeast Asian Studies, Kyoto University, Japan. "Political suppression by the military could drive Thais to protest against the government, while injustice and double standards could fuel the fire of conflict."
Pavin adds that, if the royal succession does not proceed smoothly, it would also likely accelerate the possibility of violent conflict.
Thailand's 86-year-old King Bhhumibhol Adulyadej, the world's longest-reigning monarch has been ailing for many years now, emerging from hospital only rarely for ceremonious public appearances. The issue of who will succeed him is vexed, and the reverence accorded to his rule makes it a subject that is closed to public discussion.
Meanwhile, in an unusually public move that further muddies the waters of Thailand's fraught succession drama, Crown Prince Vajiralongkorn, next in line to the throne, has stripped his wife Princess Srirasmi and all her family of the honorific title Akkharapongpricha. A number of her relatives have been arrested for using their royal status to amass wealth.
Former Reuters correspondent and bureau chief Andrew MacGregor Marshall, whose recently released book, Kingdom in Crisis, has been banned in Thailand due to its unflinching treatment of the taboo subject of royal succession, agrees that more political strife is likely.
"Thailand has been convulsed by chronic political instability for more than eight years, and it's highly probable that there will be more turbulence ahead. This has caused many investors to drastically re-rate their assessment of Thai political risk," Marshall says.
As a logical Asean hub – if for none other than geographical reasons – any further political and economic deterioration of Thailand is of serious regional concern. But Thailand's centrality to economic integration may make it an indispensable piece in the entire integration game, which would make the current impasse of more than fleeting significance for Thailand and a problem for the entire region.
"If Thailand is not the economic hub, what country could offer itself as a better substitute?" asks Paul Chambers, director of research at the Institute of Southeast Asian Affairs, Chiang Mai. "Other countries either lack the infrastructure, are too unstable, or are rather distant from the centre of Southeast Asia."
Chambers maintains that it is unlikely Thailand would be willing to compromise business in the interests of maintaining internal order. After all, he points out, business as usual is good for everybody, including the Crown Property Bureau, which manages property worth billions of dollars in Thailand – the exact amount is unknown, but is thought to be valued at around $32-42 billion.
Marshall is sceptical: "The Thai elites are obsessed with succession because of the money and influence at stake and, as we have seen repeatedly over the past eight years, they are willing to use extreme tactics even if this damages the economy – such as blockading airports, shutting down central Bangkok, provoking a border conflict with Cambodia, and so on."
He adds: "The elites are focused on winning control of royal riches, rather than attracting foreign investment, which is a secondary priority for them."
Whether Marshall is ultimately right or wrong, there is already no shortage of warning signs to suggest Thailand is less than pinprick-focused on its role as a lynchpin of regional growth.
Apart from its recent history of domestic strife, such signs include mixed signals on the status of foreign businesses. On the one hand, in late 2014, the Ministry of Finance proposed to the cabinet that incentives be established to attract foreign enterprises to establish regional operating headquarters in the Kingdom, arguing that turning Bangkok into an Asean hub could generate Bt120 billion ($3.7 billion)) annually. On the other, changes have been proposed to the Foreign Business Act (FBA), drawing protests from the Japanese diplomatic corps and US business interests.
The proposed changes – which the Junta have now backed away from – would have affected the use of preferred shares, which currently allows foreign companies to maintain control over their businesses and brand integrity in
Thailand. Many foreign businesses say they would have been forced to quit Thailand if the proposed changes to the FBA went ahead.
Kyoto-based academic Pavin suggests such mixed messages should come as no surprise, also warning that it would be wrong to assume that Thailand will always put long-term Asean and broader international business interests ahead of short-term political point-scoring at home.
"It's true that Thailand has been a key player in Asean, but over the past decade Asean has not been a priority," he says. "The Thaksin [Shinawatra] era showed that the government preferred to come up with its own initiatives, rather than relying on Asean, and this trend continues."
Regionally, authoritarian governments are more the norm than the exception. Singapore achieved greatness under the iron hand of Lee Kuan Yew, Malaysia's government has systematically stymied all opposition and Cambodia's Hun Sen has ruled over a one-party state for three decades. Meanwhile, Vietnam and Laos are both under communist rule. For many years, that left Thailand a dim beacon of hope for the region.
Today, that beacon has dimmed to a flicker. Some – if not most – foreign investors might shrug and say that stability at any cost is, at the end of the day, stability at least. Unfortunately, it is unlikely that a return to top-down rule and command economic policies will be a palatable long-term systemic solution for the majority of Thailand's population, who have awakened to the liberating push and shove of populist politics.
"The new Prayuth government is diminishing populist elements [in politics] and emphasising tighter monetarist policies – indeed, a command economy (as under Chile's Augusto Pinochet) did work macro-wonders for the Chilean economy," says Chambers.
Nevertheless, he adds, foreign investors are "naïve" to think that the current situation of military imposed stability can be maintained forever.
"Now that Thailand's poor have tasted populism, they are going to demand more of it," he says. "Foreign investors are going to have to accept that Prayuth's 'stability' is not forever."
Just how Thailand's prime minister primes the pumps for general elections, however, nobody knows. Publicly, Prayuth has said that elections will be delayed until 2016, but his statements are regarded by many Thais as little more than obfuscation and his stated vision for Thailand changes on an almost daily basis.
"Ideally, the Thai elites and the military eventually come to terms with the shifting political and economic landscape of Thailand, and through this process agree to find a new political consensus based on a respect for electoral politics," says Pavin.
He adds bleakly: "I think this is an unlikely scenario."
Pavin says he is concerned that royal succession will become a power game between the elites and other forces.
"The elites look at this as a zero-sum game and thus are unwilling to compromise," he says. "This explains why they went for a coup in order to regain political domination."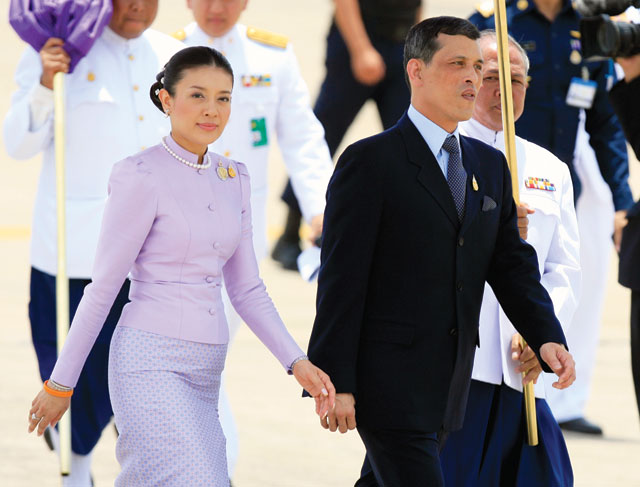 For Marshall too, an outcome that works as a happy compromise for all is highly unlikely, as desirable as it might be.
"Free and fair elections are the best way to restore stability, even with a polarised electorate," he says. "But it seems inevitable that the junta will seek to rig the elections in some way to ensure only governments they approve of will get elected."
Marshall maintains that the most likely result of that is "significant electoral changes". Possibilities, he says, include "significant gerrymandering, a partially-appointed parliament, and/or proportional representation – to ensure that proxy parties of [exiled] Thaksin Shinawatra can never control parliament."
Chambers, on the other hand, points to the Kingdom's apparent ability to ever scramble back from the brink of disaster, earning it its 'Teflon Thailand' reputation. Pragmatism will ultimately win the day in Thailand, as it always has.
"I think Thailand learned a hard lesson from economic policies pursued by the 2006-2008 Surayud [military] government," says the Chiang Mai-based scholar. "Now, I think that whatever happens politically in Thailand, the leadership of the country will try as much as possible to stay open for business in welcoming foreign investors and maintaining an open free market economy."
They can try, responds Pravin, but with the issue of royal succession looming and no timeframe in sight for elections, their ability to deliver is uncertain.
"Integration will have to be postponed until the situation in Thailand improves," says Pavin. "Other countries can take advantage of Thailand's unfortunate situation to advance themselves, but overall Thailand's crisis will become a dark black hole in the region".