Film director Kulikar Sotho tells Southeast Asia Globe about her new movie The Last Reel, which stars renowned Cambodian actress Dy Saveth and is set for its world premiere at this month's Tokyo International Film Festival
Can you tell us a little about The Last Reel?
One of today's generation, Sophoun is young, confused and frustrated at being under the control of her traditionally-minded family. When she finds out that an arranged marriage has been set up by her father, she runs away and seeks refuge in an abandoned cinema. There she discovers an old film which to her surprise starred her young, beautiful mother. This comes as a great shock but amazing at the same time, as she's grown up knowing her mother as sick and an unhappy wife. However, the film was not finished as the country fell into civil war. With help from an old projectionist, she decides to complete the film to give to her mother, to remind her of the happy life she once had.
The film focuses on a broken society that is caused by trauma and the legacy of war, followed by poverty. The trauma is too dark, too deep and too painful to touch. This dark side has overshadowed their lives, through no fault of their own, and the trauma has shaped the behaviour of the older generation, which in turn has had a big impact on the new generation growing up.
One of the film's themes is connecting the pre-Khmer Rouge generation with today's generation, what are the social and historical messages behind it?
There's a big gap between the generations because of a lack of communication. The older generation are closed, conservative and pride themselves on their traditional beliefs. For the younger generation, their role model has been technology, they are more free-spirited, to the point they often forget about tradition, their culture and identity. They need guidance and support from their elders, they need to know what has gone before, both good and bad, in order to make sense of the present. They need to understand what has shaped their parents' attitudes. Both have a responsibility to communicate with one another to bridge the gap.
What is your target audience for the film?
The film is aimed at those of Sophoun's age and for all Cambodians – it's a story across generations, it's for the family, for parents and children, brothers and sisters. We are also targeting the international audience as well, as the film has a universal subject matter and theme. The film's production values are also of an international standard. 
Can you explain why The Last Reel premiered in Toyko and not in Cambodia?
The Last Reel is having its World Premiere in Tokyo this month and we will hold the Cambodian Premiere later on, in December. We were selected by Tokyo for the World Premiere and the condition of that selection is that the film can only be shown for the first time at the Tokyo International Film Festival.
How much of a personal importance is there for you in this film?
It's very personal at a very deep level. The film has elements for every Cambodian, whose parents went through the genocide and the effect it had on them. I am one of those. I grew up with an extraordinary mother who is my role model in life. Her strength, determination and unlimited love has shaped my sister and I into who we are today. The trauma she endured as a result of the civil war, I witnessed it all, I grew up with it and the breakdown in communication between us, which was her way to protect me, which I didn't understand then, but I do now. 
Dy Saveth was a star of the golden era of Cambodian film, what has been your experience of working with her? And why did you choose Dy Saveth in particular to play the role?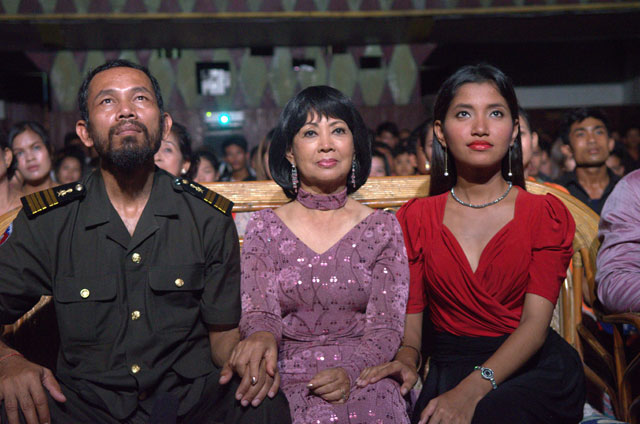 It was a great pleasure to work with Dy Saveth, she's very experienced and has a deep emotional range within her. As we shot the scenes, we talked it through and she was able to put herself in the moment. She could do this as part of her own life is in the film's storyline. We spent a lot of time during the preparation period, breaking down each scene into the complex emotional layers of each character. She represents the golden age of Cambodian cinema and is a great actress to work with. 
Do you think that Cambodian cinema will be able to recapture the glory of its golden era?
Yes and I think it will probably get even better. Cinema today is much broader, more open-minded, there are no restrictions, and more stories to tell. The Missing Picture by Rithy Panh, the godfather of modern Cambodian film, has given us our identity back and I am hoping that The Last Reel will add to the legacy.
Can you tell us a little about how you got into the film industry?
I worked on Tomb Raider in 2001 and was responsible for making it happen here in Cambodia. I worked across all the departments of the film, enjoyed it immensely and the steep learning curve I had to go through. I was in deep at all levels and I was intrigued at how everything was transformed into the finished film. Following that, I worked on a lot of documentaries, mostly about the Khmer Rouge, including one called Inside Evil with a very good British director [Andrew Williams], who helped me explore my own questions about the Khmer Rouge. It was at that time that I felt that I wanted to tell my story, our story, that it should be told by someone who had gone through it and experienced it; to be able to tell not just the story itself, but the intimate details and emotional truth that can only be provided if you've lived through it. When the script was presented to me, I thought it was a perfect Cambodian story that should be told by a Cambodian.
What's next for you?
I'm working on a new script with a modern story that recalls a glorious time in ancient Khmer history with production earmarked for next year.
***
For more information on The Last Reel click here
Keep reading:
"Tropfest winners: Sothea Ines" – After grabbing the top slot at Tropfest South East Asia with her short film "Rice", Cambodian film maker Sothea Ines talks exclusively about her desire to tell stories