As Thailand's King Bhumibol Adulyadej ails, thoughts turn to what will happen after his death
After spending almost five weeks hospitalised for stomach inflammation in September, Thailand's King Bhumibol Adulyadej was readmitted early last month in order to receive an operation to remove his gall bladder.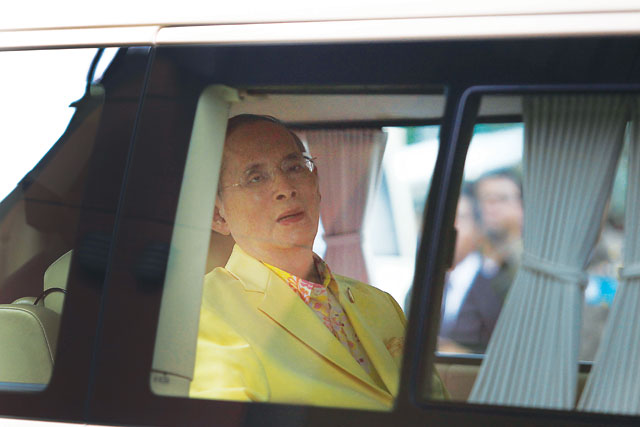 With the King having spent much of the past year in ill health, speculation is rife about what happens when the much-revered 86-year-old – the world's longest-reigning monarch – dies.
According to Lee Jones, senior lecturer in international politics at Queen Mary, University of London, a "prolonged period of 'national mourning', which will doubtless be unprecedented in its officially sanctioned hysteria", will follow the King's death.
"Many will mourn Bhumibol's passing with genuine grief," added Jones, "because the state has deliberately cultivated an enormous personality cult around him, into which many Thais have been socialised."
"Thailand will become a place of mourning for weeks or months, with bars and entertainment venues likely to be closed," said Andrew MacGregor Marshall, a journalist and author who has just published A Kingdom in Crisis, a book on Thai politics and the royal succession. "The Thai media will be saturated with royalist propaganda extolling the King's greatness."
The $30 billion question – the figure Forbes puts on the King's personal fortune – is who will succeed him. Marshall believes there is a struggle over the succession, because Crown Prince Vajiralongkorn – the King's only son – is considered to be aligned with ousted former Prime Minister Thaksin Shimawatra. Jones, on the other hand, believes that the government will move quickly to appoint the Prince as successor.
"The Crown Prince does not have any real political loyalties or principles," said Jones. "The onus will therefore be on the military regime to impress upon him the importance of complying with their faction's commands – in other words, they will make a new puppet to replace Bhumibol."
However, Marshall believes the Prince has few friends in high places and that most of the traditional Thai elite are determined that the Prince will not become the next monarch. The heir apparent is seen by them as dangerous and volatile, and any ensuing power struggle could plunge Thailand into a precarious situation.
"Unless some kind of deal is struck with the Prince to persuade him to stand aside, there will probably be a succession crisis that could become violent and further divide the already dangerously polarised country," Marshall said.
If not Prince Vajiralongkorn, then his sister Princess Sirindhorn has been touted as a potential candidate for the throne. Perhaps importantly, she is seen by many as untainted by the Thaksin regime.
Giles Ji Ungpakorn, a Thai-British academic and political activist, thinks a push for the Princess is unlikely. "Make no mistake. All sides have agreed that the scandal-prone and despicable Prince will be the next King," he said. "To place the Princess – who has no male partner – on the throne instead would immediately destroy all the 'reinvented tradition' about the monarchy." 
Keep reading:
"Major general" – The words 'coup' and 'new military leader' have become synonymous with Thailand. Does General Prayuth Chan-ocha, the Kingdom's unelected leader and head of the army, have what it takes to bring the country out of its latest dark place?