This morning, the Extraordinary Chambers in the Courts of Cambodia (ECCC) – also known as the Khmer Rouge Tribunal – convicted two of the most senior surviving leaders of the Khmer Rouge of crimes against humanity and sentenced them to life in prison.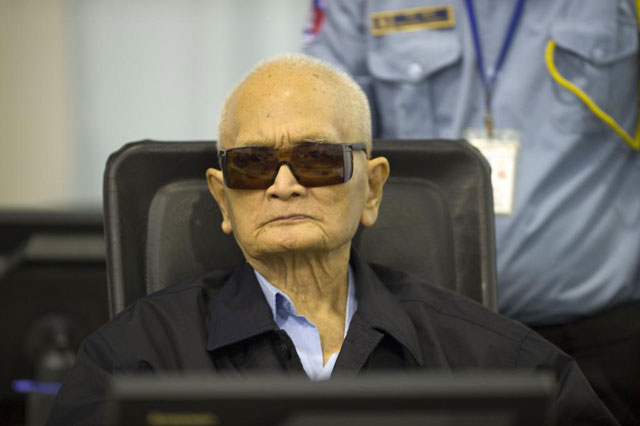 Nuon Chea, 88, was Pol Pot's deputy and known as Brother Number Two while Khieu Samphan, 83, was the head of state of Democratic Kampuchea. Announcing the guilty verdicts, chief judge Nil Nonn said that the two men were responsible for "extermination encompassing murder, political persecution and other inhumane acts comprising forced transfer, enforced disappearances and attacks against human dignity".
Known as Case 002, proceedings against the two men began in November 2011. Charged alongside them, Ieng Sary, a co-founder of the Khmer Rouge, died last year during the ongoing trial, while his wife, Ieng Thirith, dubbed the "First Lady" of the Khmer Rouge, was found mentally unfit to stand in 2012 due to her dementia.
Khouth, 62, had been standing outside the courts since 7am, waiting to hear the 9am verdict. A survivor of the Khmer Rouge regime, he was one of thousands who were forcibly moved from Phnom Penh when the capital was emptied soon after the regime took power. "I want to be here to hear they are guilty. It is important for me," Khouth said. "It helps me a little."

Another man, a student at the University of Phnom Penh, sat on his motorbike outside the courts. He said: "This is an important day for Cambodia, for justice. After World War Two, you had the Nuremburg Trials in Europe; that was quick. We have had to wait more than 30 years."
Today's sentencing was just one of two 'mini-trials' under examination by the court. The verdict handed down today was for Case 002/01, which looked at the forced movement of the population out of Phnom Penh and other areas, as well as for the execution of soldiers of the Khmer Republic.
In Case 002/02, for which sentencing will be handed down later this month, Nuon Chea and Khieu Samphan will be tried for additional crimes, including genocide against the Cham and the Vietnamese, forced marriage and rape and atrocities carried out in the S-21 prison, better known as Tuol Sleng.
Prior to today's ruling, the ECCC has only sentenced one other ex-Khmer Rouge member in its 17-year existence. In 2010, Kaing Guek Eav, also known as 'Comrade Duch', was found guilty of crimes against humanity for his role in running prison camps where thousands were tortured and murdered, including S-21.
The full press release by the ECCC can be read here.