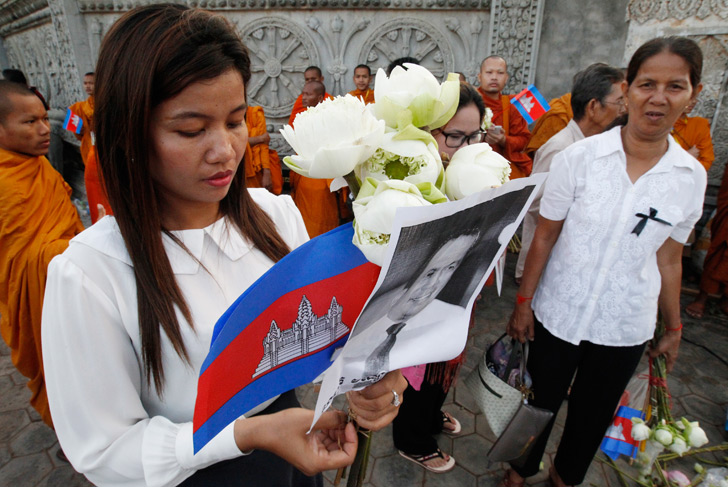 Massive crowds of mourners took part in a funeral procession on Sunday for Cambodian commentator Kem Ley, who many believe was killed for political reasons

Cambodia's capital, Phnom Penh, was brought to a standstill on Sunday as tens of thousands joined a funeral procession for slain political analyst Kem Ley, who was gunned down on July 10.
Ley, a popular critic of both the government and the opposition, was shot dead as he bought his morning coffee at a service station.
His murder set off a wave of grief among Cambodians, many of whom believe it was politically motivated.
A huge crowd of mourners took part in the funeral procession, which set off from a Buddhist pagoda, Wat Chas, where his body had been kept for two weeks as people trekked from across the country to pay their last respects.
Buddhist monks led the procession on foot, while motorbikes, tuk tuks and cars – many plastered with images of Ley and the words "Wipe your tears, continue your journey" – followed in a lengthy convoy that stretch for several kilometres.
Scores more, holding flags and portraits of Ley, lined the 70-kilometre route that wound its way through central Phnom Penh before leaving the city for his home town, in the province of Takeo.
Ley's widow, Bou Rachana, and their children, travelled in a converted truck ahead of the hearse, which carried a glass casket containing his body wrapped in the Cambodian flag.
Watching the procession, Brak Sambo, 42, said he always listened to Ley's regular radio appearances and "loved" his commentary on Cambodian affairs.
"Everybody really loved him. A lot of them [had] never seen the guy, but they heard his voice through the radio. Any time he had an interview on Voice of America or Radio Free Asia, he was always very good," he said.
Ay Sothera, 33, who brought her four-month-old daughter along with her, said she felt it was important to pay her respects in person.
"We want to say goodbye to him, and we want to say thank you to him, because he is a good man," she said. "We will be so sad for losing him… [When] he spoke, he made us understand more clearly about the country and everything in society."
Ley set up the grassroots 'Khmer for Khmer' political network and had recently begun his "100 nights" campaign, which saw him criss-crossing the country to stay with Cambodian families and document their grievances.
In the days before his death, he was a guest on a Radio Free Asia programme, where he discussed a Global Witness report that accused Prime Minister Hun Sen's family of building a $200m fortune through a vast, corrupt network of patronage.
The high-profile analyst is the most prominent government critic to be killed in the country since union leader Chea Vichea was assassinated in January 2004.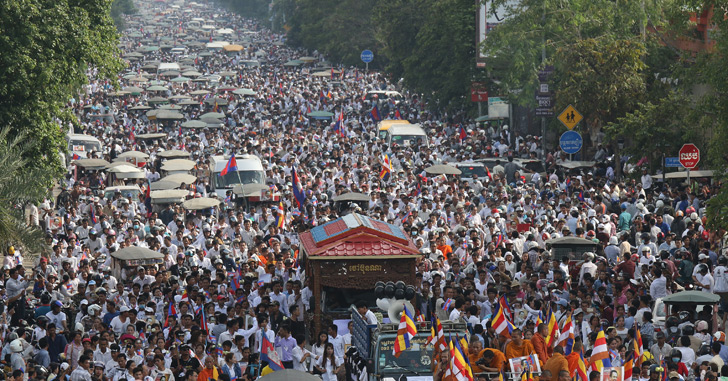 Police have arrested a former soldier over Ley's death, and the alleged gunman – who initially gave a false name, Choub Samlab, which translates as "meet to kill" – has claimed he carried out the killing because he was owed a $3,000 debt.
Expressing a belief that Ley was killed for political reasons, Sokhorn, 60, who preferred not to give her full name, travelled hundreds of kilometres from Kampong Som province to attend the procession.
"I really want a leader like him," she said. "Most Cambodian people really like him, but they are afraid if they show support for someone like him to be a leader, somebody else will be shot, like him."
Several mourners called out to journalists covering the procession, "Srok Khmer [Cambodia], no justice". However, with security forces deployed along the route, organisers appeared to discourage any attempts to chant slogans that would politicise the occasion.
As mourners joined and left the procession at different points, it was difficult to quantify the number who attended, but conservative estimates put it in excess of 100,000 people.
According to local NGO Licadho, the procession arrived at its destination just before 6pm – a full 11 hours after it departed Phnom Penh. A burial ceremony was due to be held today.