This year's Kampot Writers and Readers Festival will display Cambodia's finest in arts and culture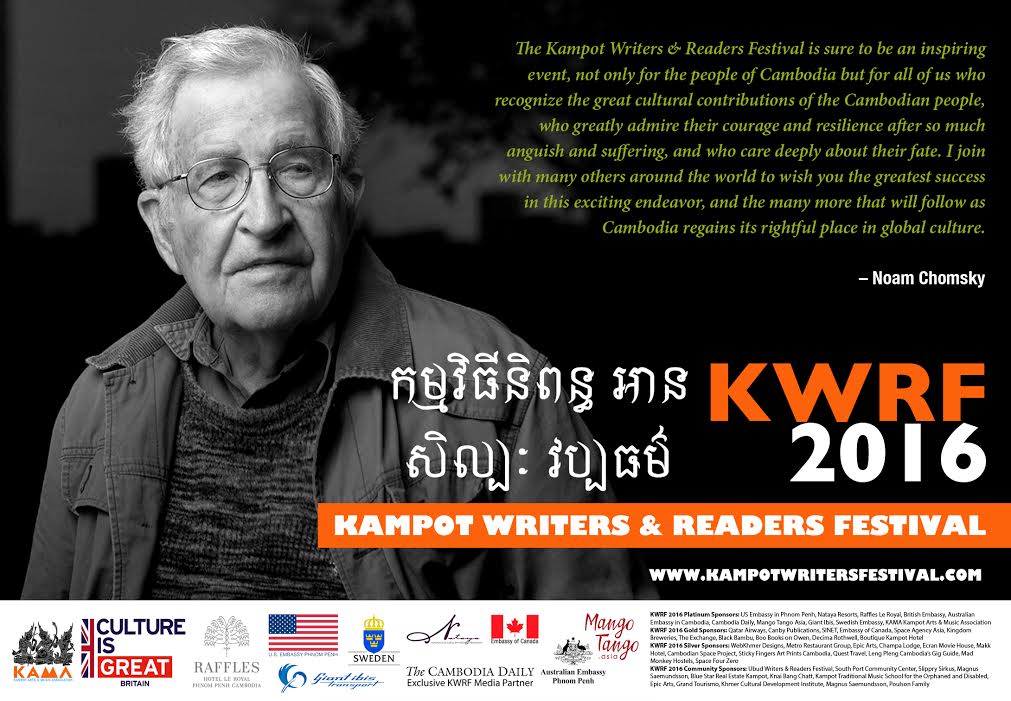 This week, thousands of literary devotees will descend upon sleepy Kampot for the second edition of the Kampot Writers and Readers Festival (KWRF), for several days of arts and cultural events.
This year's festival – with a theme of "Peace, Freedom and Prosperity" – will take place in venues across Kampot, with satellite events in Kep and Phnom Penh, presenting literary workshops, poetry slams, book launches and other cultural events such as "Sprayin' the Word", a street art workshop with Guatemalan artist Erick Gonzalez.
Beginning tonight in the capital, with an invitation-only opening party at British ambassador's residence, the KWRF will then move to Kampot for 3 – 6 November before its wrap-up party in Phnom Penh on Monday, 7 November.
Several authors will be launching books at the festival, with KWRF co-founder Wayne McCallum presenting A River and A Valley Far Away, the story of his time spent living in the Cambodian wilderness.
Also in attendance will be Lok Ta, who at 91 is the oldest living member of Cambodia's ethnic Bunong tribe. He will take part in the "Indigenous Voices" event, a five-hour workshop including a panel discussion on the vanishing Bunong culture as well as a musical performance by musicians from Mondulkiri province.
KWRF will screen films throughout the festival, showing titles such as The Man Who Built Cambodia, a new documentary profiling iconic Cambodian architect Vann Molyvann. The Kingdom's musical talent will be on display throughout the KWRF, with live performances by ten bands and 18 singer-songwriters including the Kampot Playboys, the Khmer Magic Music Bus and Kat Weiner.
KWRF co-founder Julien Poulson said that while the festival was a "down-homey, Kampot-style" affair, it still does its part in promoting storytelling and literacy in Cambodia.
"[Cambodia] is a place that is so rich, full of stories and storytellers," he said. "And while literacy levels are low, sharing and telling stories is something that is of interest to everybody, not just Cambodians. [The KWRF] shines a spotlight on Cambodia, it promotes literacy and it enriches the thriving contemporary arts scene here."
To find out more information or to register for the festival, visit http://www.kampotwritersfestival.com/.