Swathed head-to-toe in silky black with a string of glossy pearls around her neck, Kamala Sukosol looks the part of an elite businesswoman. But it doesn't take long for the bold and brash demeanour of Bangkok's big haired, high-end hotel queen to emerge. Soon after greeting us inside the striking atrium of her hotel empire's most recent and exclusive Bangkok property, the Siam, she glides into the riverside resort's 'Vinyl Room', sidles on to a stool by an antique piano and pounds away at the keys. "I said, hello, Dolly," she croons. "Well, hello, Dolly," she belts out an octave higher. It's a pretty convincing rendition of Louis Armstrong's gravelly baritone and a rather theatrical start to our interview.
As the matriarch of one of Thailand's most successful family dynasties, the Sukosol Group, Kamala is colourful, charismatic and in charge of a portfolio of hotels in Bangkok and Pattaya, trading businesses and valuable beachfront and inner-city properties. She could also accurately be described as being in both the entertainment and medical technology industries. The company is wholly owned and operated by her immediate family: her two eldest daughters, Marisa Sukosol Nunbhakdi and Daranee Sukosol Clapp, joined the business after stints in the US. Daranee cut her teeth working on Wall Street and is now the chief financial officer and vice-president of the real estate and trading companies, while Marisa oversees marketing, management and development as executive vice-president. Sukosol's two sons, Kamol Sukosol Clapp and Krissada Sukosol Clapp, found success as pop stars and actors, even founding an indie record label. They too now work for the family business.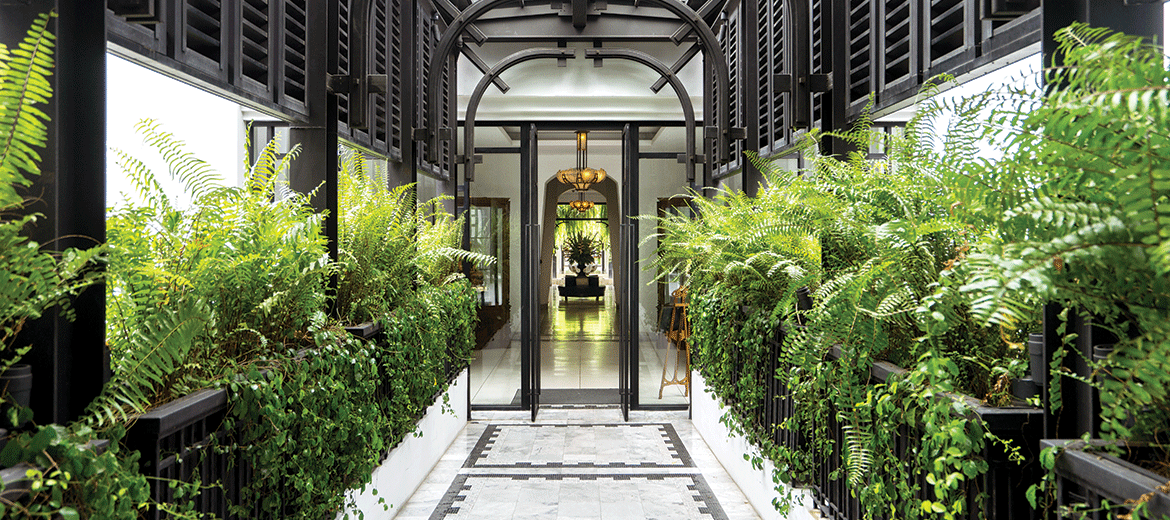 Kamal, who died in 1980, had collected swathes of valuable property, and he asked Sukosol and her younger sister to look after his legacy. 
Both the business and the music are in the Sukosol genes. The matriarch can't walk far in Bangkok without being stopped for a selfie or autograph. As a popular jazz singer, she released more than 25 singles and albums and sold out dozens of stadium events for charities such as the Thai Red Cross. In 2003, her song "Live and Learn" won a Thai Season Award for Best Song of the Year.
In 2009, Forbes Asia listed her as one of 48 'Heroes of Philanthropy'. The Sukosol Group has never disclosed its revenue or profit figures (as a family business, it's never had to), yet Forbes estimates the group's value at around $200m.
"You know – I'm just warning you – I yak away. Have I yakked too much already? These kind of interviews are more interesting though, right? I'm always off the cuff!" Indeed, it's hard keeping 76-year-old Sukosol on topic. She talks breathlessly – each subject becomes the launching pad for another entertaining, if random, anecdote. When she finds out our photographer is from Pamplona, she spends the next five minutes flaunting her flawless Spanish. "Oh, I just love Rafael Nadal," she says of the Spanish tennis star. "Watching him play is my true happiness! I have met him at his academy in Majorca, he was mesmerising – he had two people playing him on the other side of the court and even with two of them they couldn't keep up."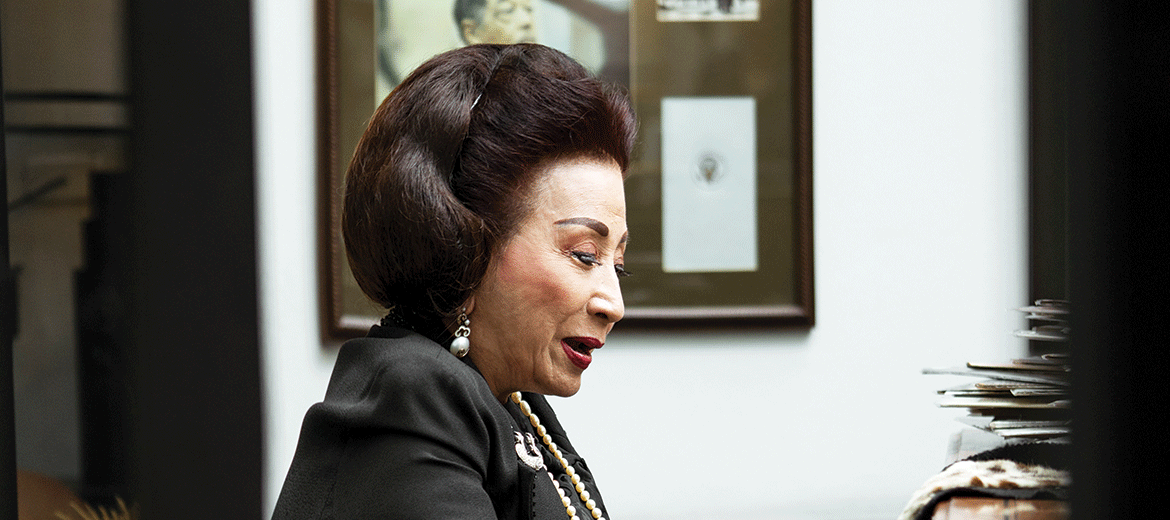 Before we can move on to our questions, Sukosol flits backstage and into the changing room, emerging from her office ten minutes later like a magnificent, blue crane. She prances around, flapping the sleeves of her dress before erupting into laughter. She then launches into stories of the family's exquisite collection of antiques, most of which are now showcased at the Siam. With 39 rooms reportedly built at a whopping $1 million each – not to mention the value of the three acres of prime real estate in the old royal Dusit district of Bangkok – it's surely the Sukosol Group's most costly project to date. It's also the company's most ambitious: an avant-garde retreat blending the old tenets of Thai wooden architecture, the layouts of the early 20th-century palaces and a jazzy, black and white Art Deco design.
Predominantly the work of her rock star son Krissada, or "Krissy" to his mom, the hotel also represents a shift in direction for the hotel brand; the "third wave," as Sukosol says. Her late father, Kamal Sukosol, purchased the land over 40 years ago as a storage space; he'd built up the family estate in the 1930s partly through snapping up valuable property. Kamal also pounced on manufacturing and the import industry, becoming the first exclusive representative of General Electric products in Thailand, and then of Mazda cars. For a long time, the land was rented out to a local seafood restaurant but once the lease expired, Krissada passionately pitched his dream project to his mother – a stately, luxury river inn cum gallery for the 2,000-odd antiques and pieces of vintage furniture he'd collected over the years.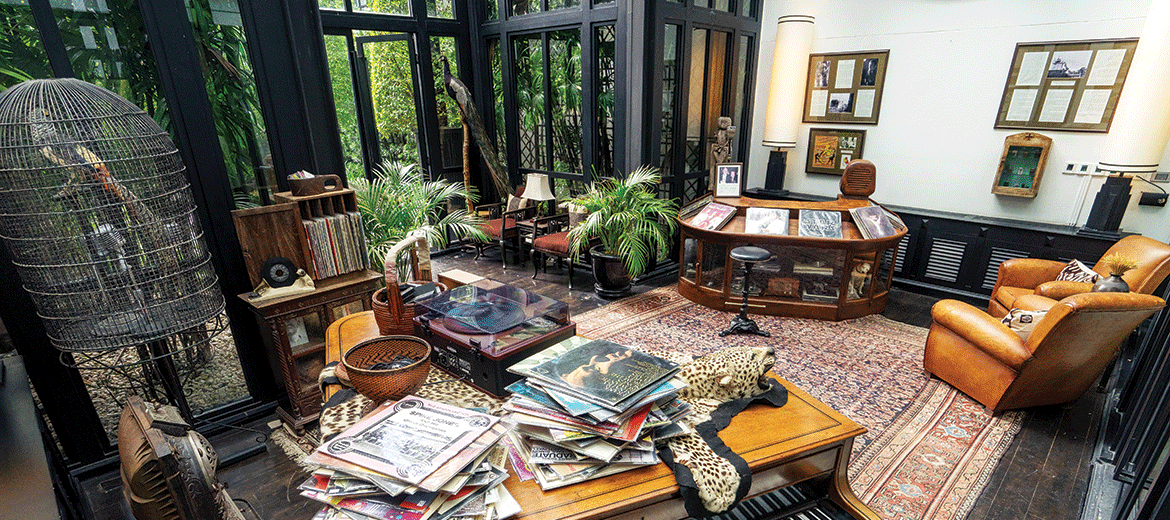 The idea intrigued his mother, who had herself accumulated a fascinating collection of Chinese pottery from the Ming and Han dynasties. "I used to go out and source my own antiques – I was quite intrepid, but I work with dealers these days. Krissy has inherited that curious nature; he's always off to remote places, scouring the world. He likes more quirky things though, like this thing," she says, pointing to a life-size figure of ET. Then it's off on another tangent. "Is that Yoda, the Star Wars character? Ha, you know my grandkids, they tell me I look like Yoda, the little thing. Children usually tell the truth, you know."
Sukosol's childhood was independent and often lonely, she says, which helps to explain her deep support of her own offspring and grandchildren. "I grew up in boarding schools in England and then took myself over to university in the US," she says, adding that she found something like a family in America's musical theatre scene.
"I was away from Thailand for 20 years. I completed a master's of political science at Columbia – I was supposed to work in international relations or something. At one stage, I was approached by an agent to audition for the theatre. It was a dream come true, but then my father got involved; in those days in Thailand being a professional singer or dancer was unheard of. So back I came to Thailand.
"I wasn't close with dad, and I raised myself, really," she adds. "And I grew up knowing one thing – that I couldn't depend on anyone else. I had to depend on myself."
Kamal, who died in 1980, had collected swathes of valuable property, and he asked Sukosol and her younger sister to look after his legacy. Her sister took over the automobile side; she took over the hotels. In 1975, she transformed an expanse of beachside land in Pattaya into the Siam Bayshore Resort and Spa, becoming one of the early pioneers of the hedonistic town's hospitality industry, and in 1983 followed up with the Siam Bayview Hotel.
"I never chose Pattaya… I remember thinking why on earth did my dad buy that god damn land… what could I do with it? So I built a hotel, and I had no idea what I was doing. We started with three-star hotels, and jeez I made so many mistakes. It was a failure to start with, but then I learnt step by step, and we brought architects to come in to redesign," she says.
In those early days, Sukosol says she became "one of the boys" in order to seal deals and forge business partnerships, yet she feels gender discrimination manifested in different ways in the '70s and '80s.
"Thailand now has a high proportion of female executives. In the old days, the men were expected to take prestigious jobs as architects, professors, civil servants – it was left for the women to run the household and the businesses. Loan sharking, buying land – I saw my aunts and my mother doing this. Women did all the wheeling and dealing. I think that's had an effect on the high number of women in top roles."
These days, Sukosol still does plenty of deals, but says she finds her happiness in travel – she had recently returned from a two-week family trip to Iran when we met – tennis and observing politics.
"I'm obsessed with Macron right now – the first time I've ever followed French politics. But Trump! I feel sorry for America for the first time in my life. He's a disaster. My nine-year-old grandson does the best impersonations, and I've even given him a slot at my next concert," she riffs.
Along with the business and leisure, there's always the music. "Singing and performing makes life interesting. Maybe it's why I'm picked out for interviews…this old, short woman! They could pick someone younger and more successful, but maybe I'm just more interesting after all."