For many people, the 'underdog becoming a champion' boxing movie trope is a recognisable one. Following an unexpected turn that leaves their career hanging by a thread, the promising contender is faced with a choice: give up or dig deep. Encouraged by a trusted voice of reason, they dust themselves off, and a music-driven training montage is followed by a rollercoaster championship bout that ends with the challenger being crowned champion of the world.
Strip away the blood and violence, and the lives of entrepreneurs often look strikingly similar. For Jonathan Shen, the unexpected turn was he and his team losing one million Singaporean dollars (USD750,000) after a legal dispute in 2015 forced Vice, his promising nightclub venture, to shut prematurely; the voice of reason was his investor and friend Christopher Hwang; the world title was co-ownership of the Golden Duck, the pair's gourmet snack company that sells up to 150,000 packets of salted egg yolk-flavoured crisps a month at SGD7 (USD5.25) per pack.
"When you lose a million dollars and a lot of it is your own and your good friend's money, well, it's like a truck hitting you in the face," Shen says. "That's reality for you. There's no sitting around and shaking your head and deciding: 'Oh, maybe I can move on to something else.' You've got to fix the situation and see what you can make out of the mess."
Shen licked his wounds and returned to his role as group communications manager at Massive Collective, a now defunct group that used to operate a number of nightclubs and F&B outlets across Malaysia and Singapore. After experiencing such a significant setback, a secure corporate career carried an undeniable allure. But it didn't last.
About six months later, Shen conceived an idea that caught Hwang's attention. At the time, the salted egg yolk trend was all the rage across Asia. In Hong Kong, a band of inspired bakers breathed new life into this age-old ingredient by stuffing croissants with the richly indulgent yellow goo, while chefs in Singapore were adding it to everything from crab spaghetti to chicken wings. Shen noticed, however, that this darling of the local F&B industry had yet to manifest itself in a packaged snack. The Golden Duck had been hatched.
"We had no idea what we were doing at first to be honest – and I think that actually helped to propel us forward, because, if we knew then how much we would have to do and overcome – even just in the first six months – I think we would have made a different decision back then. So, I'm glad that we didn't know that," Shen says. "We were young, and we were hungry, and we were a bit foolish as well."
To begin with, the duo rented kitchen space in a friend's restaurant for a few hours every night after closing. Their chef would work full-time at the restaurant in the day and then, from about 10pm, produce as many salted egg yolk-flavoured crisps as humanly possible. Shen would then swing by the restaurant in the morning before work to pick up the snacks and take them to their first pop-up stall, which was run by "young, fresh, female faces" in Singapore's centrally located Suntec City shopping mall.
"We needed to keep things very lean," Shen says in reference to his hands-on approach. "We didn't have the luxury of a lot of tech startups today, who can go for rounds of funding and then get a nice office and get started."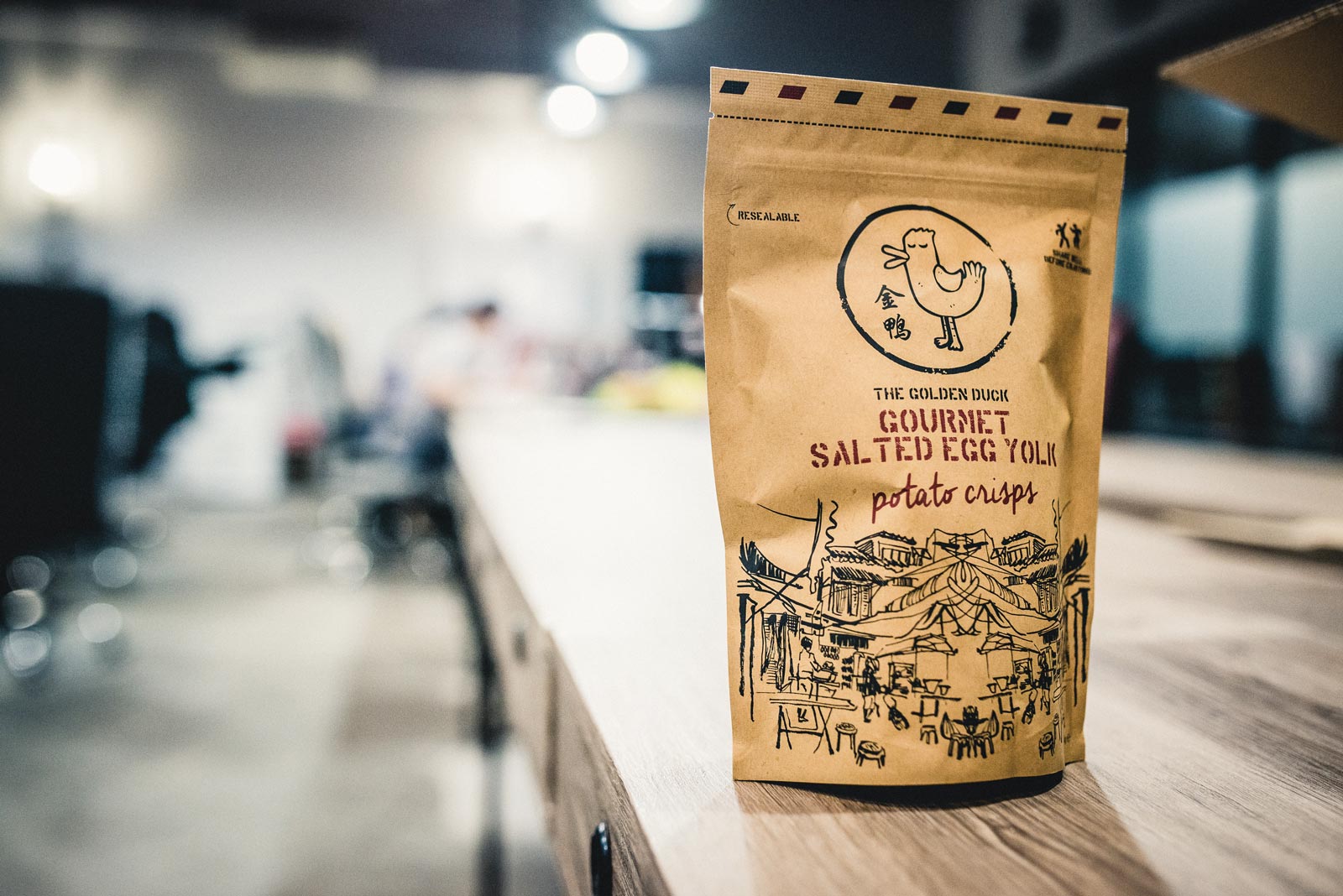 About two months into the company's pop-up stall business strategy – chosen for its ability to keep costs low while testing the market – Shen and Hwang realised that demand was high enough to warrant establishing an online delivery system. Without any prior coding experience, the pair built their own website and teamed up with Oddle, a local startup that builds online ordering systems, and began delivering snacks to offices within the central business district.
A month later, demand spiked again, forcing the company to move production to a larger kitchen and begin planning its first permanent retail store.
"While pop-ups were good for a short stint… people were asking us on Facebook and in emails: 'Hey, where did you guys go?' We realised that the traction we built in each spot was being lost without something a little more permanent, right? So, in 2016, we actually opened our first store, which was at Chinatown Point," Shen says.
"That was a turning point for us because we just got constant sales. We kept growing. And I think that out of the first two players in the market – we have a competitor called Irvin's – we made the move to go into retail first, and it proved very profitable for us."
Since then, the Golden Duck has opened eight more stores in Singapore, increased its team to more than 100 full-time employees and expanded its distribution to include hundreds of 7-Eleven stores, 50 Cold Storage supermarkets and direct deliveries to consumers in more than 20 countries.
Shen attributes the company's exponential expansion to three main factors: his and Hwang's willingness to "get their hands dirty" during the first six months of operations; their ability to consistently hire "over-qualified" and hard-working staff; and the company's "brand-first" approach, which, Shen says, helped give it a leg-up over its rivals.
"From the beginning, we placed a lot of importance on packaging design, which, at the time, our competitors didn't focus on. They were selling their products in tubs that could be bought from any supplier. They didn't look good," Shen says. "From day one, we pumped advertising dollars into social media… Facebook was the platform of choice for us. We made sure we got the brand story and packaging right."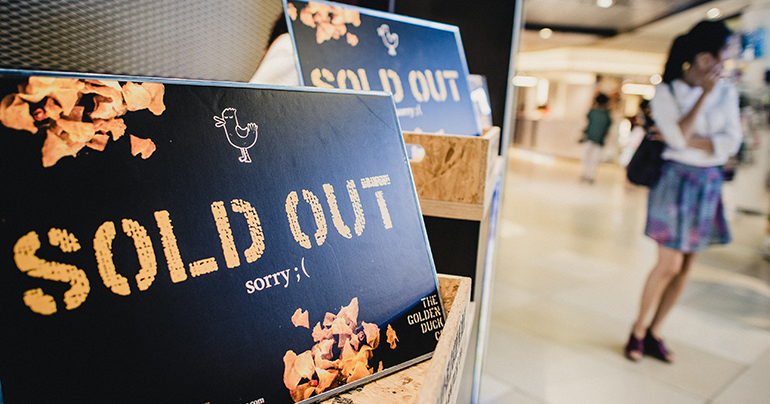 Concentrating on marketing has helped the company promote greater brand loyalty among its customers, which is partly why, every quarter, Shen asks his team to rethink and reaffirm the company's brand pillars, which are then reinforced through specific marketing campaigns.
"Just to give you an example, one of our brand pillars is 'connecting people through good food', right? And so, this Christmas, we put out a campaign where we asked Singaporeans to write into us if they had a family member that couldn't be home for Christmas. And we sent out 100 surprise boxes to people all over the world," Shen explains.
"The boxes were sent as far as the US and UK… It cemented the idea that this brand is one that connects people. And we did all this for free… Similarly, we chose two or three Filipinos working in Singapore who couldn't afford to fly back to be with their families for Christmas and paid for their tickets home and accommodation."
Shen hopes the company's strong brand awareness will help it expand into a further five or six markets in 2018. But while he describes business as an "addiction", he says he's driven by more than the self-affirming thrill of building a company from the ground up.
"I started doing business with one very short-term goal in mind: help my mum retire," he says, having earlier described the woman who raised him and his two siblings singlehandedly as a "champion" who "had that quiet trust that I would one day succeed".
"She's given the family the past 20 years of her life unconditionally," he adds, "and what I want to do this year is help her retire and enjoy the last 15 or 20 years of her life."