As Indonesian President Joko Widodo is set to arrive in Australia for a two-day visit, his colleague has expressed concern over the controversial views of Australia's right-wing One Nation party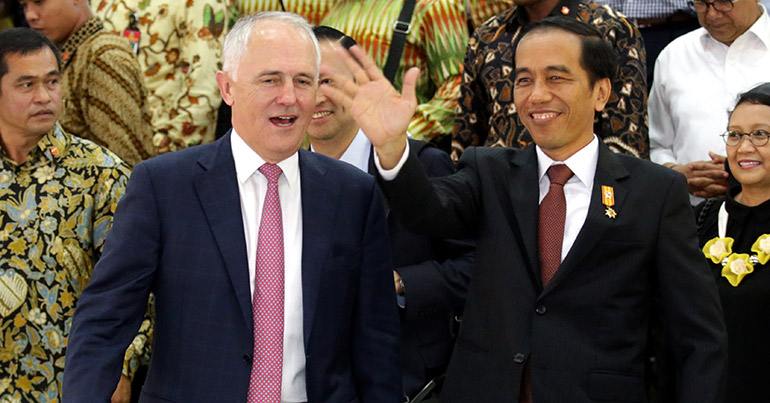 Indonesian President Joko 'Jokowi' Widodo is expected to arrive in Australia on Saturday morning for a two-day trip that will include a meeting with Australian Prime Minister Malcolm Turnbull covering defence, counter-terrorism, cyber security and mining.
A team of 79 Indonesian officials have already been in Canberra this week, working with their Australian counterparts to establish a free trade agreement between the two countries. The deal, Indonesia's first bilateral free trade agreement in a decade, is expected to be finalised by the end of the year. Australian universities are also lobbying to open up campuses in Indonesia under the free trade pact.
Indonesia is Australia's 12th largest trading partner, with roughly 500 Australian businesses having a presence in the country of more than 250 million.
Widodo was set to visit Australia late last year, but the plans were interrupted when protests broke out in Jakarta over comments that Jakarta's Christian governor had made about the Qur'an.
Widodo is expected to raise the idea of joint maritime patrols in the South China Sea, a geopolitical flashpoint in the region.
Prior to the trip, there have been concerns from Indonesia's foreign ministry regarding the rise of the One Nation party in Australia, a far-right group that has called for a halt to Muslim immigration, surveillance of mosques and schools and a royal commission that would investigate whether Islam is a policy or an ideology.
"As you can see in Indonesia, Islam can go perfectly hand in hand… with democracy, with other religions. So this is the value, the culture that we would like also to share with our Australian colleagues," Indonesia's foreign ministry spokesman, Arrmanatha Nasir, told reporters.
Speaking in London yesterday, Australian foreign minister Julie Bishop said that if Widodo were to bring the issue up, "we will certainly take it onboard".
"But it's not a matter that he's directly raised with us," she told reporters.