The Anantara Mui Ne Resort provides the perfect haven from which to enjoy Vietnam's coastal delights

Beachfront breeze
As the sun makes its daily odyssey across the clear skies of Vietnam's southeastern coast, a colourful sail punctuates the blue expanse, zigzagging through the sky as a kite-surfer navigates the swells of the South China Sea below.
For in the waters off Mui Ne, adrenaline is king. Wetsuit-clad adventurers twist and turn through the surf as their kites catch the breeze, propelling them into the air for a brief taste of gravitational freedom.
Yet take a few steps off the golden sands of this busy coastal hub and the activity soon fades away. In the luxurious surrounds of the beachfront Anantara Mui Ne Resort & Spa, harmony reigns supreme.
Set around a tropical lagoon brimming with water lilies, the complex is a haven for those escaping the chaos of Ho Chi Minh City, which lies about 200km west. Lavish one- and two-bedroom private villas are dotted around lush gardens, where only the gentle rustling of palm trees ruffles the peace.
A walk along twisting garden paths, which pass trees heavy with fruit, leads guests to a vast beachfront infinity pool surrounded by sleek cream loungers. Sunseekers need only rouse from their slumber to order yet another coconut from the pool's sunken bar or pad over pristine sand to the sea.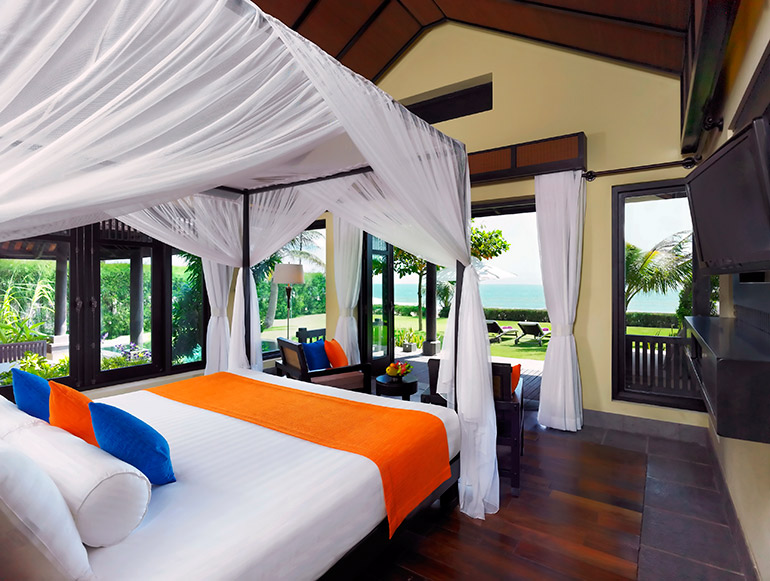 The hotel's elegant three-storey central building provides yet another spot to take in the picturesque views of this arcadia. Inside, dark wood, stone and glass combine to create a contemporary environment that contrasts perfectly with the symphony of greens and blues beyond.
But perhaps the best opportunity to soak in the natural beauty of this coastal location comes at the breakfast table, where guests are fuelled for the day ahead by icy cups of Vietnam's famously powerful coffee and tables groaning with appetising fare.
Here, an exterior wooden deck provides panoramic views of the fish-filled lagoon. In the distance, a smattering of white umbrella tops hint at the wide sweep of sand beyond.
For guests, it is affirmation that all the next 24 hours hold is another perfect, lazy day in paradise.
Take to the skies
The warm waters and stiff breezes of Mui Ne make it a prime spot on Southeast Asia's kite-surfing circuit. But in a day spent watching these daredevils, onlookers are bound to witness their fair share of wipeouts. For those seeking to join the fray, it is possible to hone one's talents at a local school dedicated to the sport. Look out for those with certification from the International Kiteboarding Organisation (IKO).    
Sand dunes
Visitors would be forgiven for thinking they had accidentally travelled to the Sahara on a trip to Mui Ne's most dramatic attraction – its towering sand dunes. Moulded by the wind, these shifting hills may be tough on the leg muscles but are nevertheless spectacular. The more compact red dune site can be found close to town, however it is worth exploring the expansive white dune site, located 65km northeast of nearby Phan Thiet city.

Daily catch
The fishing industry is certainly big business in Vietnam, and Mui Ne's lengthy main drag abounds with friendly spots to sample the bounty of the sea. Options range from low-budget, market-style eateries, where diners pick their victim of choice from tanks of wriggling sea life, to fine dining restaurants. Among the latter are Anantara's very own L'Anmien and Thung eateries, which offer romantic atmospheres to match the high quality of their food.
Essentials
Tel: +84 62 374 1888. Address: Mui Ne Beach, KM10, Ham Tien Ward, Phan Thiet City, Binh Thuan Province. Website: mui-ne.anantara.com. Rooms: there are 89 rooms, suites and private villas on offer. Suggested accommodation: The lavish two-bedroom beachfront pool villa provides a secluded retreat with spectacular ocean views. The 128-square-metre complex can sleep up to six adults and two children and features a dining pavilion and patio area.