Just minutes from Cambodia's breathtaking temples in Siem Reap,
Shinta Mani offers a luxurious modern ode to ancient design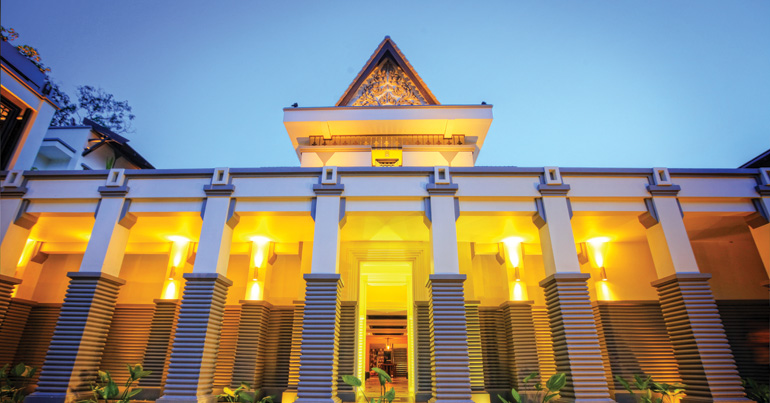 The Visionary
There's a key reason why Shinta Mani Angkor is still one of Siem Reap's most prized hotels even in the face of stiff competition: Bill Bensley. The fingerprints of the renowned Bangkok-based designer are everywhere: the Angkorian references on the walls, floors and ceilings (plus guests walk over a moat when they enter); the black, white and grey palette splashed with bold colours; and the eclectic mix of Southeast Asian art and ornaments in every corner. Above nooks in the main corridor, candles have artfully stained the walls with soot. The ancient lamps of Angkor Wat likely left the same marks. Bensley makes you think while you sink into his signature brand of luxury.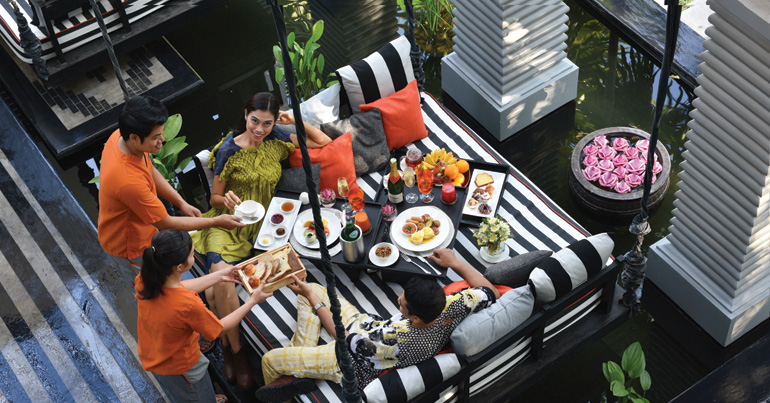 Just Relax
After a long day at the temples, there's nothing better than some combination of shower, spa, bed, pool and drinks. Shinta Mani nails them all, always with a nod to Angkor. Around the edge of the bathrooms is a channel that becomes a moat when you turn on the rain showerhead. The spa offers a wide range of treatments, drawing on traditional and modern methods for full rejuvenation. The rooms revolve around the beds, in all their soft and simple splendour, and the hotel revolves around the pool, a sleek stone strip with plenty of lounge chairs and easy access to the bar, which offers special mixes such as the Open Heart, a refreshing mix of Cuban rum, passion fruit, mint and palm sugar.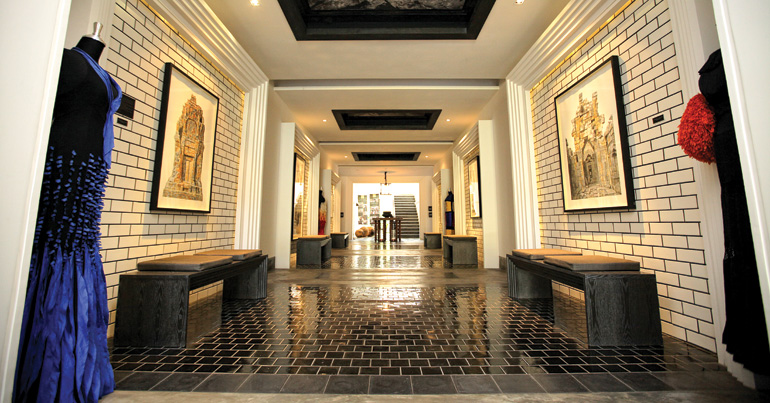 Flavour of the Day
You wouldn't know it from enjoying a flavour-bending fusion dinner at Shinta Mani's flagship restaurant, Kroya, but it's a training ground for hospitality talent in Temple Town, with many going on to staff Siem Reap's top restaurants. Kroya's head chef hails from Indonesia, but he lets his Cambodian colleagues lead the way in creating
a daily tasting menu that features Khmer flavours, often in distinctly non-Khmer dishes. The cornucopian breakfast buffet, à la carte lunch and dinner can be enjoyed in the main dining room, with a floor plan of Angkor Wat overhead, or on pillowed day beds dangling above pools of water outside.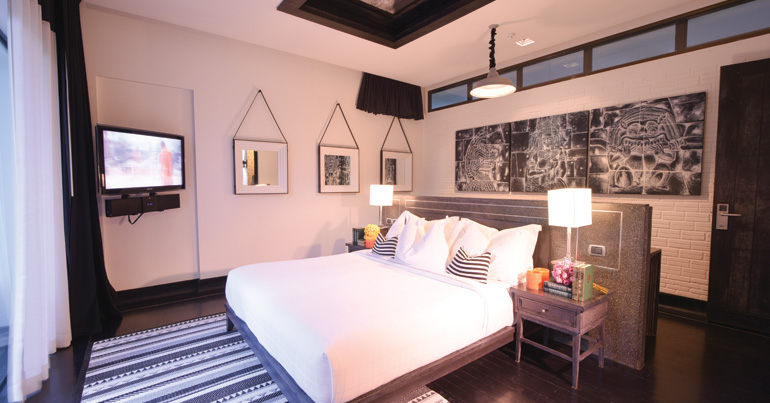 Good Deeds   
Shinta Mani caters mostly to well-off travellers from abroad, but its success has benefitted many poor families nearby. The Shinta Mani Foundation has a remarkable range of programmes: funding doctors and dentists who visit surrounding communities to provide free medical care, training local farmers to grow crops that are more valuable and nutritious, lending money to small-time entrepreneurs to expand their businesses and making sure kids can get an education. Guests can visit the communities where Shinta Mani works, donate to the efforts or even volunteer to help. Over the course of four years, guests sponsored some 1,330 wells, 97 homes and 900 piglets.
New Splendour
Bensley isn't done making magic in Cambodia. The Shinta Mani Angkor Bensley Collection – ten villas, each of them eccentric feats of design draped in tropical gardens – is due to open this month across the street from the main hotel. Each villa has its own butler, a sky bed and what Bensley calls the "most comfortable beds imaginable". And in Cambodia's lush Cardamom Mountains, Shinta Mani Wild is set to open in mid-2018. With a conservation plan developed with Flora and Fauna International and the Royal University of Phnom Penh, guests will be able to explore the pristine rivers, waterfalls and forests without a worry – and with everything from the rooms to the expedition boats designed by Bensley, of course.