With rooms designed by the cream of Singapore's creative crop, the New Majestic Hotel offers a funky take on the city-state's boutique hotel scene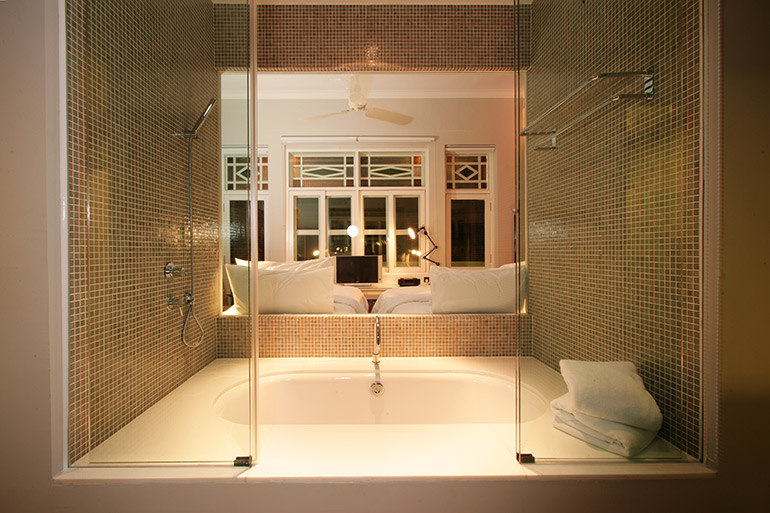 From outside on Bukit Pasoh Road, in Singapore's thriving Chinatown neighbourhood, passersby could be forgiven for mistaking the New Majestic Hotel for an art gallery. And indeed, the lobby, with its floor-to-ceiling windows and clean, white lines, does double as a showroom of sorts – for owner Loh Lik Peng's large collection of weird and wondrous chairs. From a red frame pierced with nails à la Hellraiser to a trishaw mottled with brightly coloured signs from around Singapore, the collection is an intriguing introduction to a relentlessly imaginative hotel.
It soon becomes apparent, however, that the chairs are little more than an amuse-bouche. Housed inside a beautiful shophouse with an ornate, mint-green façade, all of the 30 rooms were individually designed by local creatives commissioned by art consultancy Asian Art Options alongside Loh, and the results are nothing if not eclectic, including suites with private gardens and attic rooms with loft beds. Room 309, for example, is designed by film and theatre director Glen Goei and titled 'Wayang'. Its boudoir styling incorporates red silk walls and customised calligraphy panels, channelling the work of legendary Chinese film director Zhang Yimou. Then there is room 403, 'Flag Samsui Woman', designed by artist Justin Lee, which features an original painting of a 'Samsui woman' – an iconic group of female Chinese immigrants who worked in construction and helped build Singapore between the 1920s and 1940s – along with twin cast-iron baths and a retro barber's chair in blue leather and chrome.
Food, glorious food
The hotel's obvious emphasis on striking design and local culture does not, however, require guests to compromise on comfort. Most of the rooms are generously sized and feature 'posturepedic' beds, complimentary minibars and use of a smartphone that not only has free calls and unlimited 3G but also software that acts as a city guide and ticket-booking service for local attractions. Add to this the swimming pool and gym – amenities not always found in city-centre boutique hotels – and the New Majestic proves itself an enchanting combination of style and substance.
The New Majestic Hotel's location on Bukit Pasoh Road is a dream come true for foodies, with some of the best restaurants not just in Singapore, but all of Asia, within walking distance. The hotel is a few doors down from the exquisite French cuisine of Restaurant André and less than ten minutes on foot from fine-dining barbecue at Burnt Ends and mind-blowing molecular gastronomy at Tippling Club, which all appear on the 2016 edition of the respected Asia's 50 Best Restaurants list. For those seeking simpler pleasures, the burgers at Potato Head Folk are also close by and rightfully renowned as some of the city-state's best.
Operation: alcohol
Singapore's cocktail scene is probably the best in Asia right now, and Chinatown and its surrounds are home to some of the country's most renowned bars. Also just a short walk from the New Majestic, on the junction of Club Street and Ann Siang Hill, is Operation Dagger. This 'secret' bar lies down a shabby staircase, features a menu that appears scribbled on tattered paper and has transferred all of its spirits into nondescript brown bottles, creating a feeling of an apothecary rather than a bar – atmospheric surroundings in which to sample the mind-blowing mixtures dreamed up by co-owners Luke Whearty and Aki Nishikura.
In the red
Located on Maxwell Road, also in Chinatown, is the striking Red Dot Design Museum, which presents all manner of fantastical objects and charts the latest trends in international design. Every one of the museum's more than 1,000 exhibits is a winner of the Red Dot Design Award, one of the world's largest design competitions. Check out the future design exhibition, which presents 300 futuristic concepts from both individuals and companies. Highlights include self-driving cars, minimalist dog kennels and even organic pencils.
Essentials
Address: 31-37 Bukit Pasoh Road, Singapore 089845. Tel: +65 6511 4700. Website: newmajestichotel.com. Email: NMH-Res@unlistedcollection.com. Rooms: The 30 unique rooms are split into six overarching categories, including the 35-square-metre Lifestyle rooms, which are among the most strikingly designed in the hotel, and the 44-square-metre Attic Suites, which boast lofts with separate living areas and ladders that lead to queen-sized beds. Suggested accommodation: Request one of the Aqua rooms, which are generously sized, enjoy balconies with street views and feature a glass-encased bathtub right in the centre of the room.