On the banks of the sleepy Siem Reap river, Jaya House River Park is a stylish and sustainably minded hideaway from the bustle of downtown – and just a five-minute ride from the ruins of Angkor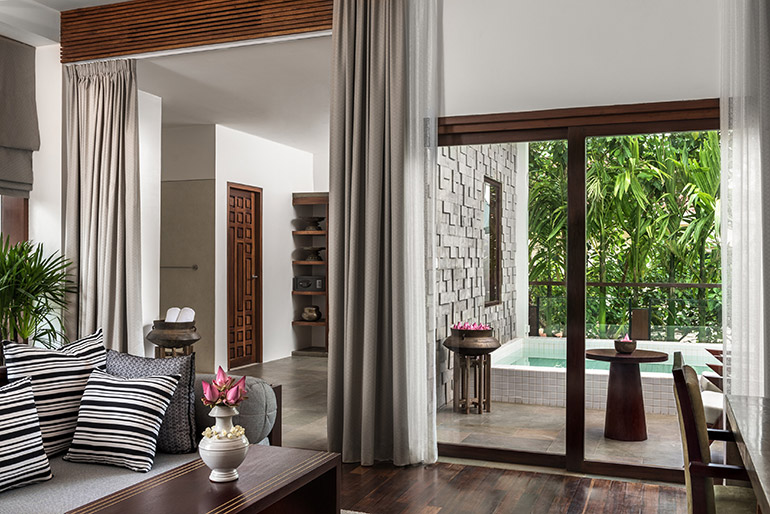 Old and new
Festooned with lush hanging gardens, the 36 elegant rooms and suites at this swish property are spread out over a three-storey structure that pays homage to the ancient temple of Prasat Thom in the Koh Ker temple complex. With its almost pyramid-like appearance, the design inspiration is also apparent in a grand entrance pavilion, as well as its pillars and terraces. Fittings and décor are a different story, however, referencing a variety of periods: there's Angkor-esque stone statues as well as an Art Deco monochrome colour palette, while portraits of Cambodia's swinging 1960s singers adorn the walls.

Relax, retreat
Rooms are spacious – the smallest are 38 square metres – with private balconies and patios, espresso machines, organic teas, plush beds and huge bathrooms with outdoor rain showers. You'd be wise to request one of the four light-filled Junior Pool Suites, however, with your own plunge pool. Although it's a new resort, some serious landscape design has been invested in its gardens. It sports two saltwater swimming pools fringed by sugar palms, ferns and frangipani trees. The bigger pool is located on the resort's outer edge and is clearly its piece de resistance, lined in glittery silver tiles.

Going green
Refined and friendly service is subtle but always there – from the freshly squeezed watermelon juices and tailored city guides provided upon check in to the complimentary tuk-tuks and mobile phones available for each guest to use for the duration of their stay. But the resort also has a conscience, hiring Cambodian staff only, including in upper management positions. The team has also designed the country's first wheelchair-friendly tuk tuks and employed Siem Reap's only female drivers. Jaya House has been one of the main drivers behind Siem Reap's 'Refill Not Landfill' campaign promoting reusable water bottles and water refill stations around the city. The resort is, of course, completely plastic-free.

Khmer chameleon
A theme laced throughout Jaya House is the elegance of classical Cambodian culture, presented with a refined, modern twist. This concept trickles down to the menus, where decadent breakfasts include a buffet of smoked Norwegian salmon, artisanal breads, Siem Reap-made macarons and prosecco, as well as an a la carte menu including Cambodian favourites such as kuy tiev noodle soup – best enjoyed sitting at one of the dining 'pods' surrounding the restaurant. Sip sunset tipples at the rooftop bar before heading to the resort's Trorkuon restaurant for more progressive dishes, such as Khmer beef carpaccio, the meat marinated in a spicy yellow kroeung paste and lightly seared, or smoked eggplant with marinated pork belly.
To the river
Jaya House is just a five-minute drive from the ruins of Angkor, and there's much to explore around the resort's Enkosai neighbourhood. A block south is the leafy École Française d'Extrême-Orient campus, a French institute that for over a century has been a major actor in the restoration of the Angkor monuments and is well worth a visit.