*UPDATE: James Ricketson was granted a royal pardon on 21 September 2018, cancelling the six-year sentence handed down to him on the charges of espionage
After Australian journalist and filmmaker James Ricketson was sentenced in a Cambodian court to six years in prison today, the 69-year-old, dressed in prison orange, could be heard shouting, "Which country am I spying for?" as he was taken away from court inside a cage in a van.
Ricketson has worked in Cambodia as a journalist and documentarian since 1995. He was arrested and accused of spying in June 2017 after he flew a drone over a rally for the now-defunct opposition party, the Cambodia National Rescue Party (CNRP). The CNRP was dissolved in November 2017 during a political crackdown that included the shuttering of radio broadcasters, NGOs and the independent Cambodia Daily newspaper in the lead-up to this year's national election – which was swept by Prime Minister Hun Sen's ruling Cambodian People's Party (CPP).
Much of the prosecution's questioning during the course of the trial appeared to focus more on the filmmaker's private criticism of Hun Sen than the defendant's alleged activities leaking damaging information to foreign powers. Evidence of Ricketson's apparent covert credentials included an unanswered letter to former Australian Prime Minister Malcolm Turnbull, a dozen photographs of riot police in a Phnom Penh public space and an email to former CNRP president Sam Rainsy following the public killing of popular political analyst Kem Ley. The prosecution has repeatedly refused to name which country the filmmaker was allegedly spying for.
Ricketson's son Jesse Ricketson told Southeast Asia Globe that the family is devastated by the verdict, saying that he was worried about the conditions the elder Ricketson will be subjected to in Phnom Penh's notorious Prey Sar prison.
"The conditions in there are really very hard," he said. "There's a lot of people squished together, you have hardly any space, you're stuck up against other men when you're sleeping, the health provisions are not good. Everything about it is awful, and the thought that he might have to spend six years in that place is just devastating."
Authorities were all business throughout the proceedings, said Jesse Ricketson.
I never even got to give him a hug after the sentencing, they just whisked him away. So it's just all been a bit of a whirlwind, and it's just heartbreaking
Condemnations to what many observers have labelled a political show trial came swiftly.
The Australian Directors Guild (ADG) has asked the Australian government to intervene and bring Ricketson home, and insisted he is innocent: "Based on the evidence and what we know of James, we do not believe he was spying for anyone," said ADG CEO Kingston Anderson. "He was in the wrong place at the wrong time and may have contravened some local regulations, but he was not spying for any government."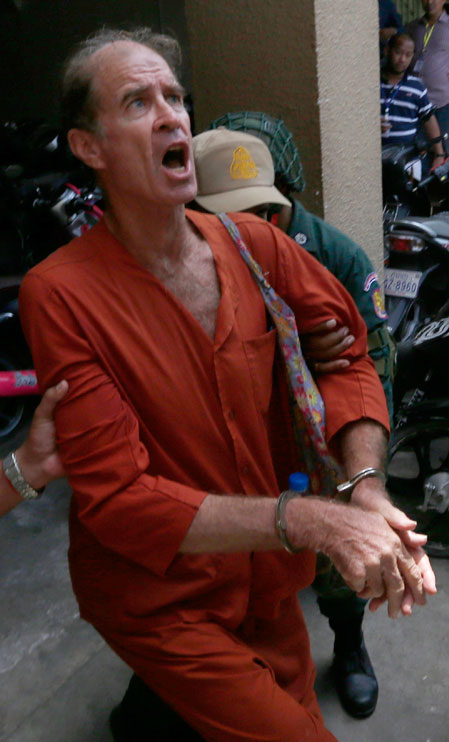 Human Rights Watch deputy Asia director Phil Robertson was scathing of the verdict.
"This trial exposed everything that's wrong with the Cambodian judicial system: ridiculously excessive charges, prosecutors with little or no evidence, and judges carrying out political orders from the government rather than ruling based on what happens in court," he said in a statement. "From day one, James Ricketson has been a scapegoat in Hun Sen's false narrative of a so-called 'colour revolution' used as an excuse to crack down on the political opposition and civil society critics."
Jesse Ricketson said he was consumed with how his father must be feeling after the harsh sentence.
"The one thing that really keeps going through my head right now is just thinking about how my dad would be feeling, sitting there on the trip back in the hot prison truck, and now back in his cell, having to process this and mull it over, and it just breaks my heart to think about that," he said. "That's the one thought I can't get out of my head. "
Although he could not discuss the next steps or any potential appeal, Jesse Ricketson told Southeast Asia Globe how he would have comforted his father if officials had given him that opportunity.
"I would have given him a huge hug and said, 'Don't worry, I love you. We've got you. It's not over'."