Despite being designated as a new 'green space', there's hardly any green in sight at Kalijodo public park, save for some patches of grass and a row of palm trees on the very edge. There are tree seedlings that will grow in time, but no matter. The well-kempt flowers and foliage of parks in Jakarta's more well-to-do neighbourhoods would be a waste of play space here.
On a recent overcast Saturday afternoon, the sky matches the 3.4-hectare concrete landscape of what used to be Jakarta's largest and oldest red-light district. The hills and bowls of a skate park, wide walkways lined with street food pushcarts, a pavilion, a large wall covered in part by a street art mural – all are still a snowy grey, not yet streaked by the pollution that prematurely ages so many buildings in the city. Opened in late February, Kalijodo is a beacon of something rare in Jakarta – a sincere effort to respond to a public need.
Despite the threat of the incumbent drizzle escalating into a downpour, the park is packed. Women wear matching headscarves to indicate which tour bus they came in on, while double-decker public buses temporarily running a free route to the park empty like clown cars with never-ending streams of passengers.
For me, this is physically one of Ahok's biggest success stories. It's the first big slum cleanup in Jakarta that I've ever seen"

Ahmad Alamsyah Saragih
Set by the Ciliwung river in northern Jakarta, Kalijodo was, until the 1950s, a neighbourhood home primarily to Indonesians of Chinese descent. In Indonesian, kali means 'river' and jodo 'mate' or 'soulmate'. It's ironically fitting for a red-light district, but the name stemmed from a matchmaking ritual that developed there as part of the Chinese Peh Cun holiday in which youngsters would ride on boats down the river and throw bean cakes to members of the opposite sex who caught their eye while floating by. It wasn't until the 1960s that the area became a bastion for more carnal relations, when drug, gambling and prostitution rings began forming a thriving informal economy.
The vices of Kalijodo were no secret, and the city government has talked of cleaning up the area for just about as long as it's existed. In November 2014, then-governor Basuki Tjahaja Purnama, commonly known as Ahok, announced that he was serious about making sweeping changes. By then, the riverside was lined with karaoke bars marked by neon-lit beer logos, pay-by-the-hour guesthouses and tents blasting Indonesian dangdut pop songs to fuel all-night gambling. Cleaning up Kalijodo would take not just forceful action, but also the courage and political backing to tackle the entrenched gangs.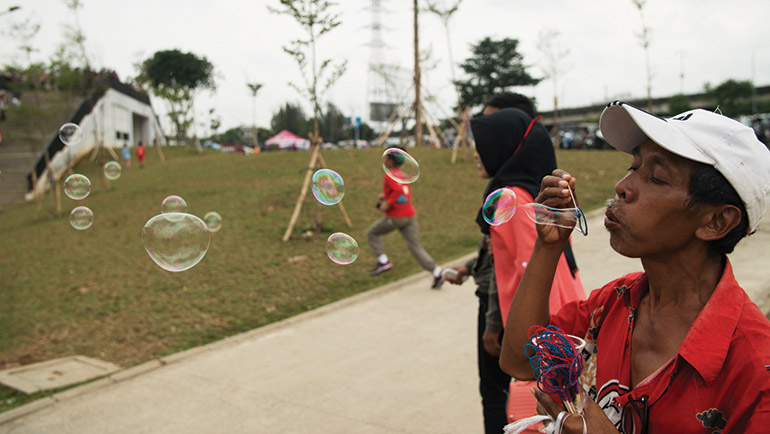 Like numerous governors before him, Ahok's promise to clean up Kalijodo seemed to be falling by the wayside 15 months after it was made – until 9 February 2016, when a 24 year-old drunk driver speeding at 100km/h after consuming ten alcoholic beverages killed four people and landed in prison for six years. This spurred Ahok to finally act, fast. Demolition began within three weeks; the redevelopment project was assigned two months later to Sinar Mas Land, one of Indonesia's largest property developers; and the park was inaugurated nine months after that.
Ahok's governorship, which is set to end in October after he lost the city's gubernatorial election on 19 April to Anies Baswedan, has been marked by his rapid-fire reforms and a level of efficiency rarely seen in Indonesian politics. And while it's not often that a constituency directly links the changes they see to a specific leader, Kalijodo is filled with people wearing and selling blue plaid shirts – Ahok's preferred attire.
"For me, this is physically one of Ahok's biggest success stories," said Ahmad Alamsyah Saragih, a member of state monitoring agency Ombudsman of the Republic of Indonesia. "It's the first big slum cleanup in Jakarta that I've ever seen." However, he added that Ahok might have been too efficient, leading to high human costs that became the target of backlash from social welfare groups: "He didn't want to give much time to slum cleanup, and that's a problem."
On 17 February 2016, approximately 1,000 Jakarta Police officers raided the neighbourhood for illegal alcohol, drugs, weapons and the criminals selling them. The next day, warning letters were distributed to residents that they had 11 days to get out before demolition would begin on their homes and businesses. By early March, some 500 buildings had been razed and turned to rubble.
According to Ombudsman commissioner Adrianus Meliala, the raids were planned only a few weeks in advance, during the rush to respond to the deadly car crash, in an afternoon meeting between Ahok, national police chief Tito Karnavian, and then Jakarta military chief Teddy Lhaksamana. "That's Ahok's impulsivity," said Meliala. "He realised that something radical could be done in other situations, so why not do that in Kalijodo? It was him saying: 'Here I come. I got this.'"
Concurrent with the eviction notice, the North Jakarta municipal government announced that Kalijodo residents with Jakarta identity cards could move to low-rent apartments, known as rusunawa, in an area called Marunda about an hour's drive east. Then the mayor of North Jakarta, Rustam Effendi, promised to provide free skills training at vocational centres to residents wishing to change professions, help residents without Jakarta identity cards return to their hometowns and, most importantly, find affordable apartments for those who did have identity cards. However, of the 3,052 people living in Kalijodo, this latter group amounted to only about 200.
In the weeks following the demolition, human rights groups spoke out, arguing that such rapid eviction violated the principles of involuntary resettlement as dictated in the UN's International Covenant on Economic, Social and Cultural Rights, which was ratified by Indonesia in 2005 and mandates consultation with those affected and protections ensuring that no one will be left homeless or vulnerable.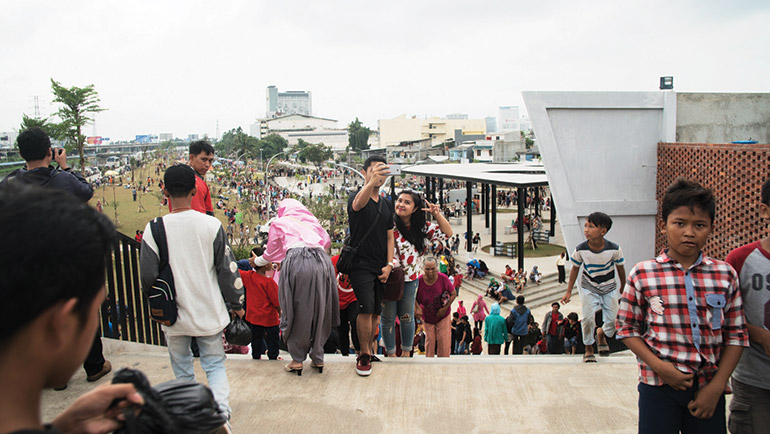 "Were the rusunawa good? No doubt," said Budi Wahyuni, vice-chairman of the Indonesian National Commission on Violence Against Women (Komnas), of the apartments offered to the evictees. "But it's like pulling plants away from their roots. If there's an eviction process there should be proper dialogue and thought, especially about women. Often, decision-making processes are more about husbands than wives but women are the ones who stay at home more. They have to get to know the new community; they may have new travel expenses to take their kids to school back near Kalijodo."
The organisation raised particular concern over the welfare of Kalijodo's sex workers (prostitution is ostensibly illegal in Indonesia). "Prostitutes are exploited enough," said Masruchah, a member of Komnas' Division of Law and Policy Reform. "There's no need to put more pressure on them and risk their protection by putting them out on the streets. They need to be moved to a new location that's also localised."
According to Wahyuni, Ahok communicated over the relocation of Kalijodo's sex workers with district-level governments in the Javanese cities of Surabaya and Semarang as well as the Papuan capital Jayapura, all of which host dynamic sex markets. Komnas has since been monitoring the relocation of Kalijodo's prostitutes through its partners in those cities. "Despite the pros and cons of such a process, the government has a role to protect citizens. I have seen that being done," said Wahyuni. Surabaya, for instance, offers better health and safety services to sex workers than was available in Kalijodo.
Despite arguments that these efforts just moved a problem rather than solved it, there's no denying that Kalijodo is vastly improved from just 14 months ago. Yori Antar, director of Indonesia's renowned Han Awal & Partners architecture firm, was tapped to head the design of the park, and while Ahok tasked him with making it a place where people could go to exercise, Antar went a step further, envisioning it becoming a landmark on par with the city's National Monument. The skate park is one of the largest in the region, and the mural – a collaborative effort by 10 of Indonesia's top street artists – could certainly hold its own in New York, Berlin or London.
Dhony Rahajoe, managing director of Sinar Mas Land, said the company spent about $1.5m on the park. "Kalijodo was our first project of this sort," he said. "It's received a lot of public optimism and enthusiasm." Where one would have once headed for a night of debauchery, families now rent pedal carts, pose with cosplay icons, take their kids on pony rides and eat satay by the river.
On a second grey afternoon in the capital, 20-year-old makeup artist Kartika Cahya came with a model for a photo shoot. "I actually wasn't planning on coming here," she said. "But my photographer and stylist thought that Kalijodo would match the clothes – the ambiance, the colours. It's unique. There's nothing like it in Jakarta."