Almost 20,000 security forces are to be deployed in response to a mass protest against Jakarta's Christian governor by fundamentalist Islamic groups tomorrow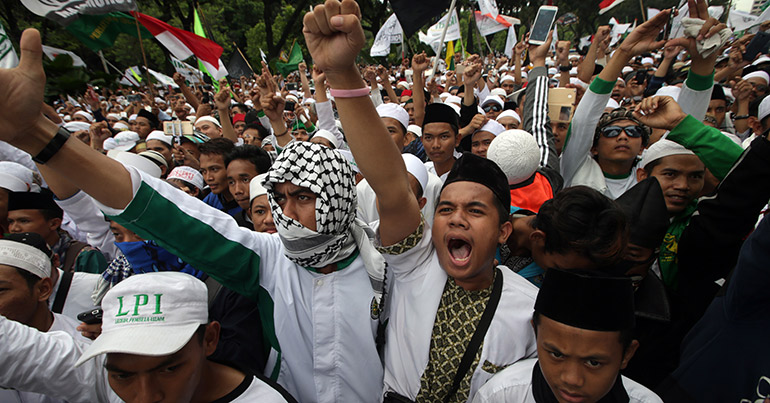 Security forces in Indonesia's capital are bracing themselves for a mass political rally against Jakarta's Christian and ethnically Chinese governor, Basuki Tjahaja Purnama, tomorrow.
The Islamic Defenders Front (FPI), an extremist group that has been accused of targeting minorities and turning violent at rallies, is one of the key organisers of the demonstration against the governor, who is better known as Ahok. The FPI wants to see him prosecuted for 'insulting Islam'.
In September, the governor claimed that opponents referencing a verse from the Qu'ran, which warns Muslims against allying with Christians and Jews, were "lying" in order to damage his electoral prospects in Jakarta's gubernatorial election due to be held in February.
In 2014, the FPI unsuccessfully tried to prevent the Ahok's swearing-in to replace Joko Widodo, the former governor who had been elected president, on religious grounds.
Despite Ahok apologising for his comments, some in the country remain incensed.
Julia Suryakusuma, an Indonesian author and activist, said there was an ulterior motive behind the protests, saying Ahok's opponents resent his attempts to "clean up" the country of corruption.
"This is nothing to do with religion or blasphemy, it is just a power ploy," she said, adding, "The governorship of Jakarta is seen as a stepping-stone to the presidency."
Hardline Islamic parties were marginalised during the reign of Suharto, whose dictatorship lasted from 1967 until his ouster in 1998. But according to Irwan Hidayana, a senior researcher at the University of Indonesia, this changed in the post-1998 reform period.
"After the fall of Suharto, the conservative religious groups started to gain political power, which changed the political map of Indonesia," he said.
Suryakusuma claimed that it was "common knowledge" that many of the protestors werere paid thugs and that the planned demonstration was not a "popular protest", but "totally mobilised".
Indonesia's largest Islamic group, Nahdlatul Ulama, has urged its 40 million members not to join the protests, reflecting the moderate form of Islam practised across most of the country.
In a statement to journalists on Monday, President Widodo made assurances that the situation was under control.
"I have ordered the state apparatus to be on alert and carry out their duties professionally," he said.
According to Channel News Asia, national police chief general Tito has asked the population to "stay calm". A total of 18,000 policemen will reportedly be deployed on Friday alongside 500 military personnel, including elite troops.
Although officials have attempted to stabilise the public mood, Hidayana is less convinced that the demonstrations will run smoothly.
"I'm worried this rally will likely be used by free riders – either the extremists or other political interests – to create conflict or violence," he said.
Despite receiving criticism from conservative Islamic groups since his comments in September, Ahok has so far remained ahead of his rivals in opinion polls.
In early October, the Indonesian Survey Circle placed him about 10% ahead of his closest contender.