The Boeing 777 aircraft was travelling to Kuala Lumpur from Amsterdam on 17 July 2014, when it was shot down over Ukraine's eastern Donetsk region, killing all 298 passengers on board.
Ukraine's eastern regions of Donetsk and Luhansk have been war zones since the 2014 Maidan Revolution, when protesters ousted Kremlin-backed President Viktor Yanukovych. Russian-backed separatists and Russian regular forces have since sought to separate the region as Kiev employs a strategy of containment and peace talks.
On Thursday 24 May, a Joint Investigative Team (JIT), comprised of investigators and police officers from the Netherlands, Belgium, Malaysia, Australia and Ukraine, held a press conference in the Dutch city of Utretcht.
There, chief Dutch prosecutor Fred Westerbeke said that investigations had conclusively determined that a Russian weapon belonging to an army brigade near Ukraine downed the civilian airliner.
He also criticised Russia for failing to cooperate with the four-year investigation, saying Moscow had obstructed investigators and not supplied requested materials.
"The Russian Federation didn't help us by providing us the information we brought out into the open today," he told reporters. "They didn't give us this information, although a missile from their military forces was used."
Head Dutch investigator Wilbert Paulissen told the conference that his team was now in no doubt that the Malaysian plane was shot down with a Buk-TELAR anti-aircraft missile belonging to the Russian Army's 53rd Anti-aircraft Brigade, based near the Ukrainian border.

Investigators have spent years putting together a comprehensive and damning report that now supports assertions of Russian responsibility.
With satellite images, geolocation tagging, social media posts, pictures and videos, the JIT has painted a picture of how this Russian missile came to be deployed against the civilian airliner as it passed over Ukraine.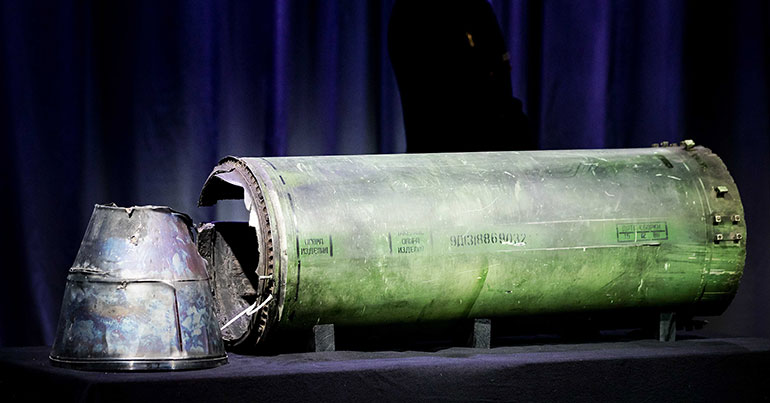 After determining the exact type of missile that was used in the attack, a dossier of material was gathered that reconstructed a convoy route carrying the missiles from their base in Kursk, Russia, to a location closer to Ukraine's border. Days later, the missile was fired from within Ukraine.
In response to the announcements and presentations of evidence in the Netherlands however, Moscow has reiterated denials of its involvement, repeating claims it had nothing to do with the attack. Since the incident, Kremlin officials have largely blamed Ukraine for the attack.
Moscow officials and Russian-backed separatists in Donbas have submitted alternative theories to investigators about how MH17 was shot down, but all have been dismissed by the JIT as "implausible" due to lack of evidence.
Yesterday, in the Ukrainian capital Kiev, officials felt vindicated, saying they had always known that Russia was culpable.
The country's State Security Service, or SBU, has been cooperating closely with the international JIT, providing them with more than 1.5 million data files connected to the attack. SBU chief Vasyl Hrytsak said that Ukraine already has a list of individuals they want brought to trial.
"Because of criminal proceedings, members of the joint group don't disclose these names, but it's a narrow circle of people who are involved in committing this terrible crime," the intelligence chief said in a television interview.
Ukrainian President Petro Poroshenko said that he would do "everything possible" to bring alleged perpetrators before the International Court of Justice. But Moscow has vetoed attempts at the United Nations to have any criminal proceedings brought before an international tribunal, meaning any trial is likely to take place in Dutch courts.
In Russia, where media messaging is closely monitored and controlled by the Kremlin, officials are struggling to direct the MH17 narrative.
The Moscow Times today leads with a headline stating that Australia and the Netherlands blame Russia and call for justice. At the same time, veteran opposition journalist and media commentator Alexander Ryklin has been outspoken on where he thinks the blame lies.
"Vladimir Putin is guilty for the deaths of these Malaysian Airlines passengers," he wrote yesterday on Facebook. "One day, these words will be heard in court."
---
About the author: Jack Laurenson is a British journalist and award-winning magazine editor with years of experience in Asia, particularly in India, Cambodia, Myanmar and Vietnam. Since early 2017, he has been based in Kiev where he's managing editor of the Ukraine Business Journal.