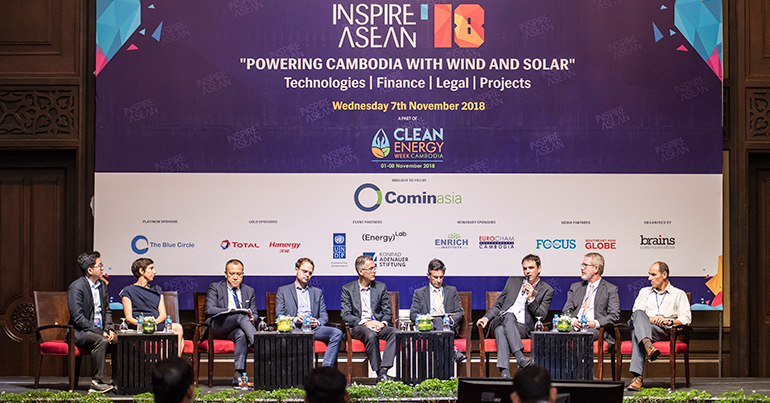 Many of the top players in the renewable energy sector in Southeast Asia gathered on Wednesday in the Cambodian capital for a conference centred on the future of energy. The event, held at Sofitel Phnom Penh Phokeethra, shined a light on a much-talked-about industry that has made great strides in recent years.
Victor Jona, the director general of Cambodia's Ministry of Mines and Energy, kicked off the conference. In his introduction, he lauded the local firm SchneiTec Group's planned 60MW solar farm in partnership with Jinko Solar, which is due for completion in December 2019 in Kampong Speu province. Jona also spoke of plans for a 150MW coal-fired power station in Sihanoukville, which he hopes will produce "clean coal energy".
The event ran in conjunction with the country's first ever Clean Energy Week, designated for the first week of November and organised by EnergyLab Cambodia. EnergyLab's goal for Clean Energy Week is to raise awareness of the renewable energy possibilities in the Kingdom by engaging young people and bringing together key players.
"I have been blown away by the level of engagement [in Clean Energy Week]," said Bridget McIntosh, director of emerging markets at EnergyLab Asia. "We were hoping to engage around 500 people, and I think we had managed that even before the [Inspire Asean] conference."
She continued: "This conference is a great anchor to the week, as it has guaranteed us the involvement of many of the region's important players [in renewable energy]."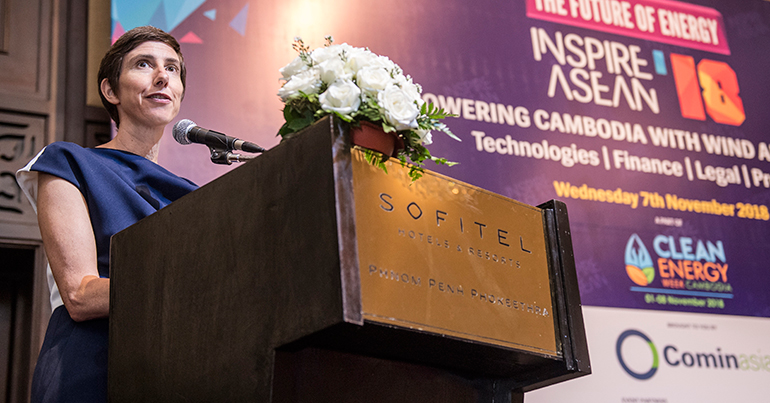 The conference's packed schedule of presentations by ten companies and organisations highlighted the many possibilities that Southeast Asia has in embracing renewable energy.
One opportunity of keen interest to those industry insiders at Inspire is the potential of wind energy in Cambodia.
"If you like solar, you're going to love wind," said Olivier Duguet, CEO of The Blue Circle, in his opening remarks.
The Blue Circle is an independent renewable-power producer in Southeast Asia that's launching its first trial wind farm in Cambodia next year, after four years of testing sites and wind potential.
It has long been believed that commercial wind in Cambodia is not possible, but Duguet disagreed in no uncertain terms: "I love the challenge. It doesn't matter if you're a small, big country or company, wind power is still a possibility."
Solar power consultant Santiago Abaitua, who was there to represent the Asian Development Bank (ADB), spoke of the company's commitment to investing in solar in Cambodia. ADB has pledged support to Electricité du Cambodge to build a huge 100MW national solar park set to be commissioned by 2020.
The mood was one of optimism as representatives from Total Solar, Comin Asia, General Electric and more discussed the possibilities. They also explored the challenges facing renewable energy in Cambodia, including an unclear regulatory environment, a lack of competition in the electricity market and a shortage of skilled labour. The conference showcased the huge interest that private companies and the government have in increasing non-hydro renewable energy usage in Cambodia and the region.
EnergyLab's McIntosh confirmed there will be a second Clean Energy Week next year, and concluded: "Now is such a fascinating time to be in the renewable energy sector."