Two new books examine the ancient and contested art of Thailand's tattoo masters
It provides protection from accidents, bullets and wrongdoing; can win popularity and affection and is part of an ancient tradition rooted in the confluence of Hinduism and Buddhism in Southeast Asia.
Sak Yant tattoo art dates back to Angkorian times, between the ninth and 13th centuries AD, when warriors wore the Yantra on their chests to protect them during battle. Today, everyone from military personnel to tuk tuk drivers wears the symbol.
Tattoos are increasingly appearing outside the region, with celebrities such as Angelina Jolie popularising the aesthetic in the West. In countries such as Thailand, Cambodia and Laos, however, these mystical designs still perform a vital function.
Each comes with a reciprocal element: in order for the tattoos to work, the wearer must abide by a code of behaviour. Restrictions are based on the tattoo and the wishes of the tattoo master. Wearers are expected to abide by the basic five Buddhist precepts: no killing, lying, stealing, sexual misconduct or intoxication. Other rules include foregoing monkey and snake meat. Sak Yant is not about beauty or fashion. Investing in them for that reason alone, cautions author Joe Cummings in Sacred Tattoos of Thailand, will bring none of the expected benefits.
For both Cummings and Tom Vater, author of Sacred Skin: Thailand's Spirit Tattoo, it was these beliefs that spurred them to investigate the practice of using flesh as a canvas and medium of worship. Vater documenting the bodies of individuals and their motivations, tracing how the tradition has evolved to permeate a wide spectrum of Thai society today.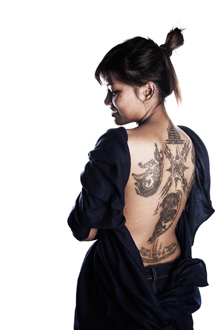 Sacred Skin: Thailand's Spirit Tattoos, published this month, and Sacred Tattoos of Thailand, available from August, follow a Thai Ministry of Culture campaign to curtail the commercial application of religious tattoos in order to protect the nation's global image. It is a misguided move, says Vater: "Authorities would be better off educating Thai people about sacred tattoos." Cummings agrees. "The Sak Yan tradition has a habit of rehabilitating more aggressive types to a greater or lesser degree. It's like a fraternity where everyone watches out for each other."
Cummings approaches from a cultural perspective, documenting the associated ritual: "The practice of Sak Yan reflects the talismanic nature of all spiritual belief systems in Southeast Asia, including the unique ways in which Buddhism, Hinduism and Islam are practiced in the region." He elaborates on the principles carved into the flesh of believers, drawn from various Khmer and Pali scripts. "The extent to which disciples follow these rules is hard to gauge, but not following them is the most common explanation for when the tattoos 'fail' in their job."