Indonesia's rich history of storytelling is reflected in its growing pool of talented writers. The Ubud Writers and Readers Festival provided an ideal backdrop to explore how a lack of quality translation is impacting the literary industry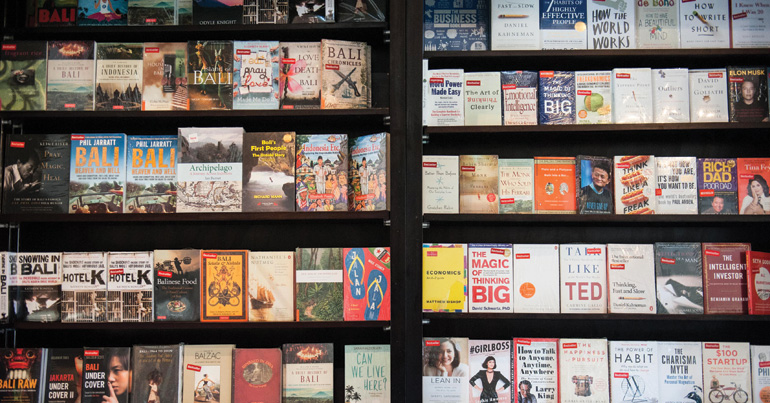 JK Rowling, Paul Kalanithi, John Grisham, David Baldacci, Bill O'Reilly. These people have a few things in common: they are the authors of Amazon's five best-selling books of 2016; they all made millions of dollars for their publishers; and they are all from English-speaking countries. As English becomes ever more predominant as the world's lingua franca, works written in English increase their stranglehold on the global literary scene.
It is acutely difficult for a 'foreign' author to break into the English-language market, where only 3% of the published works are translations from other languages. Even the world's fourth most populous nation is struggling to have its voices heard: despite Indonesia being Southeast Asia's most prolific literary nation, producing tens of thousands of books per year, its most renowned authors remain relatively unknown to the wider world.
Yet before Indonesians can even contemplate access to the vast English-speaking market their books need to be translated – and that is often where the problems begin.
"I think there's a critical mass of very good writers [in Indonesia] who deserve much greater exposure, but they are only going to get that exposure if their work is translated well," says Gill Westaway, a freelance translator and editor who lives on Lombok island, Indonesia.
Most Indonesian authors realise that the financial rewards of being translated and 'making it' in the English-speaking world are limited – the vast majority of Western authors also struggle to make a living solely through writing books – but the benefits of the increased status for authors and the country's literary scene in general are incalculable.
"I think it's very important [to get translated] because there aren't many potential Indonesian readers compared to those who read in English," says Ratih Kumala, an Indonesian author who has written six works of fiction, including a novel that was translated into English as Cigarette Girl. "Indonesia is a small country in the world, and nobody knows the Indonesian language unless you have lived here for a long time."
Leila S. Chudori, an experienced journalist and author who has written several anthologies of short stories and last year had her novel Pulang translated into English and titled Home, also advocates for reaching more people but cautions against writing for the wrong reasons.
"If you think you want to write because you want to be read in America or Australia and want to be translated into 20 languages and want to win the Booker Prize… I'm afraid it will be contrived."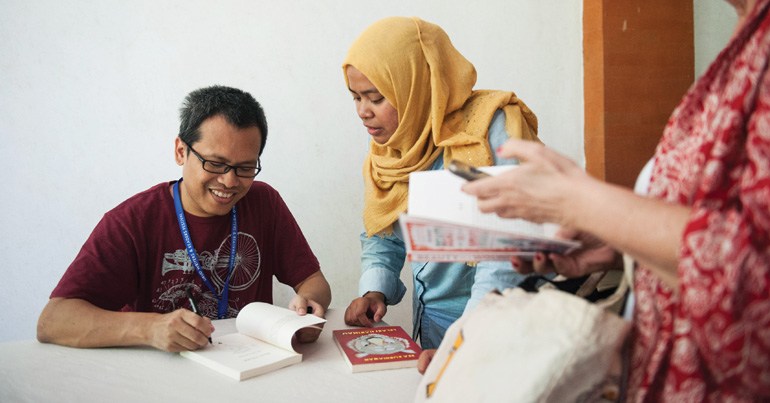 Perhaps the greatest showcase to date for Indonesian authors came in October 2015, when the country was the guest of honour at the prestigious Frankfurt Book Fair, which attracts more than 7,000 exhibitors from 100 countries and up to 10,000 journalists from around the world. First and foremost, this stimulated Indonesian publishers, who realised they might be able to sell rights abroad, and it also resulted in hundreds of translations into English and German.
Yet business has reverted to something like normal. There are hundreds of publishers operating in Indonesia, most of them tiny, and it is increasingly difficult for them to survive in a market where a large print run is 3,000 copies of a book and profit from sales barely offsets production, promotion, distribution and marketing costs.
According to many Indonesian writers at the Ubud Writers and Readers Festival (UWRF), there are numerous paths to achieving the status of 'published author'. Some had been picked up directly by a publisher, others had self-published, and many had been approached by Indonesian-speaking Westerners interested in translating their work. Meanwhile, online publishing on-demand is also becoming a key avenue for Indonesian authors, who send manuscripts directly to such a company, which then prints copies to order – whether one or 1,000.
The two publishers that stand out, particularly for authors looking to break into the English-language market, are Gramedia and Lontar. "Gramedia go for the media with a mass commercial appeal, because that is going to bring in the money – even though there is not a lot of money in it. Whereas Lontar go for a more literary bent – not necessarily trying to capture the big market. Depending on your raison d'etre, there are different criteria for which books get chosen," says Pam Allen, associate dean at the University of Tasmania and a widely published Indonesian-to-English translator who works with Lontar.
Gemi Mohawk, an Indonesian poet who ghosts around the UWRF wearing his trademark all-black clothing and hat, had his second collection of poems published as a book titled Indonesianus by an individual benefactor who simply loved his work. Prior to this serendipitous meeting of minds, however, Mohawk had received short shrift from the local publishing industry.
"When I tried to publish my book through this major publisher, it was rejected because I hadn't published any books before, and because I am not a famous person. But how could I publish a book if I cannot publish my first book?" says Mohawk.
According to John H. McGlynn, the American co-founder of Lontar and someone described at the festival as the "godfather" of literary publishing in Indonesia, similar problems persist for authors who wish to step onto the international stage. "Almost no foreign publisher will publish, without financial subsidies, translations of anything other than best-selling or award-winning novels," he explains.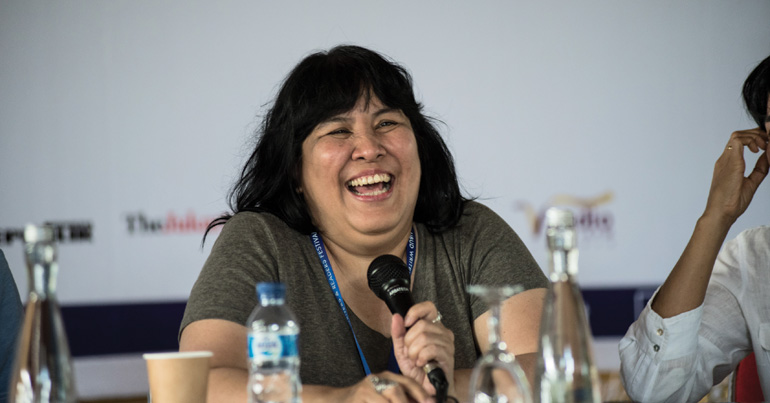 Nevertheless, there have been breakout stars. The current international poster boy for Indonesian literature is Eka Kurniawan, whose first novel, called Beauty is a Wound in English, has been translated into 28 languages. His second book, Man Tiger in English, was named on the 13-book longlist for the Man Booker International Prize.
Yet even Kurniawan's route to the pinnacle of contemporary Indonesian literature was a fateful combination of many factors, including undoubted talent, perfect timing and first-rate translation – while an endorsement from legendary Southeast Asia scholar Benedict Anderson, and the presence of a noted literary agent, Pontas, did no harm either.
"Indonesian literature is kind of obscure in, say, a global literary scene, so it's not easy," he says, pointing out that his first two books, which have received glowing reviews in the West since being released there in 2015, were actually written 14 and 12 years ago respectively. "It took a very long time until finally there was one publisher from the UK who wanted to publish [my work]."
Jennifer Lindsay, a translator for the weekly Indonesian magazine Tempo and former lecturer in Southeast Asian literature at the National University of Singapore, says the clamour for marketable works is not only counting out certain novelists, it is creating an environment in which the very best Indonesian writers are being ignored completely.
"The novel as a form is such a European fixation, and it's not necessarily where the best writing is. It skews what kinds of things are translated, it skews people's view of the variety of writing in other languages," she says. "I would say that a lot of Indonesia's best writing, really good writing, is in short forms and also in plays… not necessarily the forms that are going to get them the big attention in the Western world.
"To turn the whole thing around, if English wasn't the dominant language, who the hell would have translated James Joyce or any of those experimental writers? They wouldn't. They'd think: 'Who the hell is going to read this stuff?'"
Even for authors whose work does eventually find a home with a Western publisher, often the struggle has just begun. Any work of literature that is translated, in any language, is doomed to lose something of its original essence or meaning. However, most authors at the festival, from international success stories such as Eka Kurniawan to localised talents like Gemi Mohawk, seemed to agree – some more begrudgingly than others – that it is a price worth paying for a potentially larger audience.
Ratih Kumala remembers the deep anguish she felt over the translation of her book Gadis Kretek, which became Cigarette Girl in English. The problem, for her, lay in the treatment of the word kretek, a particular type of cigarette flavoured with cloves and intrinsically associated with Indonesia.
"I was a little bit disappointed actually," she says. "I wanted to keep the name kretek, or clove cigarette, because this is a very special type of cigarette in Indonesia. But my editor and my translator wanted it just to be titled Cigarette Girl. Deep down in my heart, it was just – it's not the same! It's not the same. But in the end I had to let go."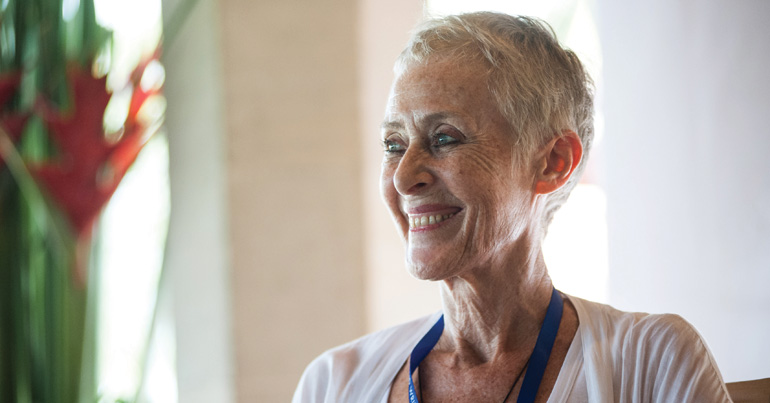 Perhaps the largest problem faced by Indonesian authors seeking exposure beyond their own shores, however, is that the general standard of literary translation in the country remains very low.
"A high level in the quality of translation is and will always be the single most important factor in Indonesia's success as a source of international-quality literature," says McGlynn. "Unfortunately, not only are translators dreadfully underpaid; by and large, their skill is rarely recognised."
Indeed, the art of translation is massively undervalued in most cultures, and it is rarely acknowledged that a good translator needs to have literary flair of their own. Add the fact that Indonesian is far from a commonly learned language in the Western world and, suddenly, finding someone who combines the requisite literary flair in their native tongue with fluency in Indonesian – and is willing to undertake a huge task for relatively little remuneration – becomes rather difficult.
Even Gramedia, the country's largest publisher, is struggling. One translator at the UWRF, who asked to be quoted anonymously, described the majority of Gramedia's translations as "appalling".
There is, however, only so much that Indonesia's private publishers can do without concerted support from the government. Recognition of the importance of the creative industries is undoubtedly lacking in Indonesia – and even more so across the majority of its Southeast Asian neighbours.
"It needs the country's hands there. It needs the involvement of the government, because this is serious… First, governments should think that literature is important. If you don't think that literature is important, nothing will be done. Second, writers are important, and third, translators are important," says Kadek Sonia Piscayanti, an Indonesian author who started her own independent publishing company. "So, if these three sit together, I believe that there are so many talented writers… [but] you cannot do it yourself; you have to be helped by a systematic structure."
According to McGlynn, the government can take two tangible steps to promote Indonesian literature: set up a committed and long-term programme to fund translation, and ensure Indonesia is represented at overseas literary festivals and book fairs – an exercise that is prohibitively expensive for most Indonesian publishers and authors.
Until something changes, it seems that even the country's most successful contemporary author, Eka Kurniawan, is destined to see overseas success as something of a surprise, and not readily attainable, even for a country with such rich storytelling traditions.
"I think it's more like a bonus for me," he says. "Of course, there are many, many readers outside Indonesia, but I still write stories, first and foremost, for Indonesians… It's not easy to translate literary work, but I think that just because it's not easy we cannot give up on this. It's very important."