With worldwide attention over executions last year, the government is keen to avoid the spotlight this time

While Indonesia prepares to execute 15 prisoners convicted of drug offences, it seems the government is keen to avoid the media attention that surrounded executions last year. Five Indonesians, one Pakistani, four Chinese, two Senegalese, two Nigerians and one Zimbabwean are due to face a firing squad this month, according to local media.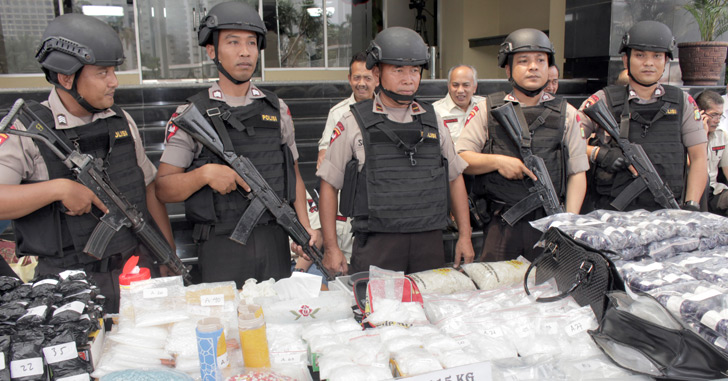 Speaking to Southeast Asia Globe, Indonesian lawyer Ricky Gunawan, who represented one of the convicts executed last year, said the death sentences were likely to be carried out soon.
"Lots of government officials have said that they want to avoid the hysteria and media frenzy and spotlight on Indonesia," Gunawan added.
Indonesia's chief security minister, Luhut Pandjaitan, appeared to confirm this when he recently told journalists that "the executions can take place any time, but there will not be a 'soap opera' about it this time".
Fourteen prisoners were executed in 2015, all but two of them foreign nationals. They included Australian citizens Andrew Chan and Myuran Sukumaran, members of the so-called Bali Nine, and Brazilian Rodrigo Gularte. Philippine national Mary Jane Veloso was given a last-minute reprieve but remains on death row. All these cases were followed closely in their home countries and further afield. Notably, of this year's batch of 10 foreigners, seven are from countries that also employ the death penalty.
Last week, the Anti-Death Penalty Civil Society Coalition, a group of 16 Indonesian NGOs, held a press conference to decry the executions, saying they were not the solution to address drug crime in their country.
The head of the Indonesian Drug Victim Advocacy Brotherhood (PKNI), Totok Yulianto, said the number of drug convicts has been rising, despite two rounds of executions last year. Six people were executed in January and eight more in April 2015.
According to PKNI, nearly 62,000 prisoners were incarcerated for drug-related crimes in October 2014, and by February this year the number stood at 69,662. This meant that almost 40% of all prisoners were in jail for narcotics offences.
"Even though the government had carried out executions in January and April. This shows that the death penalty does not create a deterrent effect. This is data from the directorate general of corrections," the Jakarta Post reported Yulianto as saying last week.
In April, the UN's General Assembly Special Session (UNGASS) on the global drug problem. Indonesia delivered a statement in defence of retaining the death penalty, on behalf of a coalition comprising China, Singapore and Malaysia, among others.
A statement released by PKNI on Monday said that the lack of fair trials in Indonesia is another reason why the use of death penalty should be reviewed. They pointed to the use of torture to extract confessions and a lack of adequate legal representation for those without the resources.