Following last month's twin suicide bombing, a slew of suspected members of Islamic State-allied network have been identified and detained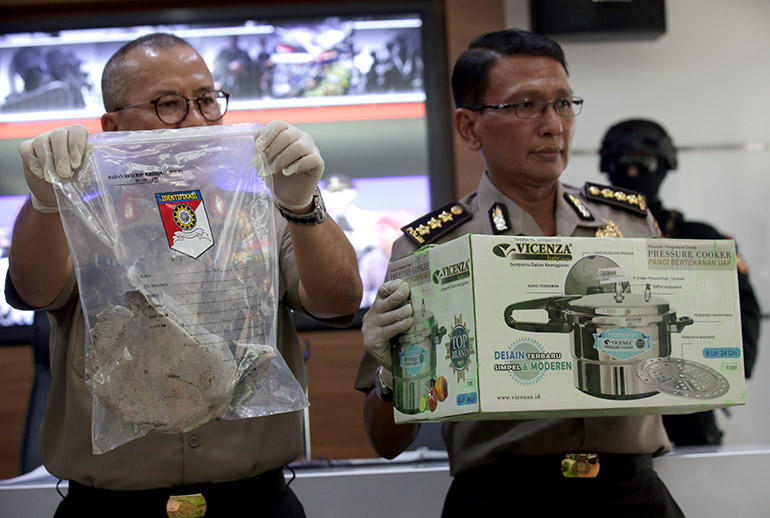 Indonesian authorities say they have arrested 41 suspected militants affiliated with the Islamic State since the fatal suicide bombings in May that killed three police officers and injured a dozen others, according to the Associated Press.
The attack, which was the worst since January 2016, prompted President Joko Widodo to call for harsher laws and enforcement to prevent terrorist attacks in the Muslim majority country, which has more recently taken moves to prevent militants in the Philippines from entering Indonesia.
The twin suicide bombings on 24 May went off roughly five minutes apart at Jakarta's Kampung Melayu bus terminal. Among the 41 arrested since the incident, 14 have been named as suspects while five others have been released due to insufficient evidence, said National police spokesman Major General Setyo Wasisto.
Police have identified the suspects as members of Jemaah Anshorut Daulah, a network formed in 2015 made up of almost two dozen radicalised groups that have pledged allegiance to the elusive Islamic State (IS) leader Abu Bakr al-Baghdadi.
The announcement comes about a month into a brutal conflict in Marawi City in the Philippines between government troops and IS-linked militants, which has taken more than 300 lives so far, including significant civilian casualties.
Fearing that militants fleeing from the Philippines may seek to cross the border into Indonesia, officials have bolstered military presence on islands near the Philippines in case of a need to repel them. Malaysia shares Indonesia's concerns and together with the Philippines is conducting tri-state sea patrols to prevent militant movement.
Though Indonesia has continued to see sporadic attacks, often linked to terrorist networks, nothing has come close in scale to the 2002 Bali bombings, which claimed more than 200 lives and saw three members of the members of the violent Islamist group Jemaah Islamiyah sentenced to death.