The Corruption Eradication Commission has urged Setya Novanto to turn himself in within 24 hours to avoid being named for alleged involvement in one of the country's biggest corruption scandals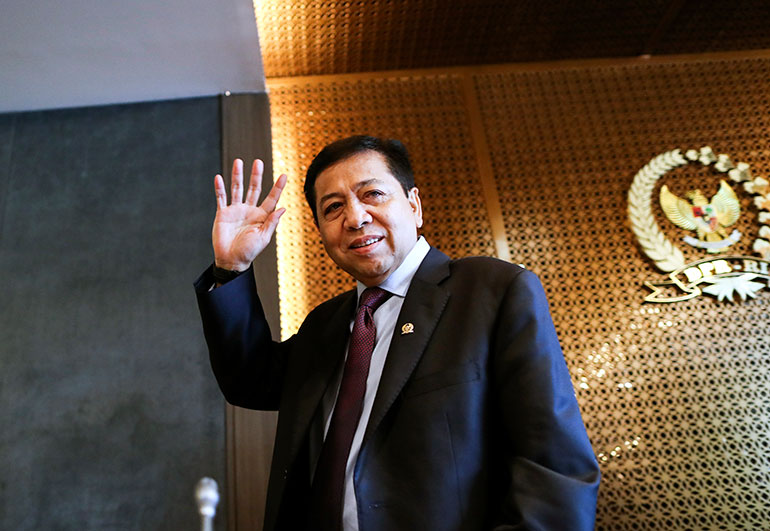 Indonesia's anti-corruption agency has issued an arrest warrant for House of Representatives speaker Setya Novanto, after he failed to attend summons for questioning over his alleged involvement in a major embezzlement case over electronic identity cards.
The warrant was issued after a failed attempt by the Corruption Eradication Commission (KPK) to detain Novanto at his house in South Jakarta on Wednesday evening. The KPK spent five hours searching the property, but were only met by his wife and lawyer.
The KPK has been investigating allegations that sums ranging from $5,000 to $5.5 million were divided up among politicians – including Novanto – in a room in parliament. The divided money was allegedly generated from marking up the costs of procuring government issued citizen identification cards (e-KTP), resulting in $170 million of stolen state funds.
"For investigation purposes, the KPK decided to issue an arrest warrant for Setya Novanto for his alleged role in the e-ID graft case," KPK spokesman Febri Diansyah said in a statement. "We have done everything we can to persuade him to fulfill summonses as a witness and suspect."
Novanto and his lawyer Fredrich Yunadi have long cited that the accused has immunity rights as a House member to avoid KPK questionings, claiming members enjoy parliamentary impunity and cannot be prosecuted without approval from the president.
Yunadi further asserted on Thursday that – while he doesn't know the exact whereabouts of his client – Novanto is in Jakarta and is not trying to avoid the law.
"I'm 100% certain he is in Jakarta. He is not a coward, he just won't willingly be raped," Yunadi was reported by the Guardian as telling Indonesian news in response to mounting public suspicion that Novanto decided to flee to avoid arrest.
Since first being named a suspect in July, the House speaker has missed numerous KPK summons for questionings, claiming he was ill and needed to undergo heart surgery.
In late September, Novanto controversially won a pre-trial motion by the South Jakarta District Court, which cleared him of his suspect status on the basis of a lack of sufficient evidence.
Undeterred, the KPK on Friday once again named Novanto as a suspect in the case, stating they had discovered "new evidence".
He has also been plagued by numerous corruption allegations, but has never been prosecuted.
In 2015, the House of Representatives Ethics Committee launched an enquiry into claims by a Freeport Indonesia executive that declared Novanto had attempted to extract $1.8 billion worth of shares from the local unit of a US mining company.
Despite briefly stepping down, Novanto rebuffed the accusations and was later reappointed as speaker after being cleared by the ethics panel.
For millions of Indonesians, the alleged embezzlement has meant citizens are facing long delays and are often totally unable to retrieve the compulsory identity card. Many have instead been issued pieces of flimsy paper in place of the proper document.