East Jakarta District Court finds a pregnant Indonesian woman guilty of committing an act of terrorism as country ramps up efforts to combat extremist threats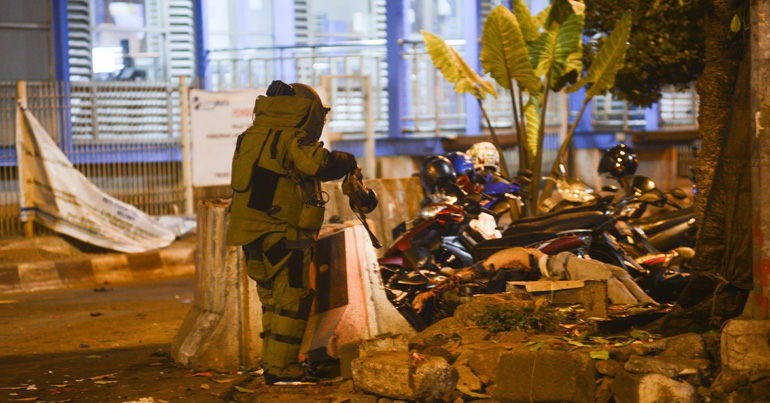 An Indonesian woman has been sentenced to seven and a half years in prison for conspiring to carry out a suicide bomb attack on the presidential palace in December, according to Agence France Presse.
Dian Yulia Novi, a 28-year-old former migrant worker, was arrested at her boarding house, where she was found the night before the planned attack with a three-kilogram bomb encased in a pressure cooker. Four others, including Novi's husband, were also detained in relation to the bomb plot.
Novi becomes Indonesia's first woman to be sentenced for committing an act of terrorism. She was also nine months pregnant, a fact which Novi's lawyer Kamsi – who goes by one name – said compelled judges to deliver an early verdict.
Kamsi told AFP that another woman, who was alleged to have recruited Kamsi, was also sentenced to three and a half years in prison.
In 2002, Indonesia's cultural capital, Bali, was rocked by bombings carried out by the violent Islamist group Jemaah Islamiyah that killed more than 200 people. The country experienced sporadic attacks in the ensuing years, but experienced a lull from 2009 to 2016.
Multiple explosions near the Sarinah shopping mall and a UN information centre in Jakarta in 2016 claimed eight lives and injured many more. It was the first attack claimed by Islamic State (IS). In May, about a year later, IS claimed responsibility for another attack in Jakarta, stoking concerns of a resurgence of radical Islam across the archipelago.
Fears of a downward security spiral in Indonesia have been further fuelled by the idea that the ranks of local terrorist networks will soon be bolstered by fighters returning from Syria and Iraq as IS slowly loses ground in the Middle East.
However, a 2016 article by the US-based Brookings Institute suggests that that narrative has been overblown in local media reports, citing figures from Australian scholar Greg Fealy, who estimated that only 1.4 out of every million people in Indonesia have "set out" to join the IS, compared to 14 per million in Australia, 18 per million in France and 40 per million in Belgium.