Indonesian police have killed 11 suspected petty criminals in Jakarta over the past two weeks, shooting a total of 52 people for allegedly evading arrest in a heavy handed crackdown on street crime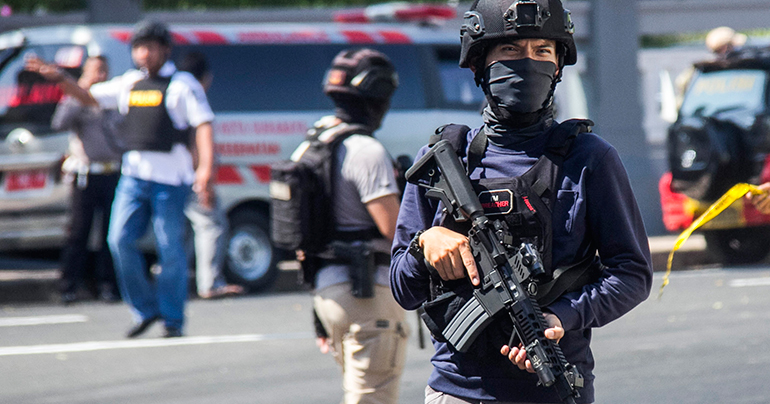 The deadly police campaign, which began on 2 July, is intended to eliminate crime in the capital in advance of the Asian Games, which will take place in Jakarta and Palembang between 18 August and 3 September.
In response to inquiries regarding the crackdown, Indonesian authorities have stated that the deaths are warranted because the alleged criminals were "endangering the public" by resisting arrest.
"Police won't hesitate to take firm measures including shooting suspects if they resist arrest," police spokesman Argo Yuwono told AFP, suggesting that the shootings will continue through the end of the two-month campaign.
Nearly 2,000 suspected criminals have been arrested as a result of the crackdown thus far, while an additional 1,500 have been ordered to take part in rehabilitation programs, Yuwono stated.
Human Rights Watch has denounced the crackdown, with the group's Indonesia researcher Andreas Harsono describing the upcoming Asian Games as a "pretext to use excessive force".
"It's better for the Jakarta government and police to collaborate closely to secure transportation infrastructure and traffic intersections, clearing [pavements] and doing more police work," Harsono told Associated Press.
The Asian Games, the second-biggest multi-sport event behind the Olympics, will see over 10,000 athletes from 45 different countries entering Indonesia to take part in the competition in just over a month's time.
[manual_related_posts]
The games will take place just three months after Indonesia's second-biggest city, Surabaya, weathered a series of suicide bombings that killed 26 people. The Indonesian anti-terrorism squad has since arrested approximately 200 terror suspects, according to local authorities.
Hundreds of extra police are currently on patrol in Indonesia, and approximately 100,000 security staff are expected to be deployed across the country when the games begin.