Indonesia begins aid operation as thousands are forced to flee with Mount Agung teetering on the edge of eruption, but local tourism operators remain bullish about the safety of visitors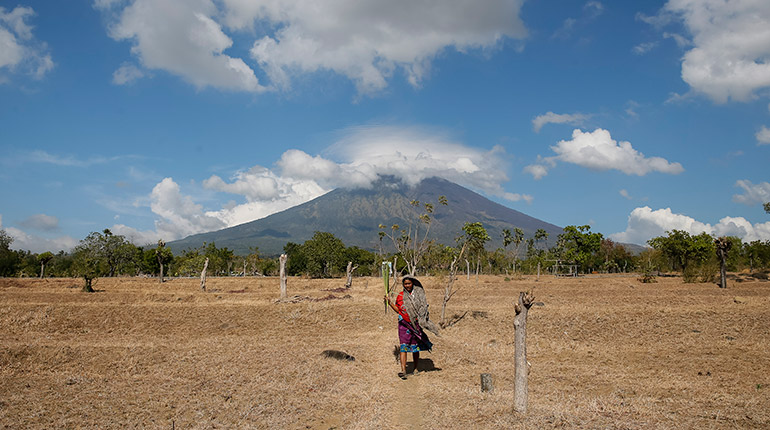 More than 75,000 people and some 2,000 cows have been evacuated from the surrounding area of Mount Agung, a volcano 75km northeast of Bali's tourist hotspot Kuta that experts say could erupt 'in a matter of hours'. Service out of Bali's local airports, however, has yet to be affected.
"The local mitigation agency reported that until 12pm Tuesday, the number [of evacuees] has reached 75,673 people, spread across 377 evacuation centres in nine districts," Indonesia's national disaster agency spokesman, Sutopo Purwo Nugroho, told AFP, adding that that number is expected to rise.
While only 62,000 people lived in the danger zone – an 8-11km radius of the volcano – prior to evacuations, residents beyond that area have erred on the side of caution and also chosen to leave.
Bali has a 'sister village' programme in place, whereby neighbouring villages allow evacuees to stay in their homes during disasters. The central government also has a $150m disaster relief fund, which could be used to support the evacuees should Mount Agung erupt.
Evacuees have taken refuge in hundreds of village centres, sports halls and homes of relatives across nine of the island's districts; so far, they have been provided with 640,000 face masks, 12,500 mattresses, 8,400 blankets and 50 tents, though there is still a need for basic food items, such as rice, instant noodles and water, according to AFP.
On Tuesday, while visiting camps in Klungkung district, President Joko Widodo urged local communities to listen to local authorities in order to "minimise the impact" of an eruption.
"It is not easy to handle a volcanic eruption because there is no certainty when it's going to happen, or if it's going to happen at all," Widodo told evacuees at the camp. "I ask everybody near Gunung Agung to listen to the officials, the governor and the mayor's instruction so we can all minimise the impact of this volcano."
The volcano last erupted in 1963, an event that claimed 1,600 lives and saw volcanic ash reach as far as the capital Jakarta.
Following a spike in seismic activity to unprecedented levels, Indonesia's volcanology centre raised the alert status of Agung to the highest level on Friday and warned people to stay out of the volcano's danger zone.
"We have never recorded such high energy or seismicity from Mount Agung," Devy Kamil Syahbana, a seismologist from Indonesia's centre for volcanology and geological hazard mitigation, told the Guardian.
According to the centre's data, the volcano experienced 844 volcanic earthquakes on Monday, and 300 to 400 earthquakes by midday on Tuesday, which Syahbana said indicated "the movement of magma and [an] increase [in] the probability of an eruption".
In a bid to protect the island's flourishing tourism industry, officials have been quick to point out that, beyond the volcano's danger zone, the island is still safe for visitors. While scheduled flights have not yet been affected, the possibility of an imminent eruption has been met with mixed responses from airlines.
Virgin Australia and Jetstar, both of which fly to Bali from Australia, said they would make an extra fuel stop in Darwin in case they needed to change course. Singapore Airlines and its sister operation SilkAir said customers traveling to Bali up until 2 October could change their travel dates or request a refund, while AirAsia said flights were operating normally.