Janet DeNeefe, restaurateur and founder of the Ubud Food Festival, on how Bali's women have shaped the island's cuisine
Every element of social life in Bali is ultimately about family and community, and at the heart of this is the sharing and eating of food. Meals are a time to strengthen bonds and share stories over one's favourite dishes, from smoked duck to sambal.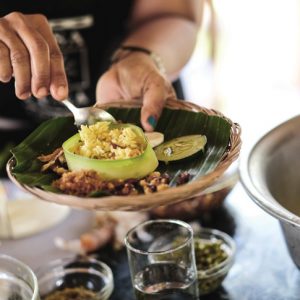 There is no doubt that the best Balinese food is found in the home. Nothing beats a mother's cooking, and the memories these dishes evoke are part of our personal history and heritage. With their lovingly prepared creations, Bali's women have helped shape the eating style of Ubud, paving the way for a new generation of chefs and restaurateurs who are helping the island's culinary scene evolve and modernise.
I often feel shy, as a non-Balinese, to be expounding knowledge about Balinese food amongst so many of these extraordinary masters. I admire the lasting contribution they have made to Indonesian cuisine.
With a focus on the concept of 'Go Local' at this year's Ubud Food Festival, their stories will be at the forefront of an exploration of the influences that have shaped Indonesia's celebrated fare. This is a tribute to the mothers of the country's cuisine, the ibu-ibu whose recipes and restaurants have made a lasting culinary imprint. Here, we tell some of their stories.
A legacy passed through generations
Ibu Oka's warung (local restaurant) has become an iconic establishment in Ubud and her suckling pig is a global delicacy. From its origins as a small stall in the market, the bustling business on Jalan Suweta is now visited daily by busloads of tourists who savour her succulent pork with all the trimmings. A second branch has opened in Teges village outside Ubud where, on a busy day, up to 15 pigs and 20kg of rice are devoured by hungry Indonesians and visitors.
The recipe for Ibu Oka's suckling pig was passed down to her by her mother-in-law, Gung Niang Guling. She would begin the cooking at 4am, and by 11am the cooked meat, sambal, rice and other side dishes would be loaded onto a small wooden table, perched on top of a well-worn towel on her head and carried to the market.
Not much has changed, except that the meat is now served on the premises. Now, Gung Niang Guling's legacy is carried on by her daughter-in-law and grandchildren, who prepare and sell her food. It is a successful family-run business in the purest sense of the words.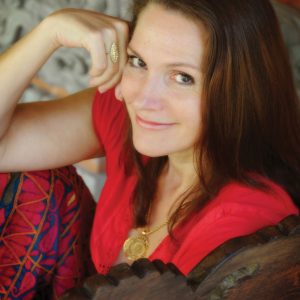 Ubud's foremost female restaurateur
Canderi's is another iconic establishment in Ubud. Founded in 1965 by the legendary Ibu Canderi, her café made an appearance in the song "I've Been to Bali Too" by celebrated Australian folk band Red Gum in the early '80s, a reflection that her place was a home away from home for every tourist in Ubud.
It wasn't really about the food; it was about Ibu Canderi. She was everyone's mother, a reinforcement of the old adage that to run a successful restaurant you should have a generous, warm personality. Back then, the entertainment was chess, guitar and late-night conversations. Nowadays, her children manage the business but Canderi is often there, sitting at the back, observing the goings-on of this ever-changing village.
The keeper of culinary secrets
I often meet Ibu Murni at ceremonies because we live in the same banjar (neighbourhood). Every now and then she shares stories about the 'old' Ubud. "Did you know about Jalan Bisma where you live now, before it even had a name? In the early days it was just a tiny dirt track in the middle of the rice fields. When I was a young girl, I used to walk up there in the afternoons, around three o'clock when the sun was slowly descending. That was the best time to collect Balinese snails, and the ones from Jalan Bisma were the finest."
Ibu Murni was an entrepreneur from an early age. A small warung that sold drinks and snacks, Murni's was one of the first restaurants to own a refrigerator – a true landmark. From humble beginnings in 1974, her place grew into a multi-level establishment. My husband, Ketut, and I used to spend most of our lunchtimes at Murni's, whiling away the hours chatting together.
Ibu Murni has since travelled the world; she caught the travelling bug after becoming the first woman driver in Ubud so that she could track down the very best ingredients and producers. She is forever experimenting with new influences, sourced from travels to Europe or adventures in Africa. Overlooking the Campuhan river and now run by her children, Murni's warung is now an Ubud institution, one of the village's oldest and most iconic.
For information about the Ubud Food Festvial, click here
Keep reading:
"The foodie factor" – The first Ubud Food Festival brought together some of the finest chefs from Southeast Asia and beyond. It provided the perfect opportunity to ponder whether Western chefs in the region should be considered dietary dignitaries or culinary colonists