Needless to say, it was not the last time that Cambodian opposition leader Sam Rainsy's supporters would see him alive as a free man.
As he turned from the Thai Airways check-in counter to face the dozens of reporters gathered at Paris's Charles de Gaulle Airport, the man who had promised to storm across the Thai-Cambodia border on November 9 at the head of an army of returning migrant workers looked stunned. He had not even been allowed to board the flight to Bangkok, the first leg of his long-promised return.
"I'm not allowed to board. They said they have received from very high up the instruction not to allow me to board," he said. "I'm very shocked, I'm very disappointed. I want to go back, my people are waiting for me."
Rainsy will likely not be the only Cambodian left disappointed. When contacted by the Associated Press, a Thai Airways employee told a different story: Rainsy, they said, hadn't even had a valid booking.
"We were unaware of the consequence – we posted that booking detail online without hiding the confirmation code. So somebody else, which is for sure the government of Hun Sen, they have used that number to cancel or to reschedule the booking"

CNRP member Mounh Sarath
As acting president of the Cambodia National Rescue Party (CNRP), the Kingdom's main opposition group dissolved by the nation's ruling party-aligned Supreme Court in the lead-up to last year's national elections that saw Prime Minister Hun Sen's Cambodian People's Party claim all 125 National Assembly seats virtually unopposed, Sam Rainsy's pledge to return to the Kingdom on Saturday from his exile in Paris had been met with both excitement and scepticism.
In a bid to prove to his doubters that the CNRP leadership was serious about returning to the Kingdom despite repeated promises from Hun Sen to arrest them upon entry, Rainsy posted a picture of his Thai Airways ticket to social media – complete with his booking reference number.
Former CNRP provincial chief Mounh Sarath, who until recently had been living in exile in Thailand, said that the leadership's eagerness to show supporters they were serious about coming back to Cambodia could well have been their undoing.
"We wanted to prove to Cambodian supporters that we had already booked our tickets, already had our schedule, to tell them the location of the airport where we would be," he told Southeast Asia Globe. "We were unaware of the consequence – we posted that booking detail online without hiding the confirmation code. So somebody else, which is for sure the government of Hun Sen, they have used that number to cancel or to reschedule the booking."
Indeed, when reporters checked the reference number through Thai Airways website, it appeared to show a flight scheduled to leave Paris on November 9 rather than November 7. It is still unclear whether the flight was changed after the initial booking. But although Thai Prime Minister Prayuth Chan-ocha stated outright this week that Rainsy would not be allowed to enter Bangkok despite a written plea from the exile, Sarath said that it was far from certain that Rainsy had truly been turned back from his flight in accordance with orders from on high.
"This is really the failure that we underestimated – it's not 100% that we cannot fly from the restriction from the government, because the government of Thailand did not say specifically [not to] allow it, but there was a problem with the technical aspect," he said.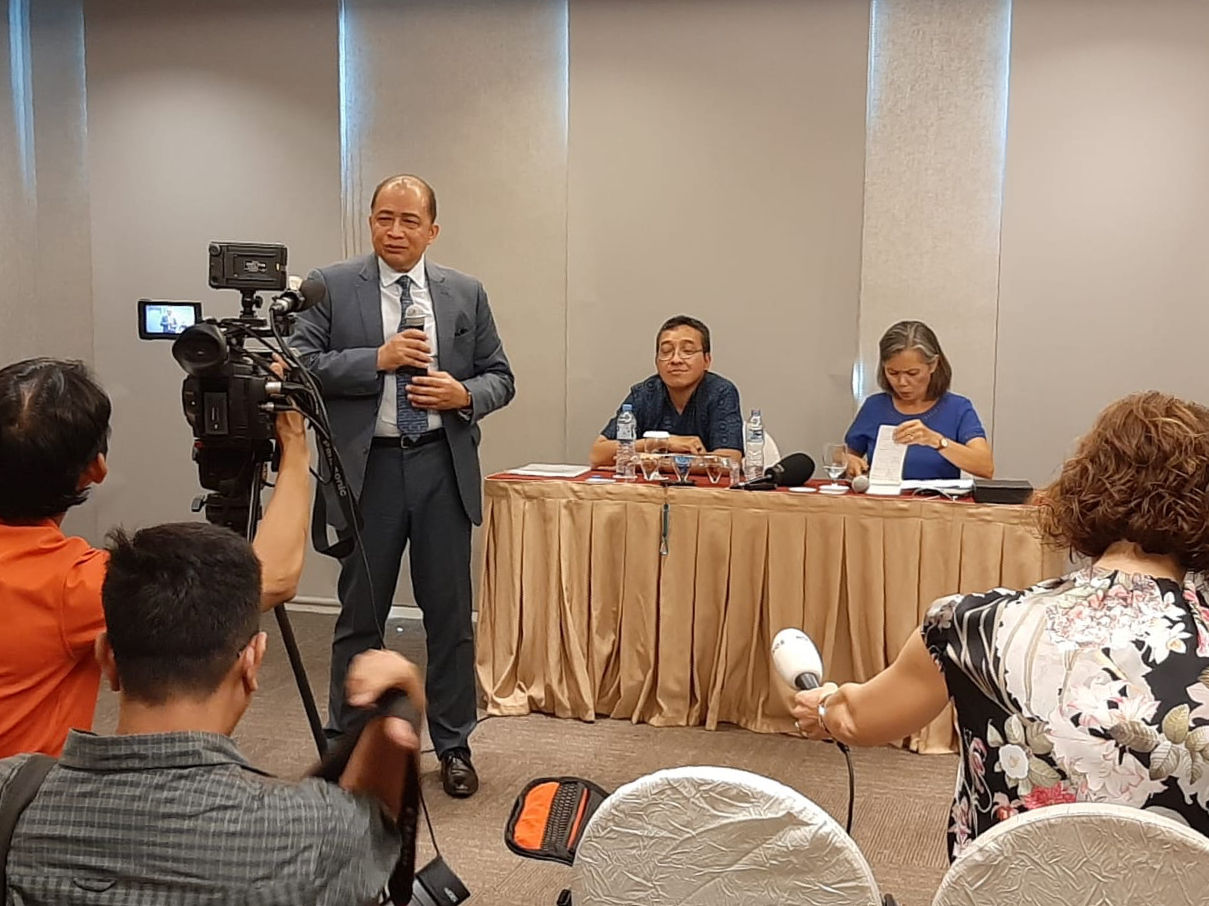 Now, there seems little time left for Rainsy to return to Cambodia in time for November 9. Nor was that date picked at random – as the anniversary of both Cambodian independence from the French and the fall of the Berlin Wall, the CNRP has positioned the opposition's return as the latest skirmish in a decades-long global struggle against authoritarianism.
But Rainsy is not the only CNRP member to have experienced a bumpy journey back to their homeland. Senior CNRP politician Mu Sochua was detained by Malaysian immigration authorities upon her arrival at Kuala Lumpur International Airport from Jakarta, having just days earlier been refused entry into Bangkok.
It was not until hours later, after rumours of a fierce factional struggle between Malaysia's Home Affairs Ministry and the Foreign Ministry and a final intervention from Prime Minister Mahathir Mohamad, that Sochua was set free – along with two other CNRP activists who had been detained earlier this week trying to board a flight to Bangkok.
"Hun Sen is not afraid of Sam Rainsy, but Hun Sen is afraid of Sam Rainsy's popularity among the population"

CNRP member Hay Vanna
Speaking shortly after her release, Sochua seemed undaunted by Rainsy's failure even to board a plane.
"Our plan to return for democracy in Cambodia by land remains unchanged," she said. "Mr. Hun Sen can not keep Cambodia and 16 million Cambodians hostage by closing all entries. He is violating our human rights and the constitution."
Hun Sen seems to be leaving little to chance. The long-serving prime minister called upon other ASEAN nations to arrest CNRP leaders attempting to return to Cambodia in the hopes of cutting off all hope of Rainsy or his allies even setting foot in the Kingdom.
The strongman has also warned all airlines of the grave consequences of carrying CNRP politicians back to Cambodia, stripped 12 senior members of their Cambodian passports and presided over a renewed crackdown on opposition activists and supporters within the Kingdom that has seen almost 50 people imprisoned and an alleged 300 forced to confess to what the government has labelled "coup plotting".
With Vietnam and Laos, long-time allies of the regime, unlikely to allow the fugitive politician through their borders and Thailand standing fast by Hun Sen's side, the noose is tightening by the second.
Joshua Kurlantzick, senior fellow for Southeast Asia at the Council on Foreign Relations, said that there was little chance that other ASEAN nations would risk involving themselves directly in Cambodia's internal political turmoil.
"It's not yet totally clear what Malaysia will do – perhaps they won't stand in the way," he said. "But yes, I think this episode is consistent with ASEAN's history of noninterference in member-states' domestic politics, and unwillingness to be seen as potentially helping the opposition to a sitting ASEAN leader. Of course, you could say that, by not helping CNRP leaders from returning, these other ASEAN countries also are essentially interfering in other states' affairs, since they are precluding the return of opposition leaders to Cambodia."
"Wait to see if he is brave enough to come back – or how he will explain if he fails to return"

Political analyst Noan Sereiboth
If history is doomed to repeat itself – first as tragedy, then as farce – it is all too clear which category this sorry episode falls under. Rainsy's inability even to make it onto the plane is a far cry from the leader's triumphant return to Cambodian from exile in 2013 ahead of the close-fought national elections that saw the CNRP come within inches of seizing power from the ruling party. As the charismatic orator touched down in Pochentong Airport, tens of thousands of supporters rallied to march with him into the city.
For CNRP activist Hay Vanna, it is the spectre of this display of people power that has the Cambodian government on edge.
"Hun Sen is not afraid of Sam Rainsy, but Hun Sen is afraid of Sam Rainsy's popularity among the population," he said. "That is the reason that Hun Sen has conflict with his own – want to arrest Sam Rainsy? Why trying not to let Sam Rainsy back in Cambodia? This is how Hun Sen is being scared and became crazy."
But for those who watched then-CNRP leader Kem Sokha arrested last September in the early hours of the morning and the opposition party dissolved, stripping thousands of elected officials of their office and banning more than a hundred from politics, there has been little sign that opposition supporters are still prepared to take to the streets in fury at their disenfranchisement.
Still, Vanna believes that this time will be different, citing a series of trade agreements between Cambodia and the West under threat of withdrawal after decades of human rights abuses.
"Yes, surely they will [rise up] when Sam Rainsy steps on Cambodian soil," he said. "The arrest of Kem Sokha and the dissolution of the CNRP is a long way from this last event of the November 9, 2019, with the US and EU ready to deal with Hun Sen economically [through the] EBA, GSP, and US sanctions towards Hun Sen and his group. So this is the best time to move on and get people together as huge as it was in the Philippines in 1986, a so-called People Power that made the Ferdinand Marcos regime collapse."
Local political analyst Noan Sereiboth is more sceptical that the long-exiled leadership will be able to rally their supporters.
"It is impossible, because it is a completely different time between that time and this time," he said. "Wait to see if he is brave enough to come back – or how he will explain if he fails to return."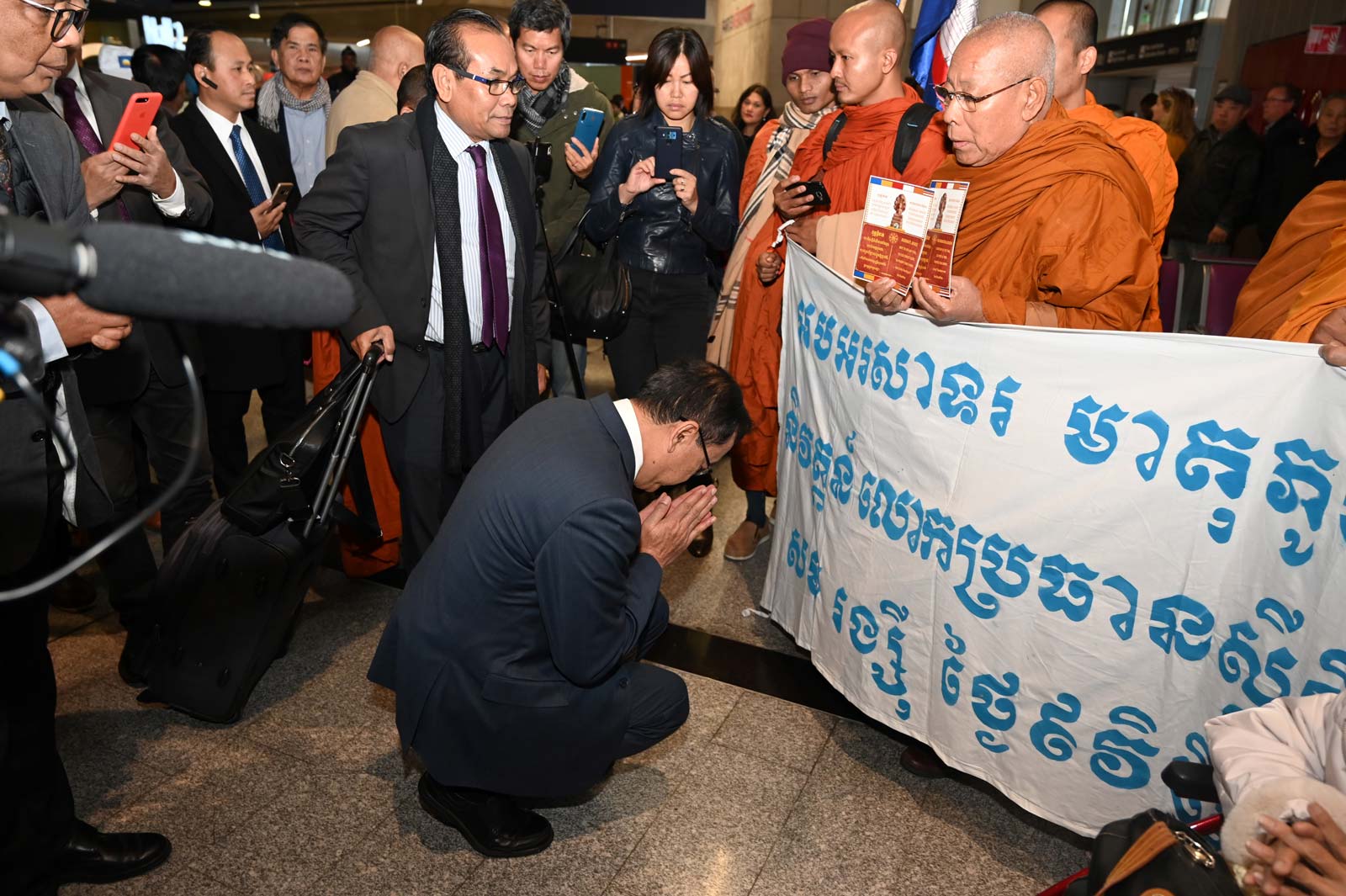 The ruling party seems to have learned its lesson from the last time that Rainsy was allowed to return back to Cambodia. The government has deployed thousands of troops along the border with Thailand and filled the capital of Phnom Penh with heavily armed police to make it clear exactly what reception would meet any public display of resistance.
With little time left for Rainsy to make good on his promise to return on November 9, the question of whether the CNRP leadership will press on with their plans to re-enter the Kingdom remains an open one. Sarath said that diplomatic channels with other ASEAN nations were the opposition's best hope of slipping through Hun Sen's narrowing net.
"We're talking to a lot of people, and we've been pushing – uh, putting some words to other governments in the region of Asia who are standing with us," he said. "We're floating Indonesia, Malaysia and the Philippines to help make it happen that we can get through. And the foreign ministry of the United States should have – not some impact, but some good dialogue with Thailand to at least pave the way for us to go through."
"It is not much surprising if they fail to return – but his supporters already sacrificed a lot for them"

Political analyst Noan Sereiboth
Kurlantzick, however, was less hopeful that Thailand would allow a political opposition movement to use its land as a staging ground for mass protests – however peaceful.
"ASEAN is really a leaders' club, and those leaders have tended to be authoritarians, at least in most ASEAN states," he said. "It may be in this case that the Malaysian and Indonesian governments do play a role in allowing the Cambodian opposition to make their case and even try to return to Cambodia; if any governments in the region are going to do so, it would be Malaysia and Indonesia."
Nor have the CNRP members who have faced detention and deportation in their bid to return given up on one day making it back to their homeland.
"Hun Sen needs to show he keeps national interests and democracy as his highest priority," she said. "Open the borders and stop requesting neighbouring countries to blacklist us."
When asked what the CNRP leadership would do if Hun Sen refused to change his stance, Sochua declined to answer directly.
"Cambodia and her people deserve real democracy and peace," she said. "Peaceful change through non-violence is urgently needed."
For Sereiboth, though, the fire and fury surrounding Rainsy's long-promised return to political relevance has ended in a fizzle.
"It is not much surprising if they fail to return – but his supporters already sacrificed a lot for them," he said.