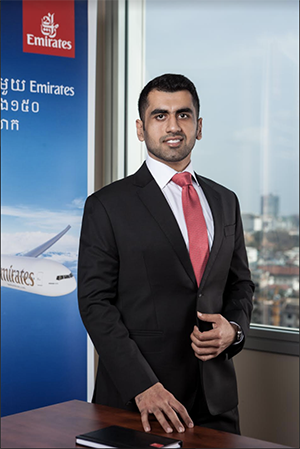 Let's talk about going "green" – a hot topic for all airlines. What efforts has Emirates made to reduce overall impact on the environment?
Emirates takes the environment very seriously. We have developed an environmentally friendly aircraft cleaning technique that enables the airline to save millions of litres of water every year. The "aircraft drywash" technique requires little or no water, in contrast to conventional methods of aircraft cleaning, which typically require thousands of litres of water per wash.
We also engage with a number of global partners during World Environment Day to raise awareness among our passengers. In June 2018, we delivered "sustainable blankets" to a local non-government organisation, called the Cambodian Children's Fund in Phnom Penh, which helps disadvantaged families and provides education to Cambodian children. Each blanket is made up of 25 discarded plastic bottles, so we're recycling while also trying to give back to the community at the same time.
In addition, sustainable energy solutions are also part of Emirates' sustainability mix. Emirates installed a 1 MW array of solar panels at the Emirates Engine Maintenance Centre, which generated 1,403 MW over one year of operation, reducing the reliance on grid-supplied electricity. Numerous facilities have been retrofitted with energy-saving light emitting diode (LED) fittings, such as Emirates Engineering where energy efficiency measures are saving over 237 MWh of electricity a month.
We also engage in a number of initiatives that support sustainability related to our catering division, and its recycling efforts, as well as waste reduction techniques across all of our offices.
Some global airlines have launched "green" training to encourage their employees to implement environmentally friendly practises on the job. Does Emirates partake in this sort of training?
Emirates places an emphasis on minimising emissions by operating a fleet of new, advanced aircraft and by operating them in a fuel-efficient way. Our average fleet age is only 5.7 years, significantly lower than the industry average.
We also adopt a range of operational techniques to reduce fuel consumption and emissions. These techniques include careful and efficient planning of flights, taking advantage of favourable winds, and switching to ground power at airports wherever available to avoid using the aircraft auxiliary power unit. For example, in the 2016 to 2017 financial year, Emirates' pilots saved over 15,500 tonnes of carbon dioxide by using idle reverse thrust on landing instead of full reverse thrust, and they saved nearly 4,000 tonnes of carbon dioxide by switching one engine off while taxiing in after landing.
We do understand that going green is a process that requires stakeholders within the government, private sector and the public to accelerate meaningful change. Emirates stands ready to work with willing partners to create a more sustainable environment for everyone – whether through green initiatives within the airline industry or outside of it.
In Southeast Asia there have been increasing developments across the region that have helped to encourage international travel among the middle class. With this in mind, can you identify some of the most rapidly growing markets for Emirates in the region?
Southeast Asia's travel industry has boomed in conjunction with low-cost travel options. However, across the board, we are seeing the per capita GDPs (gross domestic products) of all Southeast Asian nations rise and, as you rightly put it, the expansion of a growing middle class. This has also stimulated growing demand for premium travel options.
The sharpest spikes in economic growth have definitely been in countries on the mainland like Myanmar, Cambodia, Thailand and Vietnam. We expect this trajectory to continue as many countries here – as well as in ASEAN as a whole – continue working hard to improve their air travel infrastructure and build up to world-class standards. This will help create more avenues for us to boost our intra-ASEAN network.
We predict strong and continued demand for passengers travelling from Cambodia to our global network of destinations across Europe, Middle East and the Americas. Cambodia is a new, but globally significant, destination in Asia for both tourism and business, and we would like to play a significant role in facilitating the development of Cambodia's economy and tourism industry.