Dependent on its increasingly assertive neighbour China for investment and on faraway markets in Europe and North America for exports, Cambodia's 16.2 million people, like residents of any small country, are exposed to the flux and churn of fortune and influence from without.
Such vulnerabilities are not just economic. The national language, Khmer, is increasingly treading lexical water, as if about to be pulled under by waves of technological and scientific neologisms.
"Hundreds of new technical, scientific and legal terms are added into the English dictionary every year,"said Khoun Theara of Future Forum, a Cambodian think tank.
Such terms, usually coined first in English, present tongue-twisting translation dilemmas for Khmer speakers trying to localise new words in what is the mother tongue for around 97% of Cambodians.
That is not to say that other tongues in the region do not face similar dilemmas.
"All Southeast Asian languages have difficulty in adapting to the modern world," said Jean-Michel Filippi, professor of linguistics at the Royal University of Phnom Penh.
The Oxford English Dictionary has added more than 2,600 new words so far in 2019, making for a tome swollen to over 627,000 entries – a jump of over 100,000 from three decades ago.
Even my mum will use words like 'messenger' and many of us use the term 'chat' even when speaking in Khmer

Samedy Suong, Center for Khmer Studies
"It is pretty much challenging in the case of Cambodia where the translation of these keywords into Khmer has been generally slow, fragmented and not widely popularised in daily usage," Theara said.
As a social scientist, Theara lamented the "practical day-to-day difficulties stemming from the inconsistency in translation for the terms like qualitative, quantitative, chi-square, p-value and many more".
"Some researchers have tried to translate the terms into Khmer, but from a practitioner's perspective, we are generally more familiar, convenient and efficient with using the terms in English per se than the translated ones," Theara added.
Away from the highfalutin' discourse of academia, there is a similar story to be told about more day-to-day interactions – from logging on to social media to visiting a doctor.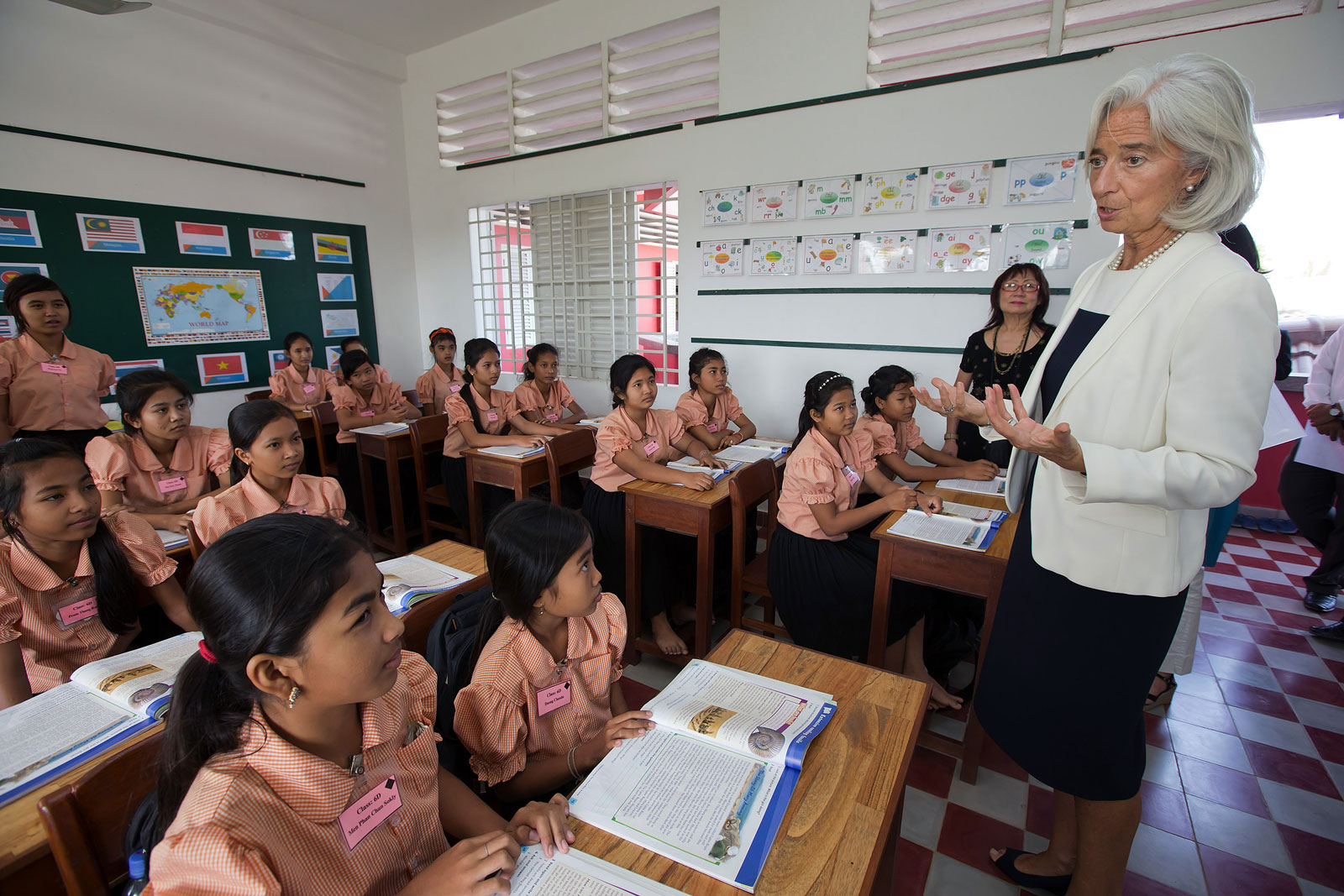 Samedy Suong, head of programs at the Center for Khmer Studies, a non-governmental organisation, said that when people chat over apps such as Facebook Messenger or WhatsApp, the words used are often English, or a mix of Khmer and English, or Khmer words typed in Latin script.
"Even my mum will use words like 'messenger' and many of us use the term 'chat' even when speaking in Khmer," Suong said.
"We use the English word 'download,' she added, citing another example and comparing it with the nearest Khmer equivalent, which she said means something like 'to pull out'.
Official Khmer has two reference sources for translation, the Chuon Nath Dictionary, published in 1967, and the National Commission of Khmer Language. But there are, according to Theara, "still a lot of practical terminologies yet to be formally translated and approved by the commission".
Regardless of bureaucratic rubber-stamping, it is moot whether officially ordained coinages can be drilled into people to force a common usage.
"In my academic view, you cannot "create" a word, you cannot tell people how to speak," said Filippi, recalling the difficulties mandarins in France had in persuading compatriots to use verbose French renditions of "scanner" and "walkman," with the English originals proving more popular and enduring.
There are not any agreements among Cambodian dentists for specific Khmer terms in dentistry

Dr. Nol Rithy, Roomchang Dental Hospital
One increasingly common workaround is the use of a phone's Latin-script keyboard to type Khmer words, even though there is no standard for writing the language in anything other than the Khmer script, the earliest written evidence for which dates to the 7th century and which is derived from antecedents from the Indian subcontinent.
"Sometimes it is bringing in mistakes," Suong added, referring to the commonplace rendering of the Khmer word for "I" as "nhom" by Cambodians chatting online, with that Western script spelling not fully capturing either the pronunciation or phonetics in Khmer, which is more like "kh-nyum."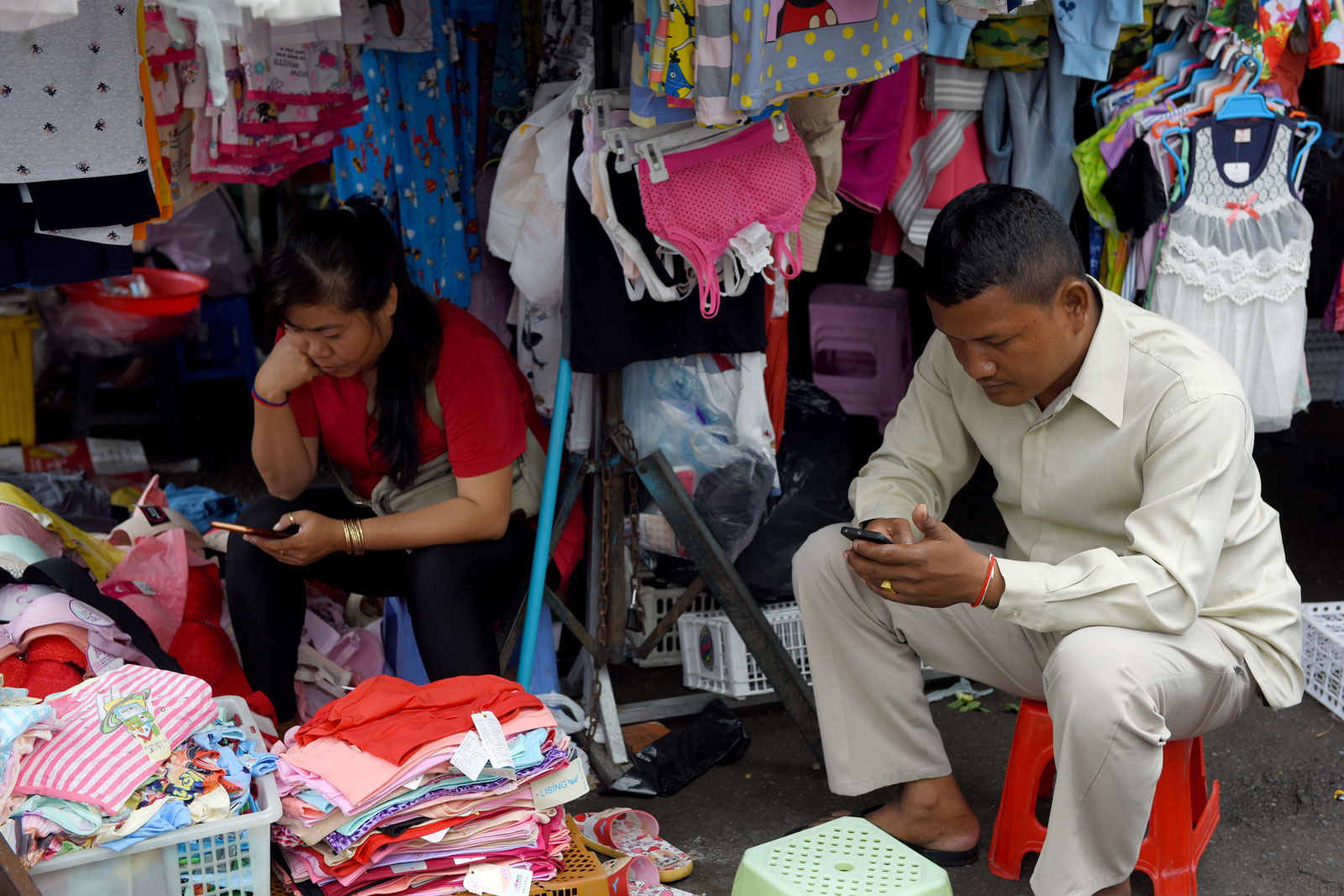 "It's just because it is easier to write [using the Latin keyboard], otherwise it takes more time to type," Suong said, discussing the need to switch between keyboards and scripts on small touchscreens.
However such laziness-induced spelling errors are not limited to café-hogging millennials trying to caption endless selfies and close-ups of lunch.
"The Khmer language is complex," said Danh Hong, a typographer and founder of the NextSpell Khmer language application, which aims to help Khmer speakers spell or type correctly while online. "Many big software companies don't have spell-check for Khmer."
The limitations of language and vocabulary stretch into medicine, with discussions in Khmer typically featuring general or roundabout descriptions of symptoms rather than the precise, scientific terminology more common to clinics in countries that have long since assimilated medical words into their own tongues.
"There are not any agreements among Cambodian dentists for specific Khmer terms in dentistry," said Dr Nol Rithy, a prosthodontist, or specialist in dental prosthetics, at Roomchang Dental Hospital in Phnom Penh.
"In medicine it can be really difficult," Samedy Suong agreed. "Instead of using one word or term, you have to describe."
Dr Rithy said that consultations could be more precise if both doctor and patient were able to speak in English rather than their native Khmer. If not, he said, they tried to make do.
"We can still give the explanation of [a] simple word to [describe] the problem or disease, treatment or procedure needed," he said.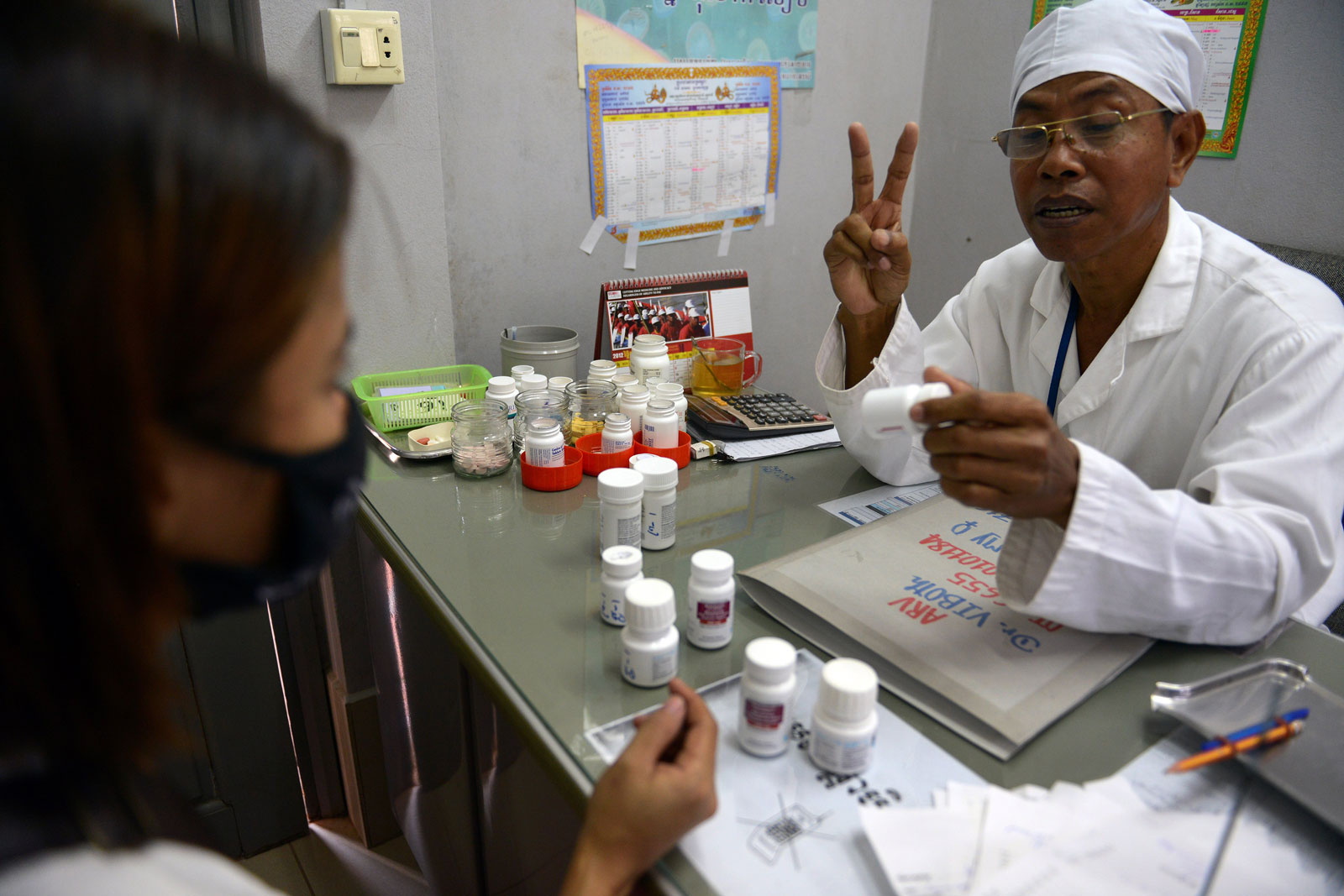 In rural areas of a country with a literacy rate of 80% and where 87% of students complete primary school, additional lost-in-translation problems can arise during visits to a doctor or dentist. Blame for such talking at cross-purposes can go both ways, Dr Rithy said.
If a medic "just points out the problem without any detail[ed] explanation," the doctor might be at fault, while the same could be said of a patient who "did not focus on the doctor's explanation and ask questions about unclear information and consider themselves that they know everything".
The potential for similar confusion appears less likely in business than medicine. Commercial dispute arbitration can take place in English – a linguistic analogue to Cambodia's use of the US dollar rather than the Cambodian riel for most transactions.
Representatives of several of the main foreign business lobby groups in Cambodia did not reply to requests to discuss the role of Khmer in issues such as contract discussions and deal-making, but scholar Filippi said that Cambodia and Khmer present no more of a difficulty in that regard than anywhere else where foreign investors typically wrestle with documents written in – and negotiations conducted through – both a native tongue and a lingua franca such as English.
"Most of the contracts are in two languages, Khmer and English, and any translation cannot be always 100% precise or the same," Filippi said. "With any pair of languages, you can have interpretation in favour of one or the other, when lawyers are involved, that is the same all over the world."
Filippi cited the famous example of the United Nations Security Council Resolution 242 adopted after the end of the 1967 Six Day War between Israel and its Arab neighbours.
With the document available in both French and English, Filippi recalled how "the Israelis favoured one and the Arab nations the other, as the nuances of the texts could be interpreted one way or the other".
Those late 1960's were also the start of the upheavals that nearly destroyed Cambodia, as war raged across Indochina, paving the way for murderous Khmer Rouge ideologues to take control of the country and kill a quarter of the population, with teachers and education among the regime's first targets for destruction.
"They had so much to think about in those years, decades," said Fiiippi, with Khmer's development as a language stymied by war and famine – catastrophes severe enough to leave an observer lost for words.
The language-defying horrors of the Khmer Rouge era were followed by Vietnamese invasion and occupation, then an overweening United Nations mission followed in turn by a slow walk to something like a reassertion of national sovereignty under the evergreen régime led by incumbent Prime Minister Hun Sen. Arguably, however, that revived sovereignty proved short-lived in light of what has become a subservient relationship with China, travestied in turn by the government's recent clampdowns on the press and judicial evisceration of the parliamentary opposition.
Going back, the issue of language and meaning came up when Cambodia sought to address at least some of the injustices endured by its people during the worst of those harrowing decades.
"It was the main concern when the trials started," said Youk Chhang, executive director of the Documentation Center of Cambodia. His decades of work mapping and archiving the horrors of Cambodia's 1975-79 Khmer Rouge era was pivotal to the establishment of the Extraordinary Chambers in the Courts of Cambodia – usually referred to as the Khmer Rouge Tribunal – that heard its first cases more than a decade ago.
The trials of a handful of Khmer Rouge leaders brought observers from all over the world, and from remote and rural parts of Cambodia from where survivors trekked to hear the orchestrators of mass murder face justice. It was for these people, whose own lives and families were devastated by the men and women on trial, that the court committed to making sure that the internationally driven proceedings were accessible to a local audience.
To Chhang, the trials were an example of how resources and training can lay the foundations for helping a language retain its utility and relevance.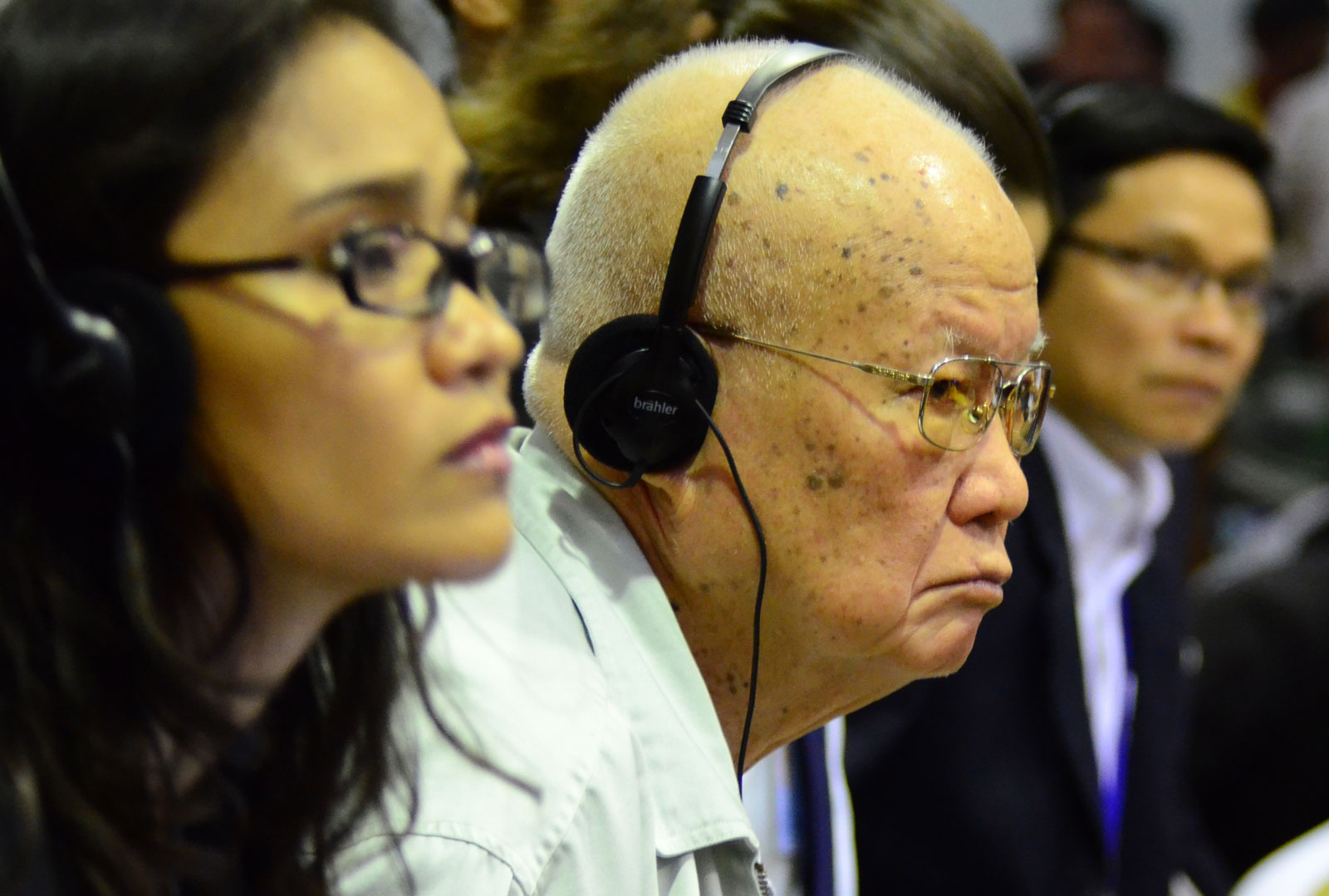 "You will find almost no mistakes in the translation," Chhang said. "With a good sound system, rotating translators and interpreters so nobody was overworked or tired, all went well."
If the Khmer language has addressed that traumatic recent past, it must now face the future. The rise of Chinese investment in and emigration to Cambodia has added another semantic magnetic pole, with English pulling hard in one direction and Mandarin set to do likewise in another.
Newly published Cambodian government statistics show the country hosting 1.7 million Chinese visitors in the first eight months of 2019, up a third year-on-year, with Chinese tourists making up 40% of this year's foreign arrivals. The government hopes to attract 8 million Chinese visitors a year by the close of the next decade – a number roughly equal to half Cambodia's current population.
China is Cambodia's biggest source of foreign investment and imports, with the skylines of cities such as Phnom Penh and Sihanoukville transformed by an influx of Chinese money and builders. But while Chinese could in time become a rival to English as a second language for some Cambodians, the seemingly unchecked flow of Chinese resources and migrants to Cambodia – the latter estimated at 250,000, or 60% of the total foreign population – is leading to some lexically derived local laughs.
In towns across the country, Chinese-run businesses have prompted a mix of mirth and scorn among Cambodians for their soi-disant Khmer versions of the Chinese names or descriptions of businesses, with restaurant signage particularly notorious.
"Quite often I still come across these incomprehensible shop names and menus in towns, which are directly translated from Chinese to Khmer by apparently using Google Translate," said Theara Khoun.
The haphazard translations, to Theara, are perceived as down to "negligence of these Chinese owners," a carelessness that amounts to a "disrespectful act towards local culture and language, which needs to be properly addressed".
"Many from the emerging middle classes send their children to the international school where they are going to be excellent in English, but will they in the end be able to speak Khmer as a working national language?"

Jean-Michel Filippi, Royal University of Phnom Penh
Danh Hong, an innovator who pioneered the first Khmer language computer scripts – a challenge given the language's archaic complexity as well as the apparent lack of interest among developers at so-called Big Tech, due to the small size of the Cambodian market – is already on the case, aiming to serve as an interlocutor for Cambodia's thick-tongued newcomers. "Our NextSpell can help Chinese shop[s] to solve problems. Now we have some regular users told me that NextSpell help them improve Khmer text quality," he said, predicting that Chinese will eventually become the main second language for Cambodians.
That view is not shared by other linguists, not least as issues such as resentments over inappropriate signage translations and bigger concerns about China's sway over Cambodia could ringfence the uptake of Chinese.
"I don't think Chinese will be as popular as English in Cambodia," Filippi said. "People don't learn languages purely for this commercial reason," he added, referring to the seemingly ineluctable drift of Cambodia into Beijing's economic orbit.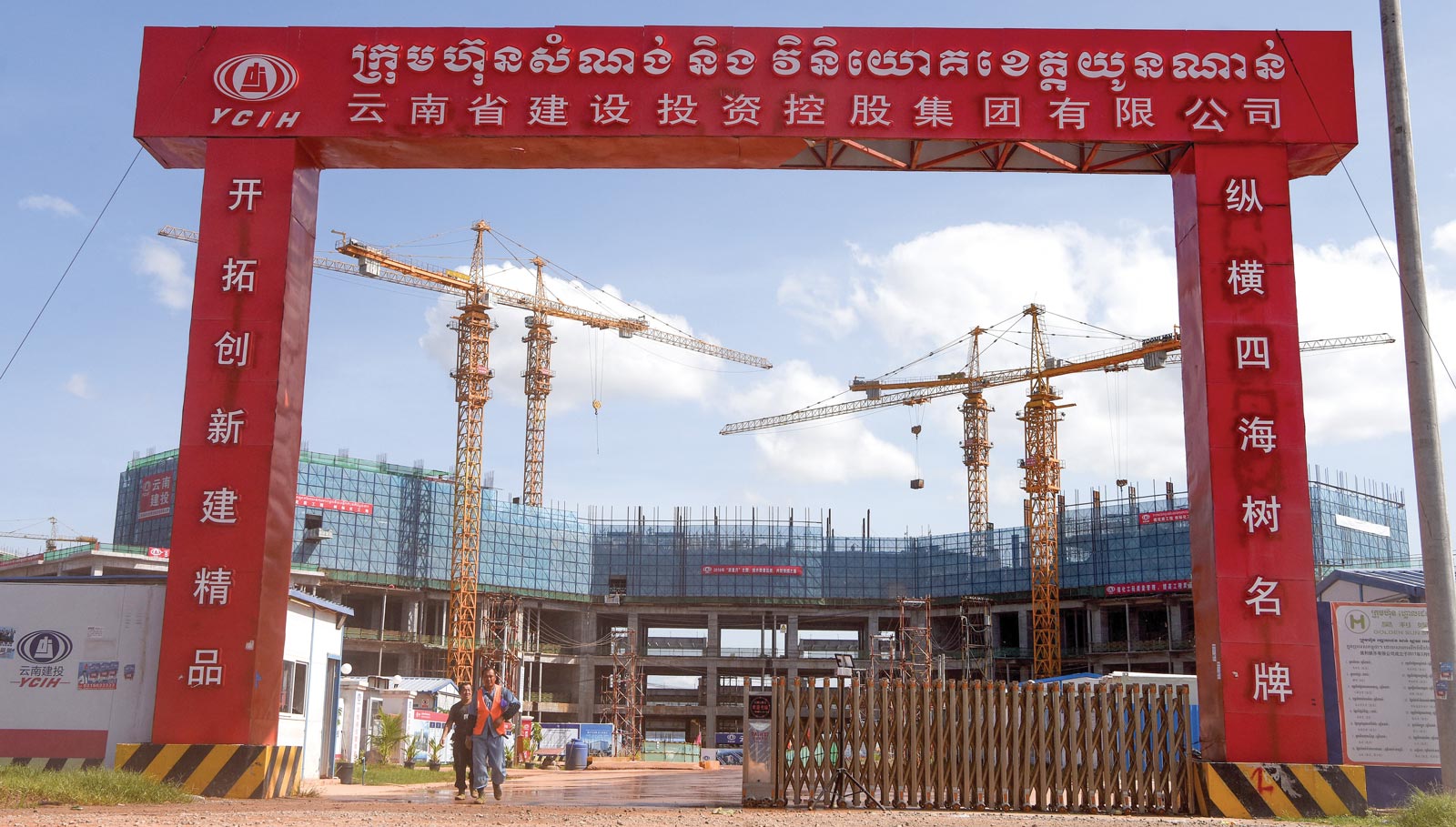 For now, English tops the ranks of preferred foreign languages, with the French of the formal colonial occupier increasingly irrelevant.
"With small population size and limited resources available in Khmer, mastering a high level of English proficiency will naturally expose students to the vast body of knowledge," said Theara, citing the absence in Khmer of "learning materials including electronic books, apps, multimedia contents and digital education platforms available online across disciplinary subjects."
"They are largely in English," Theara added.
The lack of Khmer language learning materials – partly a legacy of the Khmer Rouge's destructive philistinism – suggests that the language is at a semantic crossroads, with the juggernaut that is English looking unstoppable.
"My concern is for the future as many of those who belong to the emerging middle classes send their children to international school where they are going to be excellent in English," said Filippi. "But will they in the end be able to speak Khmer as a working national language?"
Some of Filippi's fears could already be playing out, as urban Cambodia's increasingly well-to-do middle class parents splash out on sending children to élite Anglophone schools.
"Some of the children at the international schools, they will start from English, and that means they can find Khmer difficult," said Samedy Suong.
Even if competence in English, and to a lesser extent Chinese, is increasingly important when doing business or seeking better-paid jobs, there is no danger that Khmer's ornate and ancient script – perhaps difficult to read for kids versed in English, partly as there are no spaces between words – could become obsolete.
"I don't think we will stop using our own characters," she said, asked if Khmer might emulate the national languages of neighbouring countries such as Indonesia, Malaysia and Vietnam in using the Latin script. "Some words are really difficult to make."
Danh Hong too is hopeful that interventions such as his can ensure Khmer remains a living language.
"I name it NextSpell," he said, referring to his app, "because I hope that it is for [the] future, that it will have to solve the Khmer language problem in the future."