In late April, the second annual Belt and Road Forum saw world leaders convene in Beijing for three days' worth of panels and speeches about the success and potential of China's hundreds of funding projects in Asia, South America, Africa and beyond.
Shovel in hand, Cambodian Prime Minister Hun Sen dug a hole in the green fields near the forum's convention hall, planting a tree – a symbol of China's and Cambodia's continued mutual growth.
"An ancient Chinese philosopher observed that 'plants with strong roots grow well, and efforts with the right focus will ensure success'," said Chinese President Xi Jinping, addressing a crowd of officials and dignitaries during the conference on April 26. "The Belt and Road cooperation embraces the historical trend of economic globalisation… and meets people's longing for a better life."
The Belt and Road Initiative (BRI), a Chinese programme started in 2013, is a trillion-dollar lending initiative for infrastructure growth, funded by China and primarily built by Chinese contractors. Controversial though it may be, it is a programme that has allowed Cambodia and other countries in the region to expand and build highways, bridges, ports and power plants – allowing for direct infrastructure improvements that are crucial for developing economies. In Cambodia specifically, BRI has contributed to the Kingdom's massive construction boom, which reached $18 billion in 2017 – nearly matching the country's annual $22 billion gross domestic product.
The Sino-Cambodian relationship is on track to continue growing: while attending the April forum, Hun Sen signed a number of agreements with China, including Memoranda of Understanding (MoUs) on the export of 400,000 tonnes of Cambodian rice to China, on the promotion of general agricultural export to China and on financing frameworks between the Bank of China and local Canadia Bank. An MoU between the Bank of China and the Cambodian Tourism Ministry was also signed, promoting further growth of Chinese tourism to the Kingdom.
"[Prime Minister Hun Sen said that the BRI has been well implemented over the last six years and it has brought along fruitful cooperation for the region and the globe," read a statement about the forum by the Cambodian Council of Ministers. "This is in the context of physical infrastructure, trade and investment, as well as in the context of progress in cultural exchange between peoples by way of trade, tourism, and technology."
The BRI has seen Cambodia's economy change rapidly over the past few years. China has become Cambodia's largest trading partner, though 70% of the trade is via Chinese imports; it has become the largest investor in the Kingdom, with 70% of Cambodia's foreign direct investment coming from China; over a third of all development funding in the Kingdom is Chinese; and more than a fifth of tourists to the country are from China.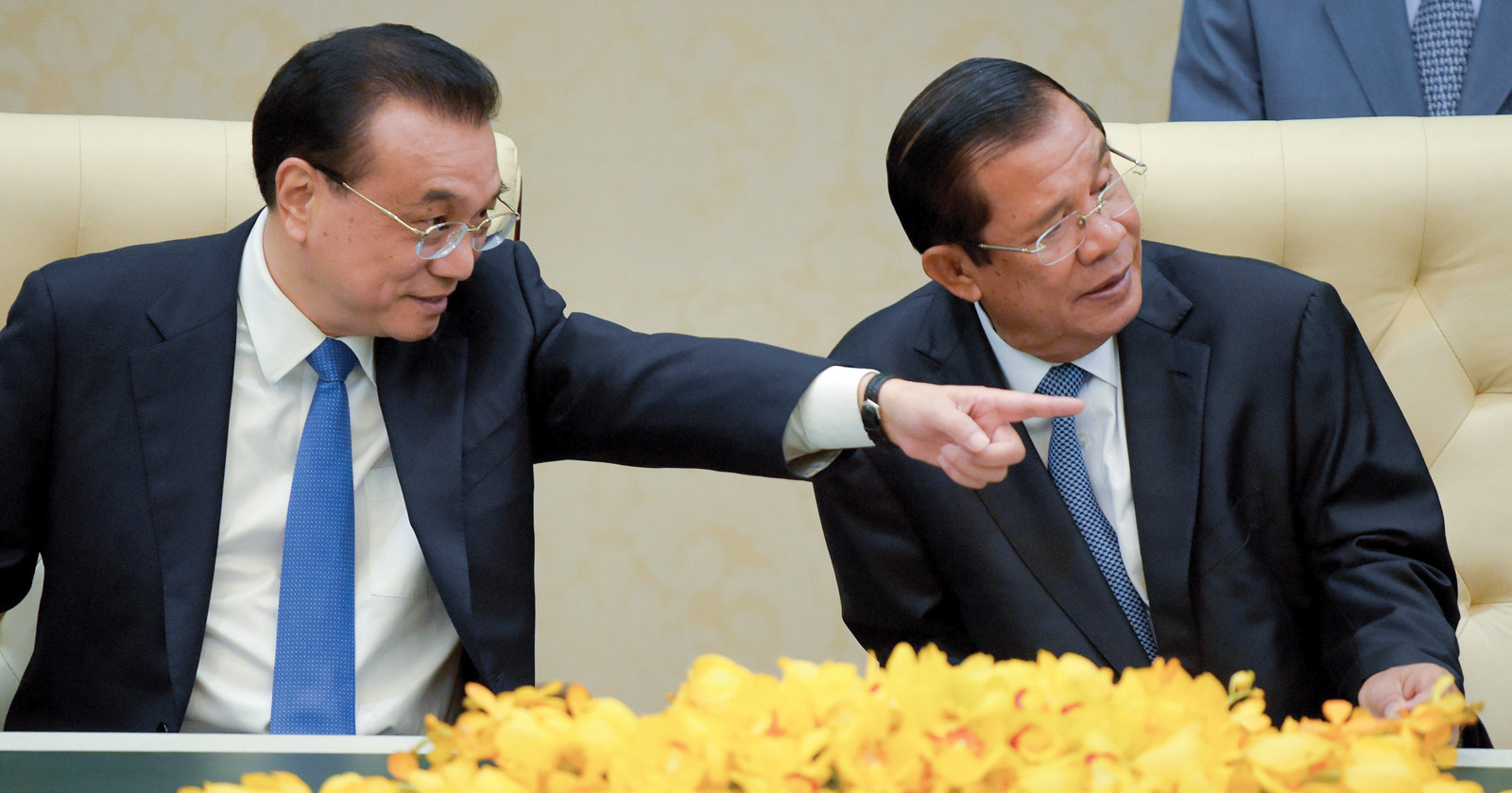 "Heavy reliance… on China"
"In the last few years, Cambodia's orientation has undergone a dramatic shift. Instead of a diverse range of partners, China is now the dominant player in all the major elements of Cambodia's growth," US Embassy chargé d'affaires Michael Newbill remarked during an April presentation on the potential impact of the US-China trade war in Cambodia. "[China] is now overwhelmingly dominant in every sector."
A lack of diversification in economic partners could lead to serious implications for Cambodia: as its industries become more reliant on Chinese funding and markets, a slowdown in China's growth could mean the same for the Kingdom.
According to the latest World Bank report, China is facing barriers to trade that will likely result in slightly lower growth of 6.2% in comparison to 6.6% last year – a risk which the World Bank identified as a main cause of Cambodia's projected slowdown, from 7.5% growth in 2018 to a projected 7% growth in 2019.
"Given Cambodia's heavy reliance on capital inflows from China, a sharp slowdown in the Chinese economy would dampen growth prospects," the latest World Bank statement read. "It is critical that the country embarks on structural reforms, especially those that can help improve investment climate."
Another main cause for the slowdown is, of course, the risks to the country's booming garment and textiles industry, which has long been one of the main pillars of the local economy. With the recent decision by the European Commission to consider withdrawing the Everything but Arms (EBA) agreement, and with the US Congress currently reviewing Cambodia's Generalised System of Preferences (GSP) benefits, Cambodia's tariff-free access to Western markets is rapidly shrinking.
Partly in response to this threat, and partly in response to Cambodia's consistently low ranking for global ease of doing business, in late March Prime Minister Hun Sen announced a series of government reforms to "strengthen competitiveness and economic diversification" in the Kingdom. The proposed reforms would lower logistics costs, lower electricity costs, improve productivity and answer outstanding questions regarding the Kingdom's new labour law.
Efforts like these will be key for future growth, World Bank representatives have stated; in order to diversify the Kingdom's sources of income and investment and to attract funding outside of the BRI, logistical improvements will be necessary.
"I think diversification is always good," said World Bank senior country economist Ly Sodeth at the launch of the World Bank's latest report, entitled "Managing Headwinds". He added, though, that as long as Cambodia's debt distress remains low, the World Bank is not overly concerned about the rise in BRI projects across the country.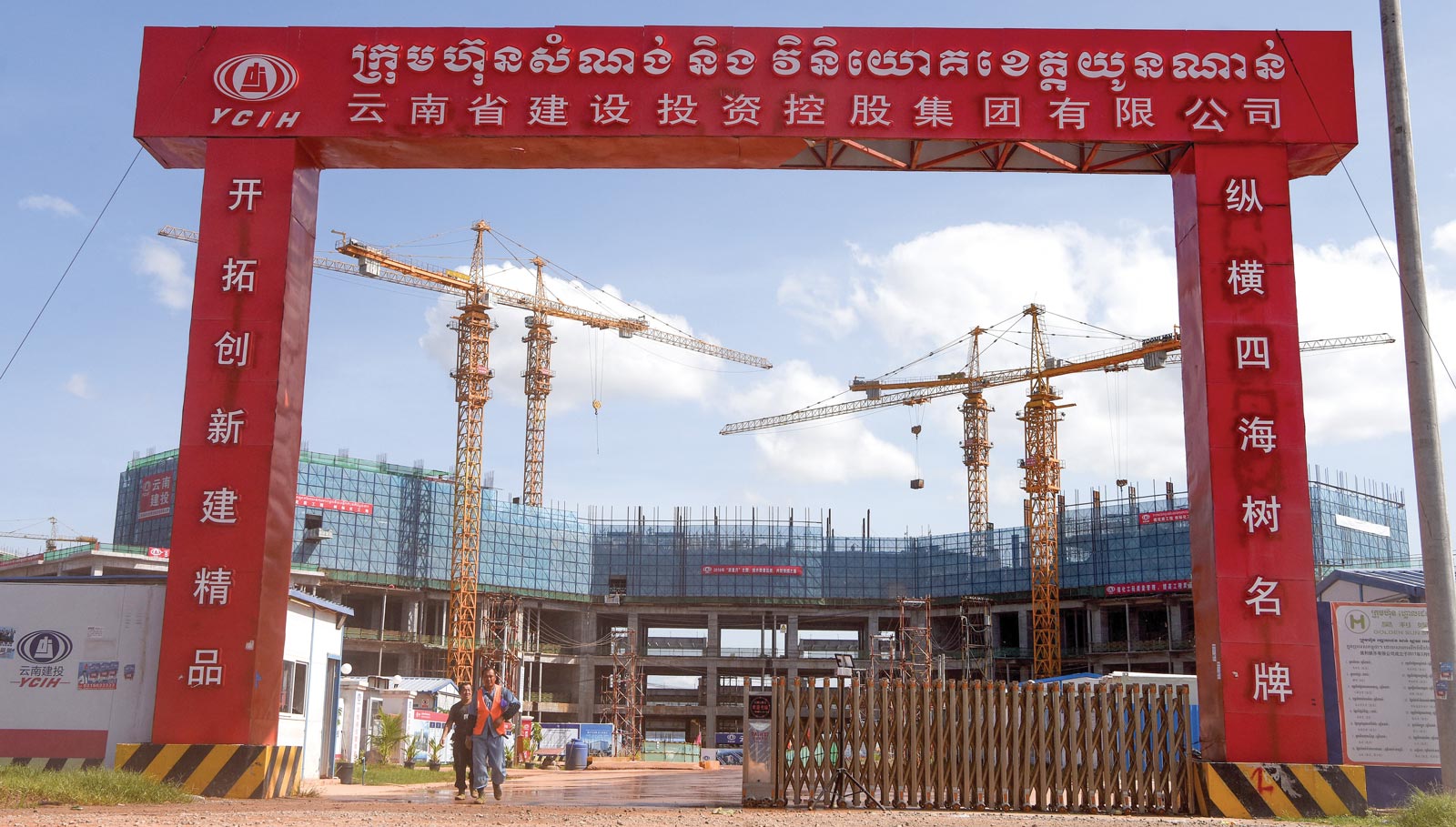 "Friends with everyone"
But the true impact of the BRI programme is not necessarily that it is driving the Kingdom into debt, though the details of each BRI deal are rarely released to the public; the issue is rather that, as BRI funding flows into Cambodia, there is a perception among international investors that the Kingdom will unfairly support China in any future bid or clash of interests.
"There is a perception now that there is not a level playing field, vis-a-vis Chinese companies in Cambodia – that deals in Cambodia are structured specifically for Chinese companies, and no other bids are taken," Newbill said, citing the recent airport projects, the Sihanoukville expressway and the concessions on Koh Kong as examples of bids that seemed to have been won by Chinese companies without a fair competition.
"Nobody knows the terms of these deals or what was on offer, so there's no opportunity for US companies – or for any companies – to bid on these projects," he said, adding that transparency – of the bidding process and the terms of the accepted deals – is crucial for foreign investors outside of China to consider Cambodia a viable destination for doing business.
"Our policy is very clear. We want to be friends with everyone," said Sok Siphana, a leading lawyer in Cambodia and head of the Sok Siphana and Associates law firm. "But yes… [investment] is mostly Chinese."
Siphana added that, though he doubts the Chinese economy will be heavily impacted by Western-imposed trade wars and other global phenomena, "if China slows down, [Cambodia] will also be affected".
"Cambodia… does not want to be at the mercy of any other country," he said. "But when you're poor, you hang out with the guy who is a bit richer."
In order to attract a varied source of both domestic and foreign direct investment in the long run, Cambodia needn't turn down BRI investment – but it should be careful in which projects it chooses to pursue through this programme, said Yong Sarah Zhou, resident representative of the International Monetary Fund.
"Our assessment is that Cambodia's debt is sustainable… for now," Zhou said. "However, there is a risk, if those [BRI projects] turn bad… when there is not enough demand for them."
The focus for the future, then, should be on choosing the BRI projects that are most crucial for infrastructure development and which will, in turn, attract investment from a diverse range of countries and companies. Projects that improve power production and lower electricity costs are, for example, prime BRI projects for the Kingdom to continue pursuing – as are projects that promote agriculture, which were recently outlined in the latest BRI MoUs.
Cambodia and China are likely to continue to see the fruits of their mutually beneficial relationship in the coming years. But as Hun Sen's newly-planted tree grows tall in Beijing, the Kingdom should strive to make weighted decisions about the BRI projects it chooses to pursue. And – through efforts to increase transparency, improve logistics and diversify industries – Cambodia has the opportunity to prove that its vibrant economic landscape is supportive of potential, mutually beneficial projects from all countries and potential investors.