Along with increased rates of internet access, the region is tweeting more than ever. Leading experts explain what it takes for businesses to make the best use of a tweet
Callum Laing thinks that businesses should stop shouting at their customers. The social media expert believes that the "traditional model of advertising" – barraging potential clients with promotions and news – is no longer effective for targeting today's easily distracted consumer.
Instead, companies should "come up with content that is so compelling" that it grabs the interest of the reader. That means finding out what is really important to their clientele, and focusing on delivering quality content. A tool for achieving this, the Singapore-based management consultant posits, is .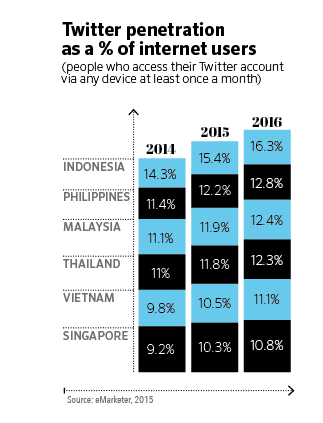 "Smart businesses use Twitter to find out what their customers are concerned about, what challenges they're facing," says the executive, adding that the platform's search features, such as hashtags and lists, can help businesses pinpoint specific markets. "As a research tool, Twitter is great for getting into the thinking of your customers."
Since its 2006 launch, Twitter and its 140-character updates have made an enormous impact worldwide, sparking countless global headlines and celebrity spats. But recent reports have suggested that the good times might be over.
In the last quarter of 2015, user growth stalled at 320 million active monthly users. January saw four senior Twitter executives leave the company in a much-publicised spectacle, while the company's Q4 earning report relayed a $90m loss.
Yet while analysts put their faith in Facebook, Snapchat and WhatsApp, the denizens of Southeast Asia have been blissfully tweeting away. Though penetration rates in the region still lie well below Facebook, Twitter in Southeast Asia is likely to have higher growth in the coming years than Mark Zuckerberg's creation, according to figures released by eMarketer, with the region reportedly set to surpass the US in total users this year.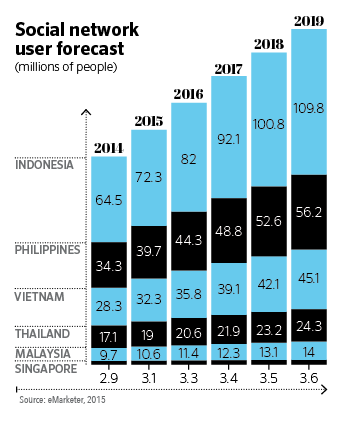 October saw the Philippines break the world record for most-tweeted event in history. The seminal occasion was a live charity concert for Eat Bulaga – a Cinderella-inspired soap opera that centres on a handsome bachelor and his romantic near misses with a nanny-turned-princess – that raised money for the construction of school libraries across the Philippines. The broadcast garnered 41m tweets.
The record comes as internet penetration grows in the region. Between March and November of 2015, an estimated 27.4 million people in Southeast Asia gained online capabilities, bringing the region's total internet access to 40% of the population, according to analytics agency We Are Social.
And as Southeast Asians get connected, they're turning to social media. The agency estimates that seven out of 11 Southeast Asian countries are at or above the global social media penetration average of 31%.
"If you go to Indonesia, there are many users who don't even know of any other online platforms other than Facebook and Twitter," explains professor Merlyna Lim of Carleton University, Canada, whose research covers the progression of technology and social media in the region.
"Southeast Asia is an oral society," she adds, suggesting that the region's cultures lend themselves to Twitter's in-the-moment style. "Businesses can leverage Twitter to engage people through narratives. This personalisation is key." 
Experts share their top Twitter tips to make the platform work for your business
Get personal
Twitter guru Mark Shaw points out that the social media tool is best used on a personal, informal level. "Nobody is interested in corporate speak," he says. "If what you're tweeting can be found on your website, something has gone wrong."
As a keynote speaker and host of the weekly show The Truth about Social Media on Twitter-owned live streaming app Periscope, Shaw – a frequent social media go-to for BBC radio – understands its potential for connecting people.
"You need to humanise your brand," he says. "Twitter lets you go behind the scenes with your business. You can interview your CEO and different personnel." And this kind of business-to-user storytelling is likely to
become easier as Twitter streamlines its platform.
The company has recently tweaked its timeline to sort content by what users will likely find more interesting, similar to the Facebook news feed.
And for Laing, Twitter can provide an important starting point to begin dialogue with customers, by trying to steer them to resources that can help them solve their problems or concerns.
"Build trust and authority in that space. It is then much easier to do business with them."
Be restrained
Once businesses have established their brand, they need to get tweeting, says Shaw – albeit with a certain level of restraint. "Twitter isn't one of those things where the more you do, the more you get," he says. "If you're pumping out 35 tweets a day, it's likely that you'll just upset people."
Laing agrees, saying that the platform is "like a microphone". "If you're a bad singer, the microphone amplifies that and can scare your audience away. But if you're good, you can reach a lot of people."
The optimal number of tweets, according to Shaw, is from three to five per day, using graphics, gifs, photos and audio to pique interest. "The big word I use with all my clients is 'balance'," he adds. "What is balance? A bit of chit-chat; a bit of sharing stuff; a bit of demonstrating your business, your expertise, your knowledge. Typically you can't do that in one tweet a week."
Build relationships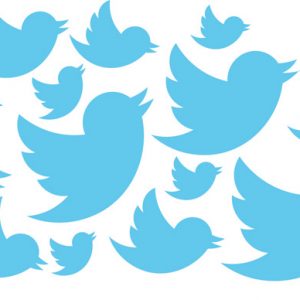 For Melinda Emerson, president of US-based marketing firm Quintessence Group, Twitter is a great place to "build a tribe" of like-minded entrepreneurs.
Once named one of Forbes' top women for entrepreneurs to follow on Twitter, Emerson runs a weekly 'tweetchat' that connects small business owners. She has been hosting it more than seven years.
Using the hashtag #smallbizchat to unite users helps her generate more than 10m media impressions a week. Having 320,000 followers probably doesn't hurt either.
And Twitter isn't just good for reaching out to followers, Emerson says. It can give you a leg-up on the competition. "You can listen to other businesses to learn what they're doing without them knowing," she advises.
Christel Quek, former Twitter executive and vice-president of Asia-Pacific for social media analytics firm Brandwatch, also believes Twitter is about building relationships. Customer service is important, she says. Businesses should try and tackle negative issues that they are seeing, cultivating a sense of trust with consumers.
Above all else, Quek adds, is the importance of being genuine.
"On Twitter – and other platforms – people should remember to communicate an authentic personality," she says. "People aren't commodities or numbers on a spreadsheet."