The smell of wood glue lingers heavily in the recently converted bedroom-cum-studio within the confines of Wat Sarawan – one of the oldest pagodas in Phnom Penh – where seven monks are squeezed together, uploading videos to Facebook. Aimed at revealing social injustice and promoting equality, the monks update the series, which they call Voice of Independent Monks, three times a day.
"We advocate when we see people suffering," said But Buntenh, 35, the editor of the series and the leader of the Independent Monks' Network for Social Justice (IMNSJ). "Our survival will depend on the value of our work."
The IMNSJ was born after the results of Cambodia's 2013 national election were contested. The Cambodian People's Party (CPP), which has ruled since 1998, was declared victorious with 68 seats to the opposition Cambodia National Rescue Party (CNRP)'s 55.
In subsequent weeks, the CNRP led major protests calling for the resignation of Prime Minister Hun Sen and reform of the electoral system. Although monks from the IMNSJ – who number 5,000 according to Buntenh – have been a constant feature of these protests, their leader is resolute they are independent of any political party.
"I want everything to stay informal and I do not want to register as an NGO under this government because it would mean I would accept Hun Sen's law," said Buntenh, although he has assured his team he would register the organisation if there were a change in government.
We only want to serve our society and are not doing it for any party
Some have frowned upon the arrival of these 'multimedia monks' on the political scene. In December last year during a speech at Wat Lanka, another important Phnom Penh pagoda, the city's governor, Pa Socheatvong, said that measures would be put in place to closely monitor some 7,000 monks residing in about 140 pagodas across the city in order to "see whether each monk is genuine or not because there have been fake monks on the street". For him, practitioners of Buddhism becoming involved in politics is "a dangerous problem".
Pressure has also come from the top of Cambodia's Buddhist leadership. The Great Supreme Patriarch Tep Vong has repeatedly warned monks about publicly discussing certain topics, such as social justice, and banned them from voting in the 2003 national election. In 2006, when the ban was lifted, he told monks "not to engage in political party solidarity leading to people power".
In a US diplomatic cable from 2006, former US Ambassador Joseph Mussomeli wrote: "We concur with sources who believe the CPP intends to keep firm control over potential political agitation within the main Buddhist religious order like all other important national institutions in Cambodia".
An Vicheth, 23, joined the network after the elections. For him, there is no doubt the group must remain non-partisan. "There is no in-between. If we are trying to do something for the people, we are considered as opposition. If we are doing nothing, we are not observing our rules. We need to define what we call 'political,'" he said.
But I am not afraid. If they speak with me, I counter them with Buddhist principles, and domestic and international laws.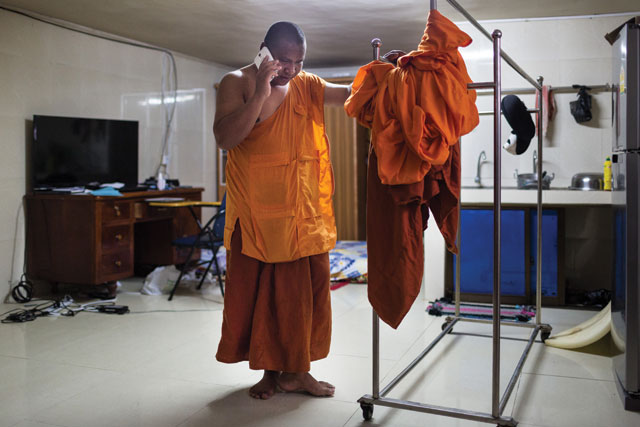 In mid-February, when it was announced that the IMNSJ would go on air weekly to host an hour-long radio show, Kim Son, Phnom Penh's chief monk, said these media-savvy monks were "breaking monk rules" and prohibited them from broadcasting. The radio show was broadcast once on the opposition radio station Mohanokor FM, but the IMNSJ decided to not participate again until equipment is upgraded and the show can be sure to have an audience.
Loun Sovath, 35, who has been cataloguing human rights violations for the past five years and was a forerunner for monks acting as media advocates in Cambodia, knows the dangers of being an activist. "I have been accused of being a fake monk. But there is no law coming from any institution in Cambodia [that can be used] to accuse me of this," he said from his room in an unregistered pagoda in Stung Meanchey, an outlying district of Phnom Penh.
Although he was sitting at his computer with two phones constantly switched on, Sovath wasn't always such a techie: Once upon a time he was a painter of temple murals. Originally from Siem Reap's Chi Kraeng commune, in the north of the country, he started working with international NGOs to advocate for land rights in Cambodia after four farmers in his community – including two of his relatives – were shot and beaten when police removed them from disputed rice fields in May 2009.
His work gained a considerable following and upset monks with government sympathies. Eventually, he was barred from all of the country's 4,676 registered pagodas. "I am followed when I go to the countryside. They say it is for my protection but, in fact, they are threatening me and the people around me," Sovath said.
Increased solidarity is helping the monks' cause. "Before, I was the only one speaking about human rights and social justice and I was the only one [the government] could blame," Sovath said. "But now, many monks are doing the same and [the government] cannot complain because everyone is standing up."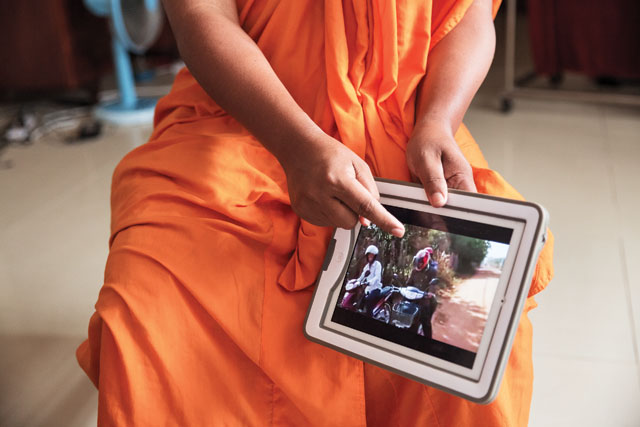 A major turning point in crystallising the movement came when five monks were beaten at a Phnom Penh pagoda on election day, while some of their peers did nothing.
"We were appalled to see so many monks closing their eyes because of their fear," said Buntenh. "Now we can resist, protest and stand alongside [ordinary] people who now have less fear. It is a revolution."
These monks illustrate a shift in Cambodian society, where a traditionally cowed populace is beginning to find its voice. Nonetheless, conservative Buddhists continue to criticise the younger generation of monks for using modern accoutrements such as smartphones and laptops.
Sitting in the same pagoda as the IMNSJ video team, a 23-year-old named Sangha Ry was already clear where his life will lead after he leaves the monkhood: He hopes to become a journalist.
"I want to serve my country, not a party," he said with a confident smile. "And I think independent media will allow me to do so."