Miss Teen Thailand flashes that beauty queen smile. Dressed from head to toe in white, she is soon joined for photos by a series of men who really should take more notice of her overtly virginal attire, as well as the word 'teen' emblazoned on her sash. One hulking media mogul, who has flown all the way from Mongolia, beams as he takes a snap on his smartphone.
Shortly afterwards, eight girls wearing red PVC crop tops and white miniskirts are on parade. The assembled media scrum intensifies. Photographers that were slow off the mark hold their cameras aloft, at arm's length, snapping pictures destined to disappoint any photo editor worth his salt. A middle-aged photographer rushes past me. "Girl photo!" he says with an excited smile.
This is the Bangkok International Auto Salon. Ten days of cars dressed to the nines with every conceivable modification; ten days of forced smiles from models who have had the joy syringed from their eyes; ten days of heaven for any petrolhead that likes their vehicles jacked up on 'roids and their women equally customised.
The opening ceremony begins. More models. A ninja show. A series of speeches delivered by suited businessmen who are each accompanied on their walk to the stage by an '80s action movie soundtrack that is totally incongruous with the speaker's appearance and his ensuing sedate speech.
The gold ribbon is cut and 40,000 square-metres of tricked out cars and exhibition booths are ripe for exploration. More than 50 modified vehicles were shipped directly from Japan, and they are joined by 400 other customised cars. A few catch the eye immediately.
A Toyota Crown has been transformed into a black and white cartoon cop mobile, replete with a flashing red light, manga graphics curling over its doors and wheels angled at 20 degrees.
An Audi TT heaves and wooshes, announcing its presence like ED-209 in Robocop. This silver vision from the future, with skirting set just centimetres from the ground, is soon popping up on its Universal Air Suspension. Having a ride with bouncing hydraulics is not the sole preserve of early 1990s gangster rappers it seems.
Amid the extravagantly spoilered supercars and batmobilealikes there even resides a nod to the past.
A pimped Volkswagen Golf GTi races my mind back to the heyday of Max Power magazine in the UK, a publication plastered with sovereign-sporting ne'er-do-wells, their chariots of chav and numerous tracksuit-bottomed girls that seemed inordinately attracted to boys who spent 90% of their income making their Peugeot 205 look a little bit less shit.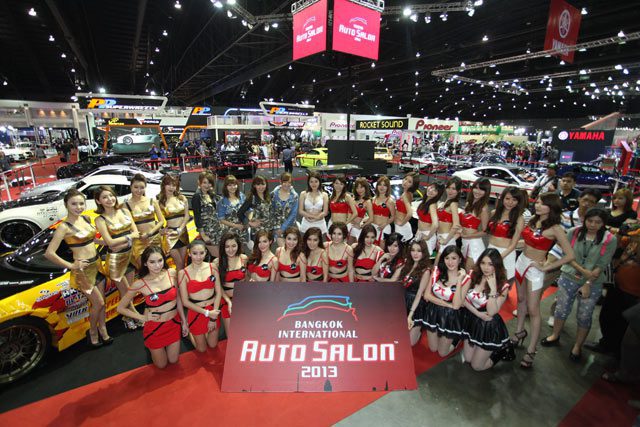 The somewhat sombre atmosphere inside this cavernous space – all brushed steel, red carpet and spotlights – is broken by the heavily basslined stylings of a girl-pop dance track. Photographers open up their strides like gazelles on the Serengeti. Yet these Nikon-draped mammals are not escaping the ravenous jaws of a predator; they are flocking to the PTT Oil stand to take in a show by Cosmos Dance, a group of five young ladies wearing chainmail skirts and arranged by the dimensions of their fake breasts, all of whom pout and thrust gamely, occasionally leaving the small stage to drape themselves over a BMW.
Not to be outdone, within seconds of Cosmos Dance shaking their moneymakers for the last time, the Toyota stand erupts into an orgy of activity: a DJ pumps out generic house before being joined by a quartet of dancers, as well as live drummers who do a good job of making it look like they are having a great time.
Continuing the theme established at the opening ceremony, following both performances a series of sour-faced, suited CEOs are trotted out onto the stage to give proceedings a more monotone ambience. It serves as a stark reminder that, behind the generously proportioned beauties and the self-important media types dressed in red Chinos and fake-laughing between drags on their Marlboro Lights, this show is really about one thing. Hands are shaken, photos are taken, and within minutes the next exhibitor show has begun.
Hours pass. Time is filled looking at the latest, the greatest, the raciest rev counters, the most raucous racing springs, the edgiest engine treatments, the most tantalising tar and pitch cleansers. True beauty also flutters its headlights from time to time: a red Ferrari 458 Spider; a silver Porsche Cayman; a slate grey Lamborghini Aventador.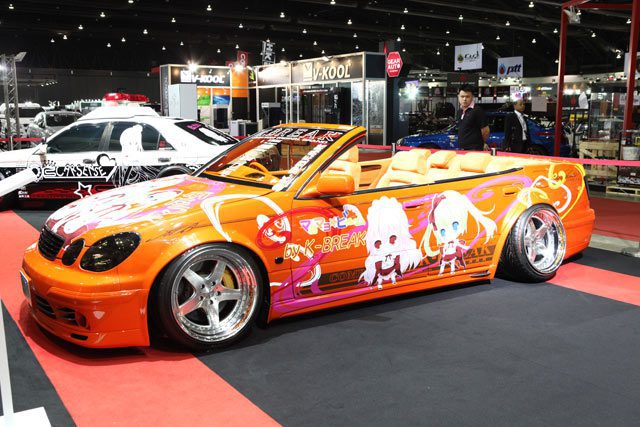 The thing about cars – and I say this as someone who has never owned a car and cannot drive – is that after a while they all begin to look the same. The wow factor soon retreats. The same is true of lycra-clad models. As one automobile journalist, who has flown here from Dubai, remarks: "There's only so much that can be said about static cars."
Thankfully, the organisers of the Bangkok Auto Salon seem quite aware of this fact, as evidenced by a glance at the schedule: "15:00 – Drift Car Demonstration" and "17:55 – Sexy Carwash Show".
The huge, grey car park shimmers in the afternoon heat. Five lunatics screech around a track marked out by orange cones. Corners are not taken by traditional means – the idea of 'drifting' is to oversteer, losing traction in the rear wheels and essentially skidding around corners at great speeds. The smoke emanating from the tires engulfs onlookers. Faces grimace at the acrid aroma of burning rubber.
A young employee approaches. "Do you want to ride in one?"
"Yes. Yes, I most certainly do."
Never ingrained with a great need for speed, my hubris soon evaporates. A loud bang has come from one of the cars. The sight of heavy-duty roll cages does nothing for the nerves. It has started to rain – a sodden concrete grave seemingly confirmed.
After donning a wholly inadequate safety helmet, I check for signs of damage as the car approaches. The driver wears Oakley shades and a maniacal grin. "I'm Pete," he says. "This should be fun."
Unfortunately, Pete, it turns out that our definitions of 'fun' seem to be somewhat contradictory. At times, it seems like Pete is drifting a matter of inches from the two cars in front. He is certainly driving blind at some points, such is the smoke pouring from their wheels. It is one of the most terrifying experiences of my life.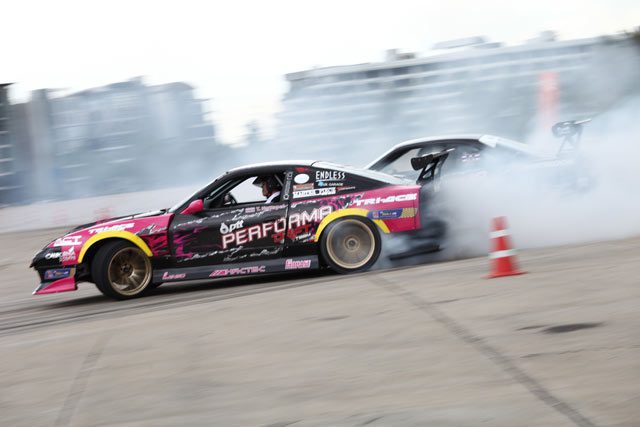 A smile so enthusiastic it is obviously fake, a wobbly double thumbs-up and an unconvincing "That was great" are all that Pete receives in exchange for his undoubted technical excellence.
The Sexy Carwash Show is running late, giving the expectant photographers even more time to lather themselves into frenzy for the day's final showpiece.
Given the size of the crowd, I suspect that this isn't really going to be about getting the car clean. Heavy rock music blasts from the speakers and a series of girls take to the stage. Any dreams the assembled snappers had of the models giggling as they soak each other and frolick in the bubbles are quickly dashed. They are essentially dancing while waving a moist sponge. Most of them seem a little embarrassed to be there.
The MC describes the final group as "the Korean most sexy girls". One of them teams a straw boater hat with a bikini top and tiny denim shorts, like the Lolita daughter who dressed entirely inappropriately for mummy and daddy's garden party. After bobbing around for a while, it becomes clear the girls are unaware of what to do next, so they are gathered at the front of the podium and a microphone is thrust forth. "I'm from Korea," says one of the startled models. "Thank you. Have a good day. Goodbye."
Their appetite satiated, the press pack disperses. Tomorrow it begins all over again. The cars will be buffed, the playlist will be looped and the models will greet a new cluster of hungry eyes. To paraphrase Freddie Mercury, their makeup may be flaking, but their smiles must stay on.